How to create a Push Notification ad zone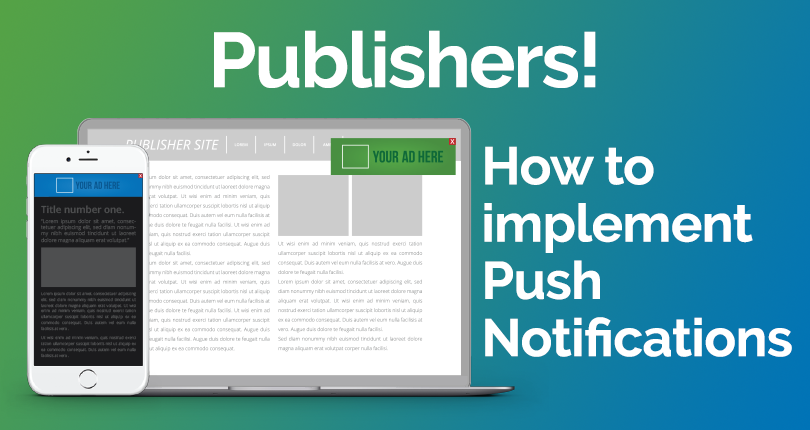 The Push Notification ad format is now available from ExoClick, in this platform walk through we show you how to create a Push Notification ad zone. But first some useful information:
How do Push Notifications work?
Users that visit a website can opt in to receive Push Notifications
All of the website's opted in users are now available to advertisers
Users receive Push Notifications via their desktop, tablet or mobile devices, even when they are not browsing the internet
When users click on the Push Notification they are directed to the advertisers landing page
Push Notifications are available via CPC or CPM
Push Notifications have many advantages for Publishers
Further monetisation of users
Opted in users have a high value
Google friendly! Can be easily dismissed, option to unsubscribe
Limited amount of Push Notification messages sent per day, frequency capping of the same offers sent
Publishers can use their own domain or ExoClicks to collect opt in subscribers and send Push Notifications to
How to set up a Push Notification ad zone
Step 1
In your admin panel under publishers go to 'Sites & Zones' then 'New Zone'. Select 'Push Notification' and click 'Next.'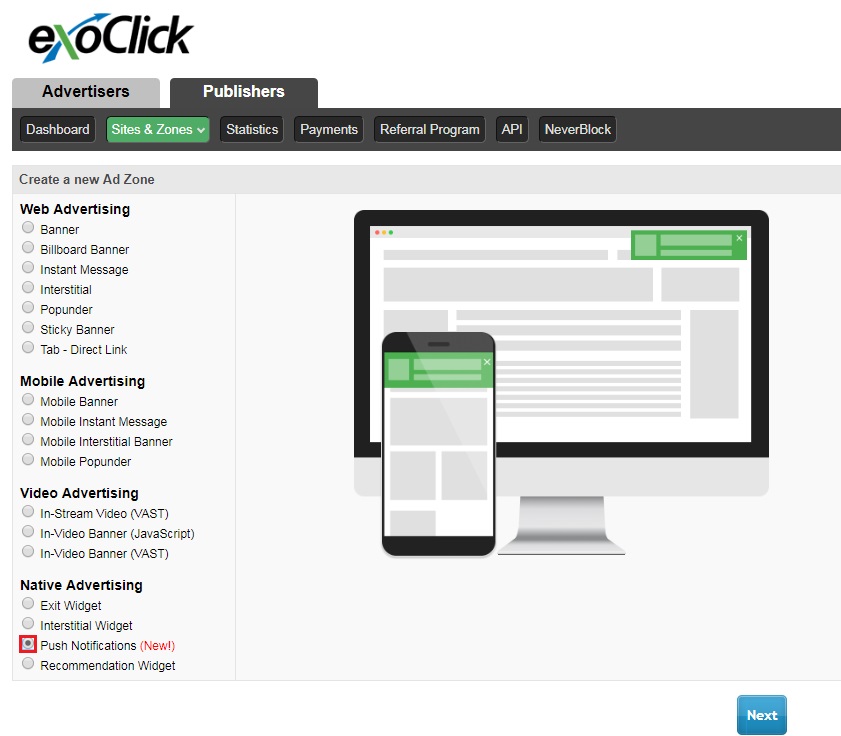 Step 2: Choose the Integration Method
Now you need to decide how you would like to collect opt in users to send Push Notifications to. There are three options: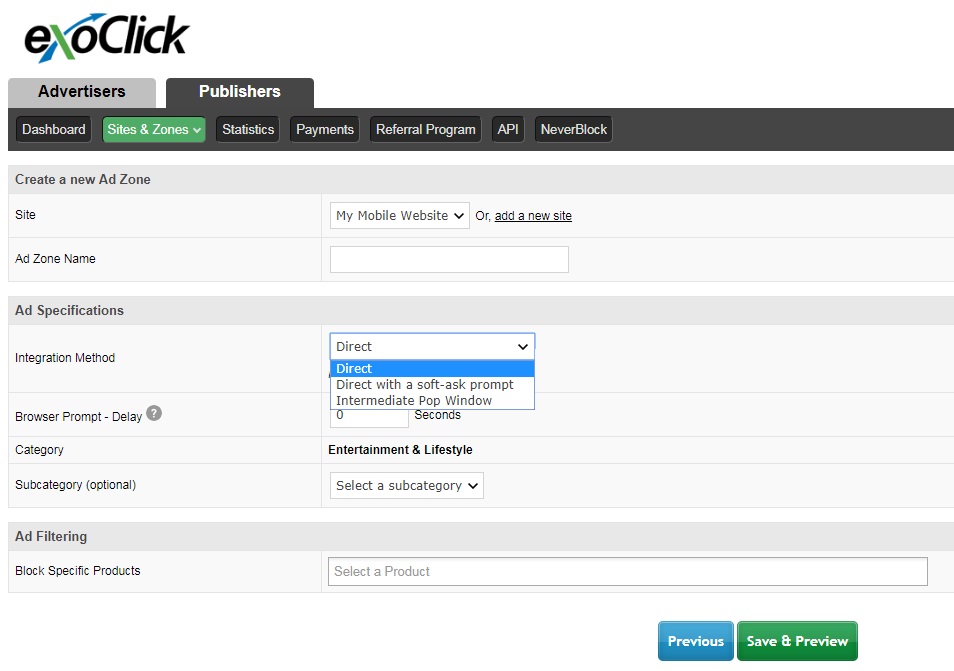 To use your own domain when the push notifications are sent you can choose between two implementation methods under 'Ad Specifications.' You can select between 'Direct' and 'Direct with a soft-ask prompt':
Direct: This will show one opt in box (Direct) to users on your site. Within the box the user can choose 'Allow' or 'Block' Push Notifications
Direct with a soft-ask prompt: This is a two step process and will show two consecutive opt in boxes on your site. The first (Soft-ask) will ask if the user would like to receive Push Notifications, within the box the user can choose 'No thanks' or 'Allow.' If the user clicks Allow, a second box (Direct) will appear where the user can choose 'Allow' or 'Block.'
To use ExoClick's domain there is one implementation method to select under 'Ad Specifications' called 'Intermediate Popup':
Intermediate Popup: This will show only the Soft-ask box on your site, asking if the user would like to receive Push Notifications, within the box the user can choose 'No thanks' or 'Allow.'
Please note: In the Soft-Ask box if a user clicks the 'No thanks' box, he will be automatically retargeted again in 2 days time. If you implement the Direct implementation, if the user clicks the 'Block' button, he will never be targeted again.
Using your own domain: This will result in a higher subscription rate as direct users of your site are opting in. Your domain will appear in the notification box when push notifications are sent.
Using ExoClicks domain: This is of benefit to publishers because the user will not associate the Push Notifications with the publisher but with the ExoClick ad network. Exoclick's domain will appear in the push notification ads.
Step 4: Ad specifications customisations
You have some additional options if you selected the 'Direct with a soft-ask prompt' and 'Intermediate' options: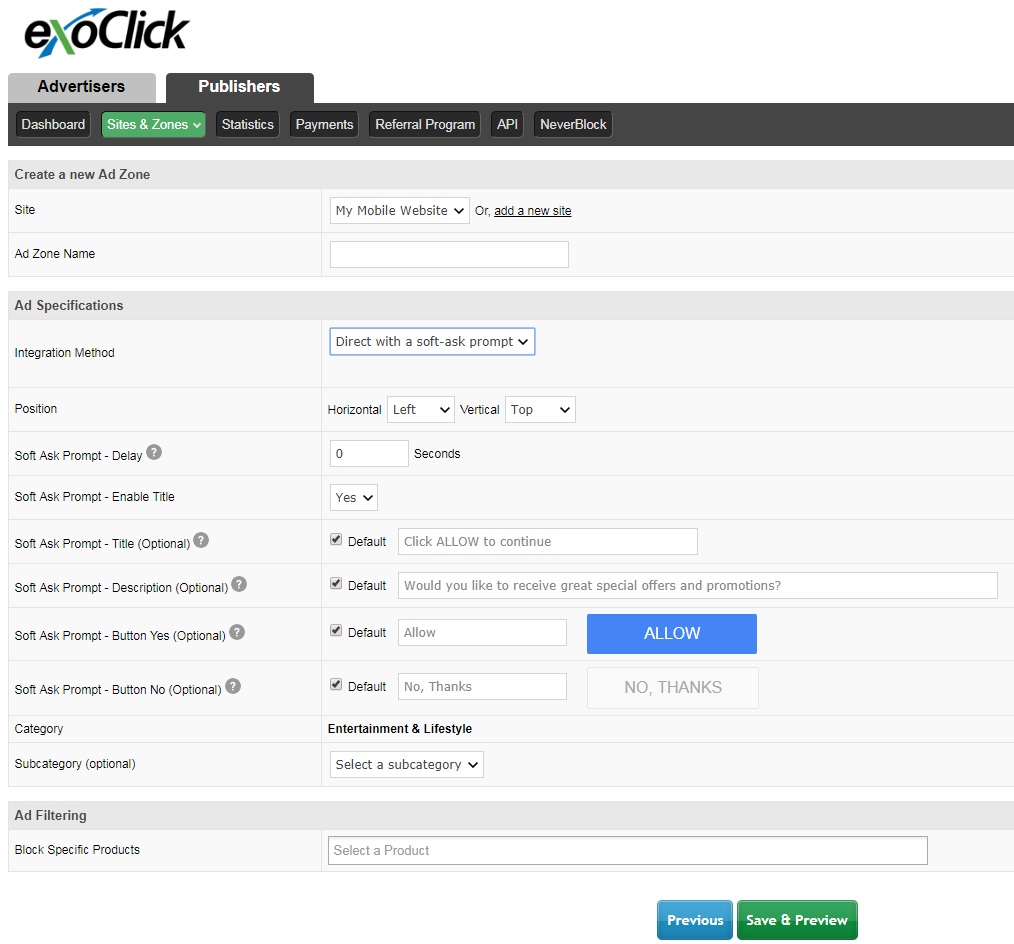 Position: Here you can choose the position of where the Soft-ask prompt box will appear on the user's screen, the options are:
Horizontal: Left, Centre or Right
Vertical: Top, Middle, Bottom
Soft Ask Prompt – Enable Title: Here you can select 'Yes' to display the title texts that will appear in the Soft-ask prompt box, if you set this to 'No', you will not be able to edit the 'Soft Ask Prompt Texts' options below:
Soft Ask Prompt Texts: These options are related to the text that will appear inside the soft-prompt which includes the texts for Title, Description, Yes button and No button. By default we have set the texts for you. They are hosted on ExoClicks server and are in 12 languages, English, Spanish, French, German, Italian, Portuguese, Czech, Hungarian, Croatian, Slovak, Russian and Chinese. The texts will automatically display in the language set for the end user's browser. You can put your own texts in by unclicking default, but it will always show in the language you entered and not trigger the default languages we have set.
Step 5: More Ad Specifications
As a publisher you have further options you can implement:
Delay: This allows you to select the number of seconds delay before the opt in box is shown to the user
Category: This defaults as to the category you registered your site: Adult, Entertainment and Lifestyle, Streaming and Filesharing.
Subcategory: By default, for advertiser targeting, the whole category will be shown, but you can also select a subcategory from the drop down menu.
Step 6: Ad filtering
Here you can block specific ad type categories depending on the offers you want to be shown after your user has accepted to receive Push Notification ads. By default the ad zone will receive all types of mainstream campaign products, however you can block as many products as you like by adding them to the Block Specific Products box.
Step 7: Generating the ad zone code
Once you have clicked 'Save' the ad zone code is automatically generated for you so that you can cut and paste it into your site.
Step 8: Statistics
Once a subscriber has opted in to receiving Push Notifications there is up to a 2 hour delay before he will receive his first ad.
After that, a subscriber will receive a Push Notification ad every 6 hours, so for example, a user subscribes at 7am:
Receives first ad between 7am-9am
Then between 1pm-3pm, 7pm-9pm, 1am-3am
So please bear this in mind when looking at your statistics.
Please note: Push Notifications work on the following browsers/devices:
Desktop: PC / OS X : Chrome, Firefox, Opera

Mobile devices : Chrome, Firefox, Opera, Edge, Samsung Internet

Safari (OS X, iOS) does not allow web push notifications
Push Notifications won't work on HTTP sites, only with HTTPS sites.
If you have any problems with setting up your Push Notification ad zone, please contact your Account Manager or a Client Care Specialist here.