ExoClick: A multicultural work environment within the Ad Tech industry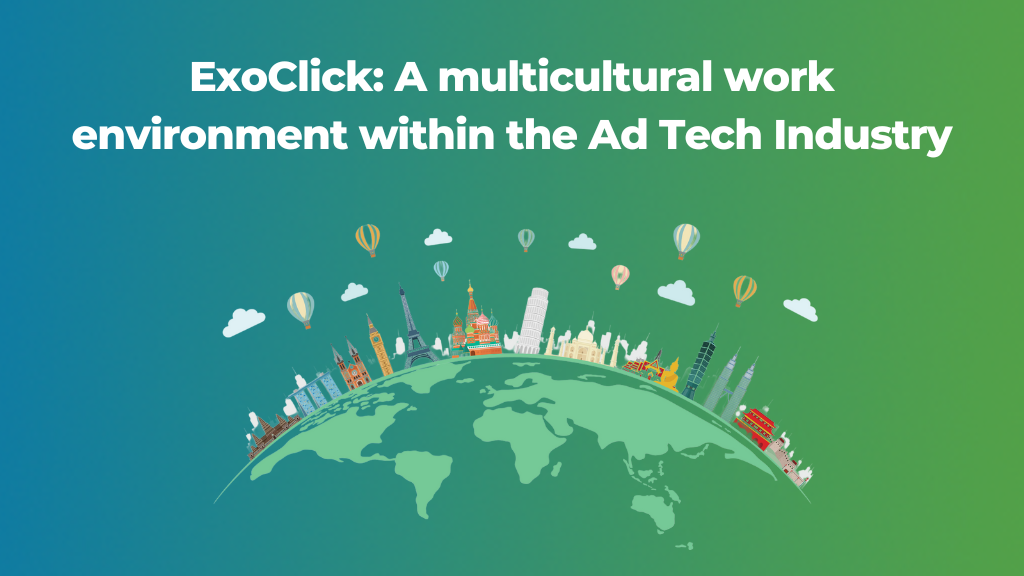 ExoClick is an innovative Ad Network which provides two channels for advertisers and publishers to monetize their traffic and offers globally. With an international client base, ExoClick's multicultural environment doesn't just end with our clients, but rather, it extends to our team members, who in turn come from many different countries around the globe. This creates a very unique and diverse environment which allows for a unique creative exchange, as well as driving growth both at a personal and team level.
According to Metropoli, Barcelona has become the biggest Startup hub in Europe, ending 2021 closing 207 rounds of investment at a value of 1.4€ million – a 246% increase from 2020. Barcelona then attracts talent from around the globe daily, with the chilled yet cosmopolitan lifestyle that only a Mediterranean Capital can offer. And this is exactly why the ExoClick HQ is based in Barcelona: as an international online tech company, we need to be at the epicenter of all this international talent hurricane, attracting them to become a part of the ExoClick multicultural family.
How does a multicultural context promote company growth? 
It is no secret that a wider range of languages and cultures will have a positive impact on any company within the tech sector – especially if it is online based! Also, the aforementioned individual and team benefits that come with a multicultural environment lead to higher overall productivity, which in turn improves the overall company results. Here are a few stats fromIndustry experts:
How does ExoClick offer a multicultural work environment to its employees?
The sole nature of the ad tech industry makes it necessary for ExoClick to maintain an international profile: Although the company's HQ is based in Barcelona, our customer base uses our digital services worldwide. That means that, whilst the main company language is English, our team members need to be able to speak a diversity of languages including Spanish, French, German, Italian, Russian, Chinese and Portuguese, amongst others. In that regard, the palette of nationalities within our teams ranges from Spanish to British, Chinese, to Russian, Romanian and many, many more!
With specific job roles within our teams (Especially when it comes to the Customer Success and Sales Teams) requiring specific languages for different markets. ExoClick was founded in 2006. Since then, the company has experienced a consistent year on year growth and now consists of 82 talented individuals made up of over 25 nationalities. Here is where our wonderful team members come from:
Countries with 1 ExoClick member: Argentina, Austria, Belarus, Bulgaria, Canada, Chile, China, Colombia, Estonia, Ireland, Kazakhstan, Nepal, Panama, Peru, Poland, Sweden.
Countries with 2 ExoClick member: Belgium, Greece
Countries with 3 ExoClick member: Romania, Ukraine
Countries with 4 ExoClick member: France, Russia, UK.
Countries with 7 ExoClick member: Italy
Countries with 37 ExoClick member: Spain
These team members are spread across a range of roles across departments: Sales, Marketing, Business Intelligence, Customer Success, Compliance, Finance, HR, Office Management. Our team leads are currently from:
Belgium: 2
Belarus: 1
France: 2
Greece: 1
Italy: 2
Romania 1
Spain: 5
UK: 3
How does working in a multicultural environment positively impact our team? 
Both at a professional and personal level, an international environment allows our team members to acquire a wider perspective of the world, opening up doors and expanding their minds, providing a greater opportunity for personal and professional growth. Also, this wider diversity of cultural perspectives can inspire creativity and drive innovation within teams, allowing each team to become more productive and perform better, leading not only to better results, but also to a higher level of personal fulfilment within the workplace. Let's break it down:
Diversity of thought leads to out-of-the-box thinking and helps problem solving through innovation and collaboration.
It also drives an increased ability to fulfil clients' needs in more creative ways, leading to higher customer satisfaction.
Cross-cultural knowledge together with specific local market understanding, leads to more effective marketing and sales strategies, improving results and increasing positivity.
A diverse set of colleagues can be professionally and personally enriching, exposing team members to new skills and approaches, expanding on their previous knowledge.
Learning about new cultures and perspectives allows team members to bond over both similarities and differences, allowing them to discard previous prejudices, becoming citizens of the world.
What mechanisms do we have in place to promote our multicultural teams' wellbeing? 
Although there are many benefits to an international environment within the workplace, it doesn't come without challenges, since a bigger effort to promote integration and fluent communication is needed. Here are a few mechanisms that are in place to help our employees have the necessary tools to integrate and feel at home:
Language lessons (Spanish, English and Portuguese) to make sure everyone can efficiently communicate with each other and have their voice heard.
We operate within a flexible working environment, offering flexitime and flexible remote work. Also, a home office set up budget is offered to each employee.
All employees have access to private health Insurance, allowing team members joining the company on a relocation basis to be covered at all times.
Online communication channels such as Slack and Google Meet are used to cater for these team members working remotely from around the world.
Team Building activities to help employees bond with each other and break cultural boundaries to promote a collaborative and comfortable work environment for everyone involved.
 Conclusion: Employee satisfaction and cultural inclusivity environment
Regular conversations and assessments with team members confirm a positive working environment that promotes employee wellbeing and teamwork – And even without these assessments, a single visit to the ExoClick HQ would make it obvious: we are like a big international family! Our team members work together, go to yoga lessons together, share meals and hang out during and outside of working hours, breaking down any biases and communicating and sharing experiences beyond any cultural boundary. We wouldn't have it any other way!
Do you want to be a part of the ExoClick's International family? Check out our currently available jobs in our career pages!