Case study: How to optimise an In-Stream Video campaign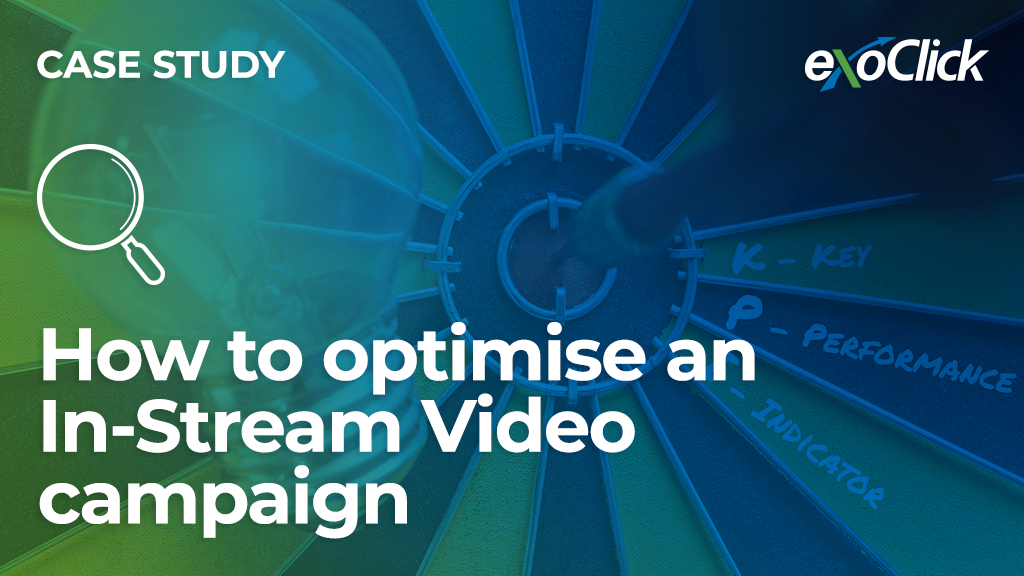 Campaign period: 13 August – 17 September 2020
Offer: Mobile Game
Ad format: In-stream video
Device: Android
Ad network: ExoClick
GEO: USA
Many advertisers are still unsure of how to optimise their video campaigns. In this case study I will show you how to set up a test campaign and then optimise it. The goals of this case study were:
To show the value of generating data by first testing
How ExoClick's Bidder and optimisation work together
To block non performing ad zones and obtain my target CPA to win high performing ad zones
The In-stream ad format
For this campaign I used the In-stream video ad format because it is a great way to showcase a product especially Games, where you give the user a taste of what fun it is to play. In-stream allows you to ad clickable calls to action which lead to a Landing Page. So let's look at how the ad is displayed to the end user:
User visits a video content site
User clicks on a video he wants to view
In-stream ad plays before the end user can see the video content he has selected
User can click the 'Skip ad' button after 5 seconds, just like on Youtube, therefore your key messaging should appear before the 5 second mark to keep the viewer interested in watching the whole of your video ad.
Note that the video ad automatically plays with sound so you can add a voiceover or some exciting royalty free music, in case the end user has sound muted it is also recommended that you use texts in the video also.
Setting up the test campaign
It is very important you keep your test campaigns running for at least 7 days including the weekend, don't give up after 2 days if you have few or no conversions. You need to test for at least 1 week to collect a decent amount of data. You will then use this valuable data to optimize your campaigns.
We began our test period 13 August. The campaign was set up without any capping and CPM was set at $0.30 USD. I set up the Bidder to work on adjusting the bids by zone based on the target CPA set up in the rules.

General stats of the campaign

Zone stats. See how the Bidder adjusted the CPM bids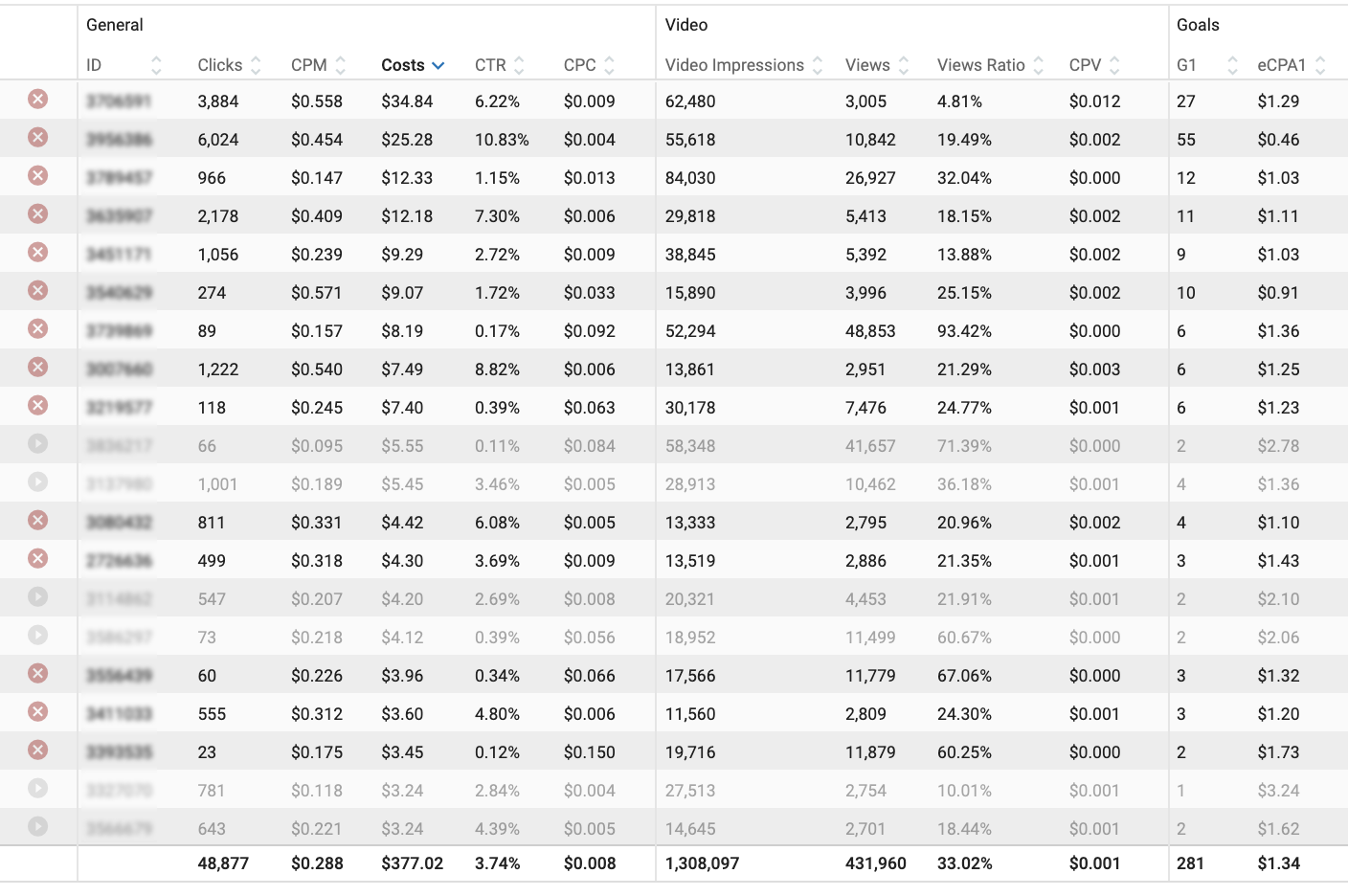 Optimisation day
On the 21 August after letting the campaign run freely for 8 days in order to gather enough data, it was time to look at what could be blocked. The aim of this optimization was to remove from the campaign anything that was not bringing positive results. By doing this, and thanks to the Bidder adjusting the bids based on my target CPA, I was able to see better results, meaning more traffic, higher CPMs across the zones, and more daily leads. The eCPA moved closer to my target too.
Based on the stats, I did the following:
Variations: The campaign had 2 videos, both showing the Game being played and a constant 'Play Now!' CTA button showing throughout in order to beat the Skip Ad button. Both CTR and eCPA looked pretty decent, so I didn't pause either variation.

Site domains: I just blocked 1 site domain that wasn't performing. The eCPA was high and the leads (G1) were small versus the total, so it made sense to block it so as not to keep spending on a source that wasn't working.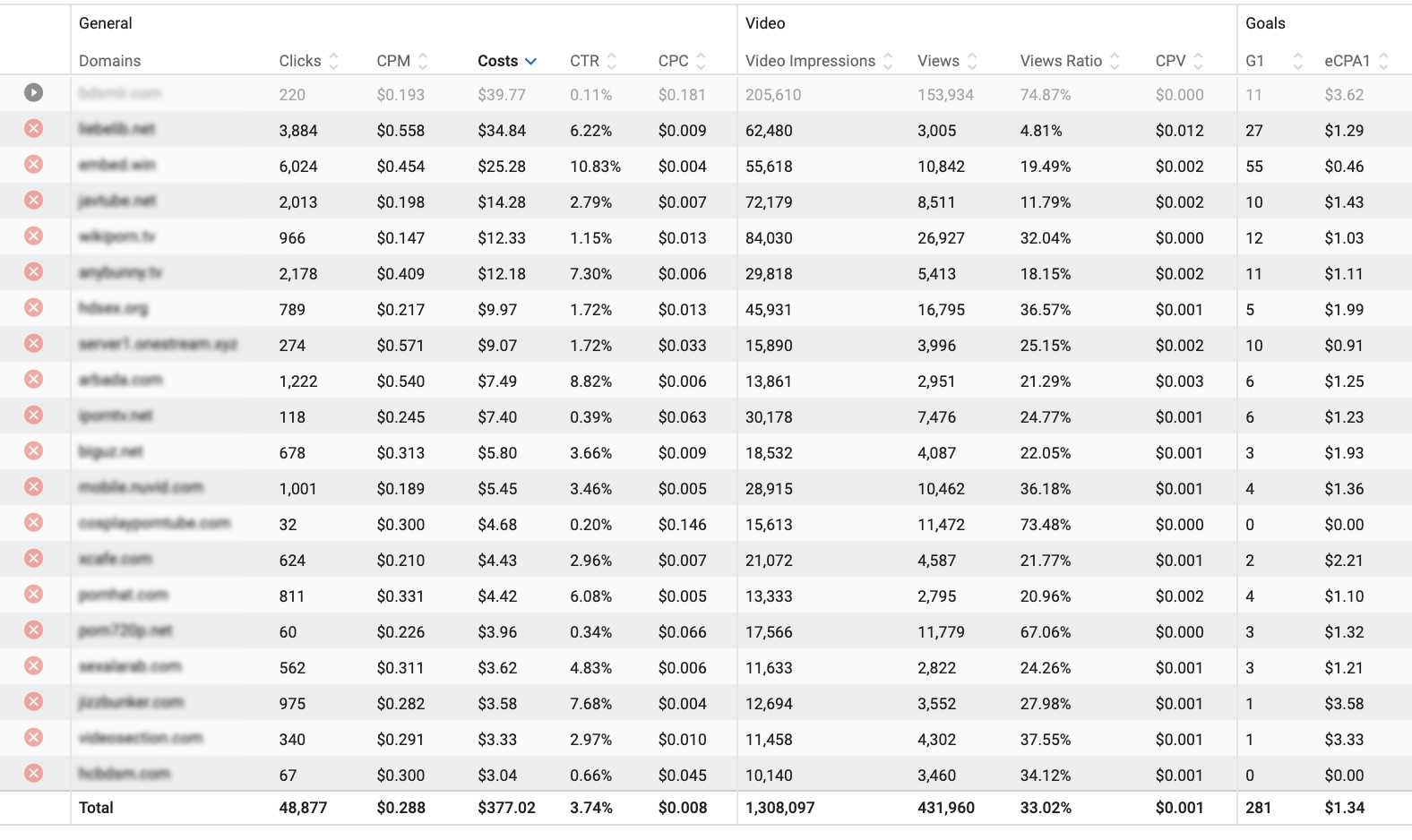 Categories: There were a few that I could remove. Even though the cost was low and the leads didn't represent too much versus the total, it made sense to block them.
Locations: This is an important optimization step, especially when targeting large countries with a lot of regions, such as the US. Removing some of them can make a difference. Based on the stats, I blocked from Pennsylvania to Georgia, both included. Again, the total cost of targeting these regions was high, the eCPA was way above the target CPA and the leads gained were not worth it.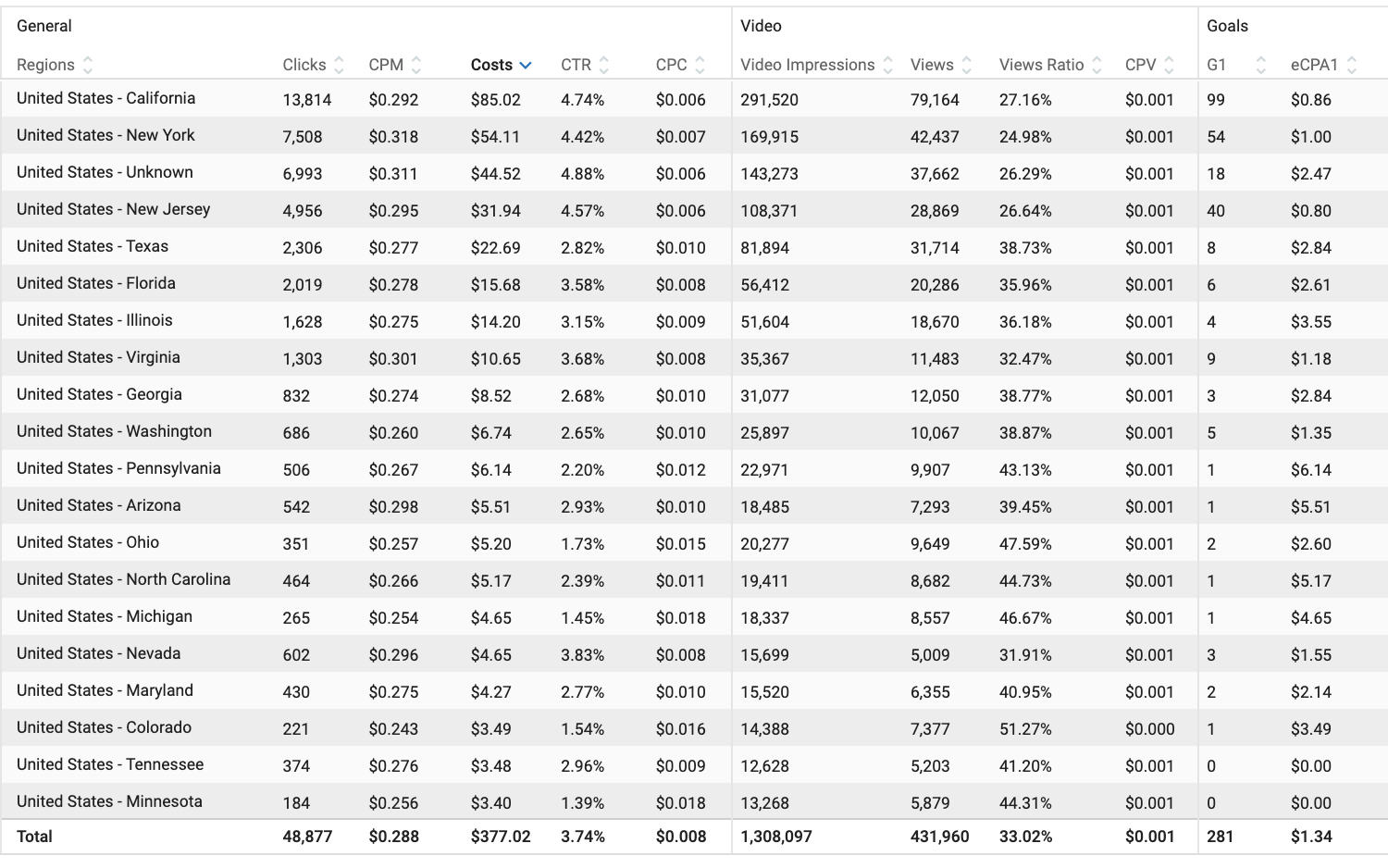 Devices: As this campaign was targeting only Android devices, it made sense to take a look at the device stats too. I removed Motorola, ASUS and HTC from the campaign. Again, the cost and the eCPA was high, and leads were low.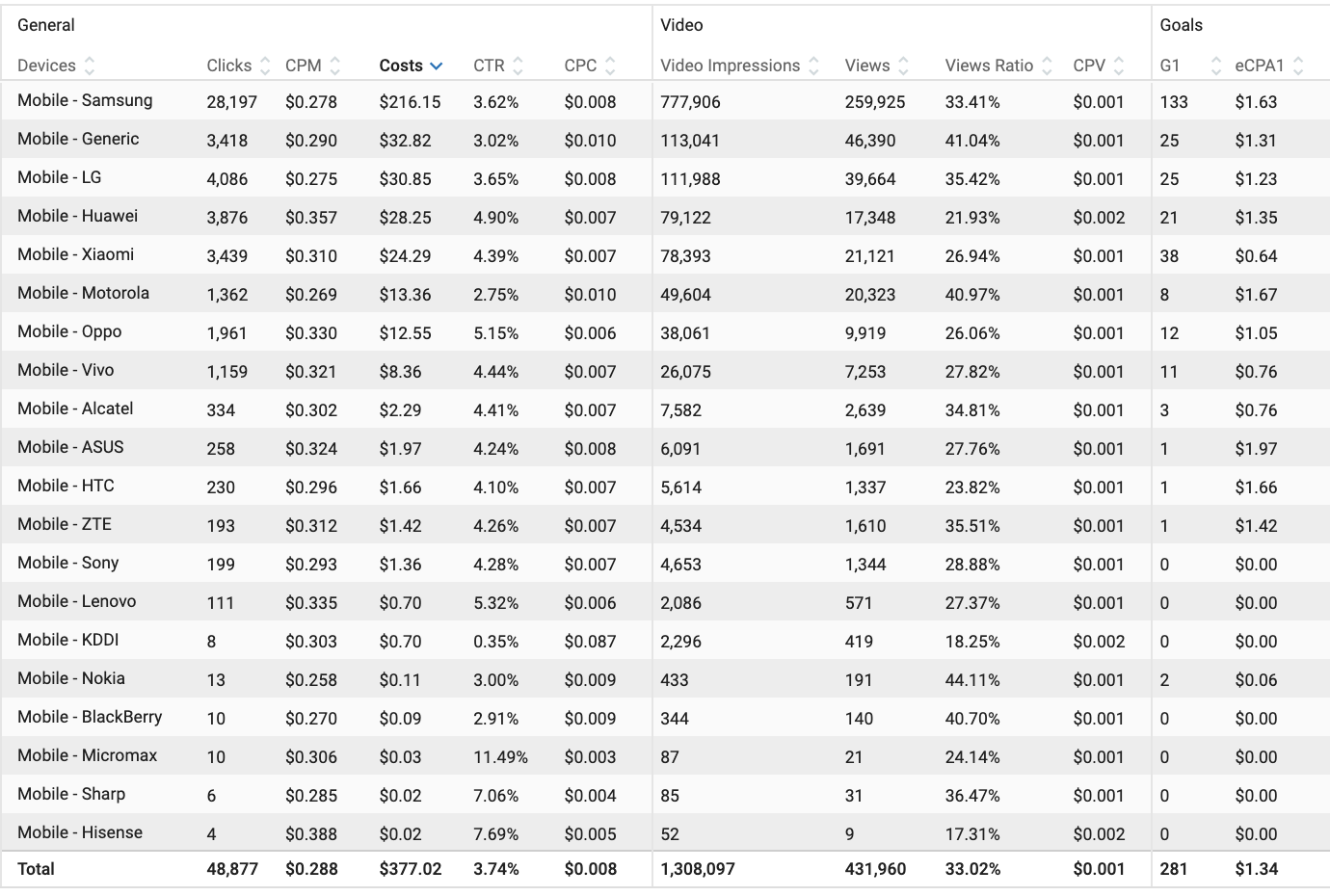 Note: Samsung was the main lead driver for the campaign so, despite the eCPA being above the target, it was better not to block Samsung for obvious reasons. With all the optimization we performed, the eCPA decreased closer to our target CPA.
Browsers: There were few of them which I blocked, UC Browser, Puffin, and Firefox, again due to high cost and eCPA.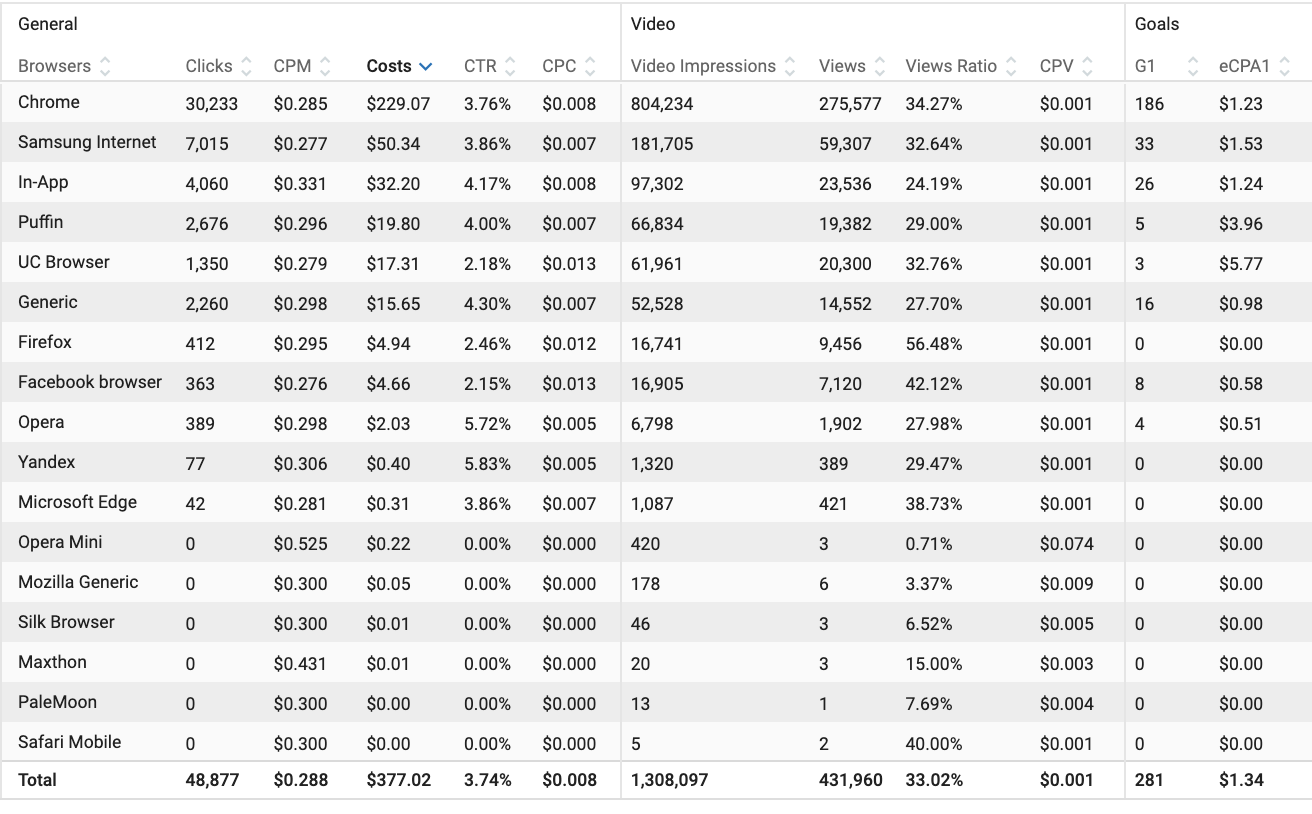 Carriers: By default, I did not exclude carriers, because they do convert, but as you can see from the stats below, 90% of the leads came from WiFi, with an eCPA below the average of the campaign, so it made sense to only target WiFi.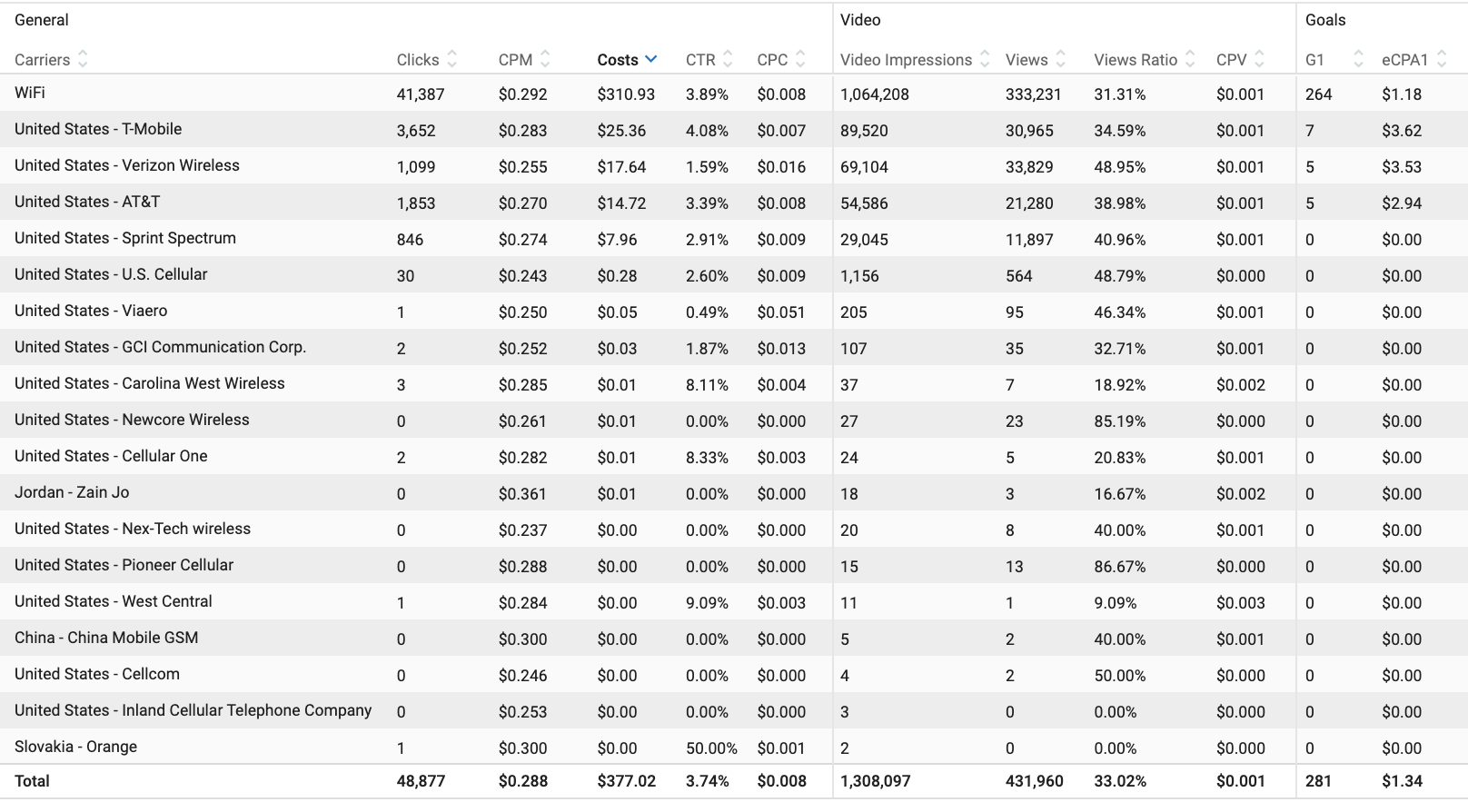 Follow up day #1
25 August, 5 days later, I saw the average CPA drop to below my target, meaning the optimization I made worked. Despite the initial traffic drop, it recovered each day, so it was now a matter of keeping the campaign running for more days to see how both impressions and CPA evolved positively.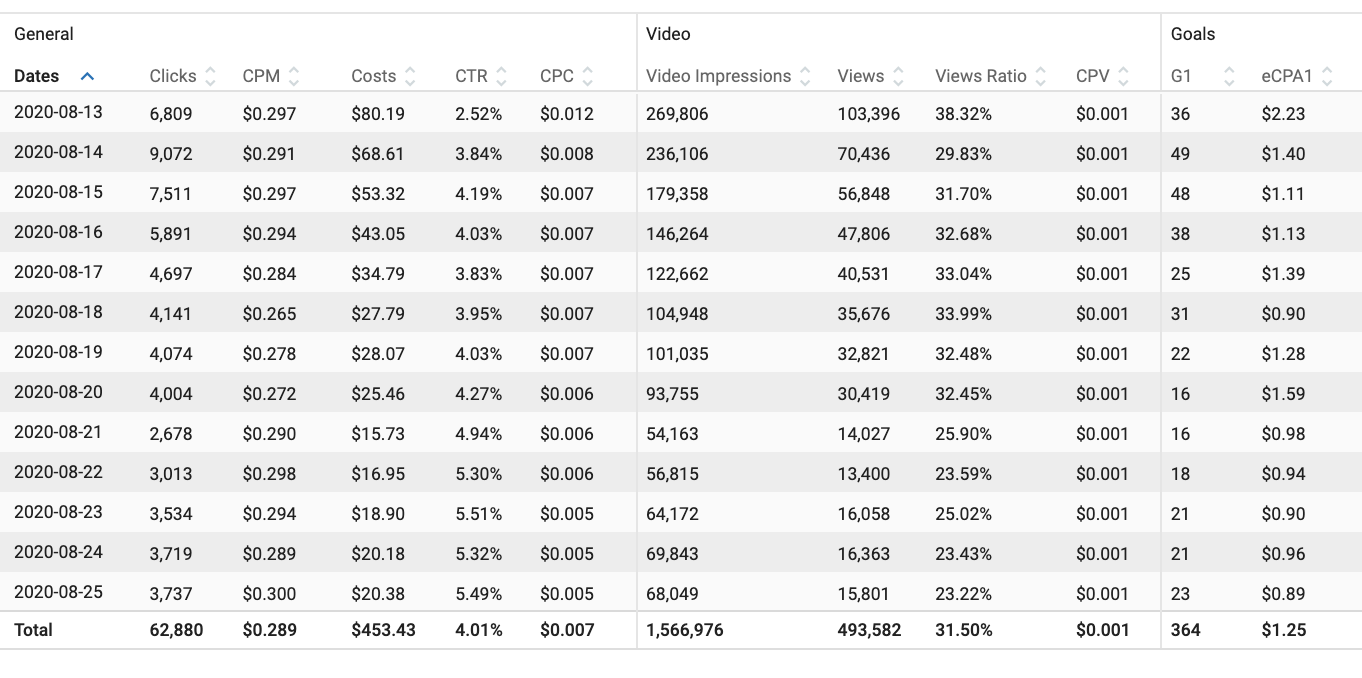 Follow up day #2
17 September, after 1 month of running the campaign, the average CPA was exactly the same as my target. The campaign gained traffic and leads.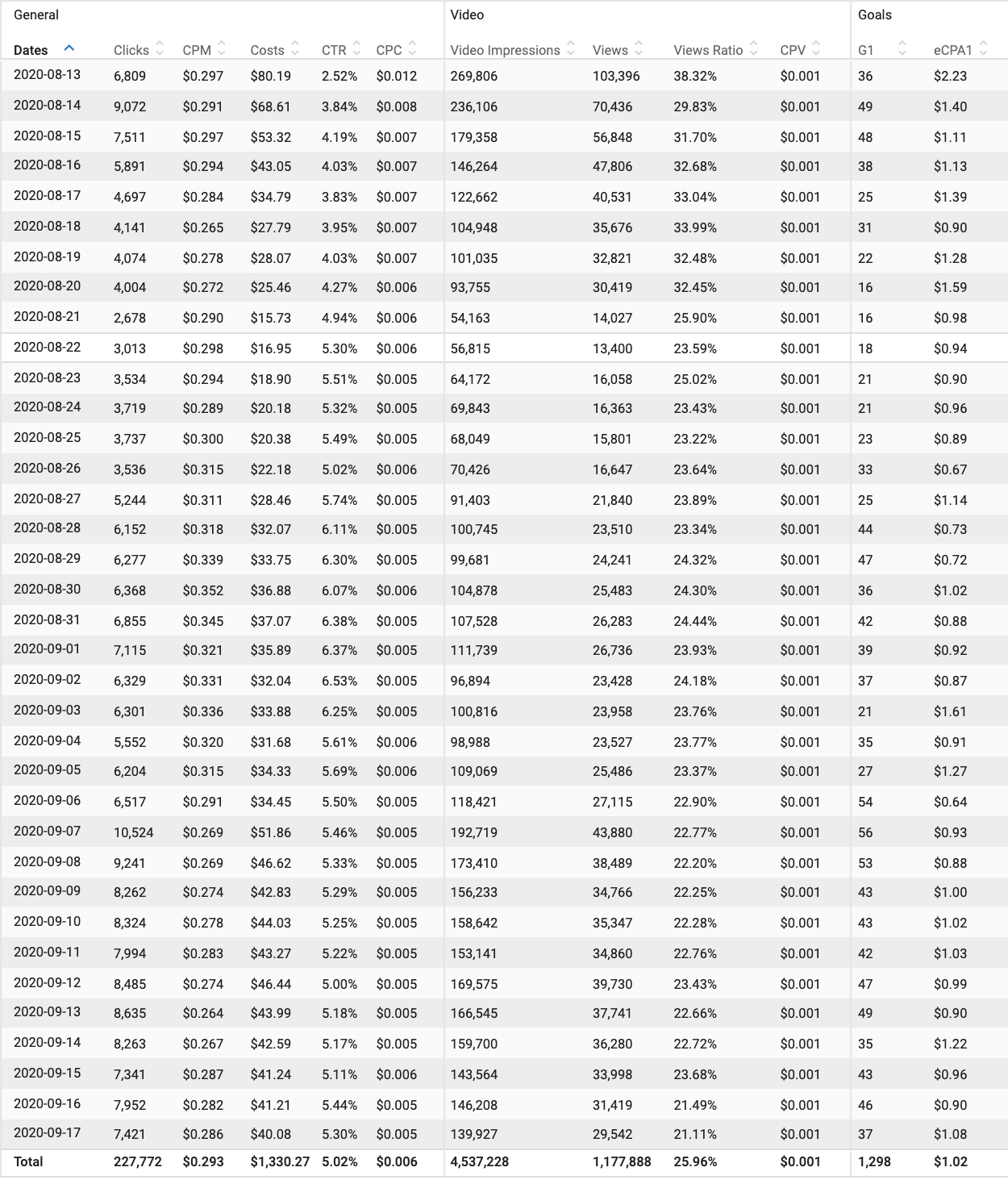 Results
So after 5 weeks in total the CPA target was on track and as I continue the campaign I will continue to increase the ROI and generate more profits. Further down the line I will change the video variations, so that end users see fresh creatives for the offer and additionally I now know that those ad zones seem to work well for Games and can add them to a whitelist for other Android Games offers in the future. But I will keep checking the campaign everyday as traffic can fluctuate even on well performing ad zones.
Here you can see the results up to 17 September and one month later on 20 October as the campaign continued: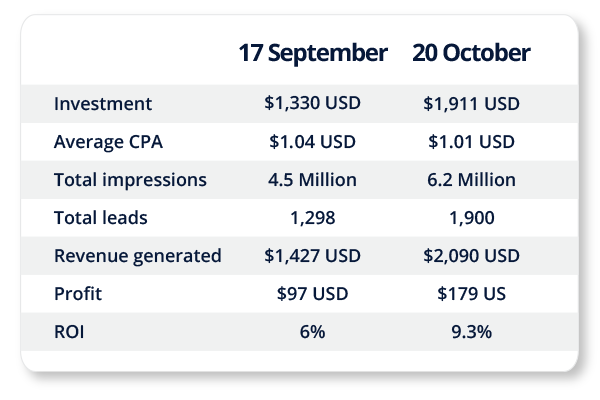 Conclusion
Video advertising needs a decent test period before further optimisation. I could have given up when I was making a loss and getting few conversions early on, but I persevered by letting The Bidder work for me, because I knew that eventually it would reach my target CPA and reveal the best converting ad zones. Now I have a profitable campaign that I can build on.
More video advertising tips
Here are some further video campaign tips from ExoClick Advertising Account Manager Andreas Neider:
Tip 1: Create separate test campaigns for mobile and desktop, due to different performance on various devices and create separate campaigns for each main Category you want to target.
Tip 2: RON (run of network) and Premium Traffic sources should also have separate campaigns:
RON is a less expensive traffic source, each day new traffic sources are added to RON, so it's a great way to discover new ad zones from which you can create whitelist campaigns. As an example, average minimum prices for the US are around $0.50 CPM for In-Stream.
Premium traffic comes from verified high quality traffic sites with more stable volumes than RON sites, this source is more expensive, average minimum prices in the US for In-Stream are around $1.50 CPM. If you target both RON and Premium together you can waste money on RON campaigns because you are bidding a higher price for the mixed in premium traffic sources. So better to create separate campaigns here also.
Tip 3: Use The Bidder because it works for you like a smart assistant. You can use the Bidder to automate bids for you and automatically block non performing ad zones. We recommend not to set too many rules, this rule is a good starting point for video advertising:
Set a target CPA slightly lower than the actual CPA, for example if the CPA is 2, set your target CPA at say 1.9.
Set your Maximum Test Budget at twice the CPA and don't use any zone blocking rules.
This might seem like a basic algorithm but it is very effective for video advertising.
Tip 4: Experiment with Frequency Capping, which allows you to restrict the number of times a unique user will see your video ad, to prevent video ad blindness. We recommend one time every 24 hours.
Tip 5: Aim for $100 minimum as a daily test budget, anything less will not get you enough data.
Tip 6: For the delivery mode select 'Distribute throughout the day' for your test campaigns, again this will help you gather more realistic data.
Tip 7: When targeting for test campaigns, keep the time schedule field open, if you set specific time periods you will get less traffic, and that traffic will be more competitive/expensive. However make sure you do basic targeting such as OS, device, language, etc, only use targeting that is really necessary. Again this is to collect a good range of data, then after 7 days you can evaluate the performance of your test campaigns. For example, maybe after 7 days you see that your offer is performing really well on Android but not on iOS, so when it comes to launching your main campaigns you can target Android and block iOS. Maybe after testing you get no clicks on a Wednesday evening but lots of clicks on Saturday evening, so when you launch your main campaigns set the time schedule to focus more on Saturday.
Tip 8: Use the Landing Page algorithm to test out different Landing Pages. Choose between three traffic share algorithms to automate testing your landing pages and see which converts the best. Even spreads out the traffic evenly between LPs, Fixed lets you set percentages of traffic share to LPs and Automatic sends more traffic to the LP that is performing the best.
Tip 9: Don't just leave your test campaigns to run, keep checking them everyday including weekends, if you see something strange or something you don't understand reach out to your account manager or a Client Care Specialist here for help.
Tip 10: After 1 week you should have enough data ready to launch full campaigns. Just bear in mind a few things:
If you see that 1 publisher site or 1 ad zone is converting really well for you and therefore you have optimised your campaign accordingly, bear in mind that traffic can change from day to day, so you may have to re optimize your campaign.
Be aware of different minimum bids on different ad zones, we recommend that you create different campaigns specifically for ad zones that you are targeting or you could burn money on cheaper ad zones, because you will be paying more for them than they are worth.
Keep checking those campaigns everyday!
Download our Ultimate Guide to Games Offers for more tips and strategies.