Media Buyers! 5 ways to convince your boss to use video advertising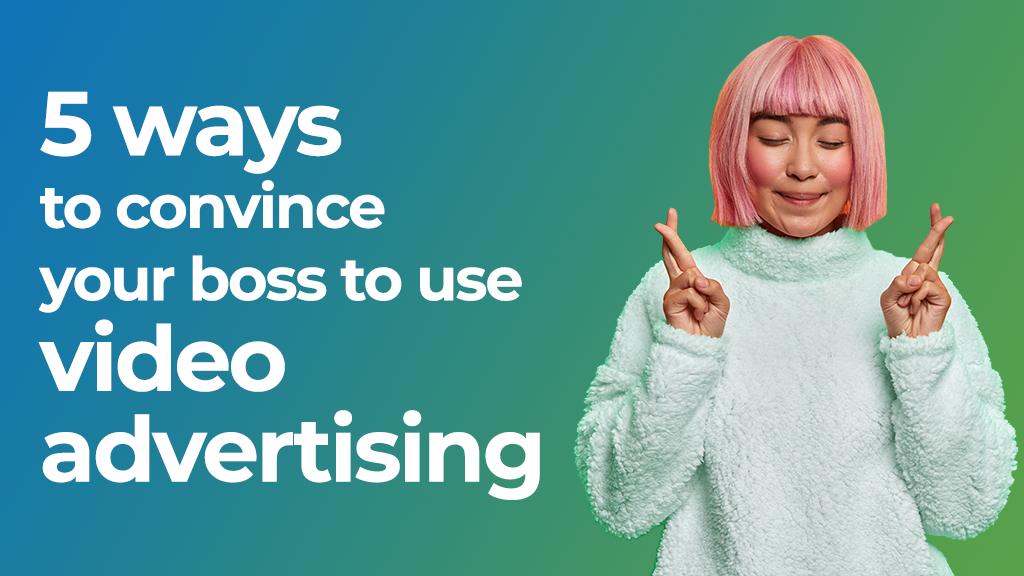 If you haven't tried video advertising to promote your offers yet, here we bring you 5 solid tips to convince your boss that you need to do it.
#1 Statistics don't lie
According to industry sources, more and more marketers are using video advertising to drive sales. Check out these statistics:
#2 Show them the CTRs
ExoClick offers 3 different video ad formats: 
In-Stream which plays before an end user watches a video on a website, just like Youtube. 

Video Slider which slides in from the bottom right of a webpage when it loads making it very eye-catching. 

Outstream, which works like a display format and is revealed to the end user as part of their user journey.
Here you can see global CTRs for all three video formats versus display banners on desktop and mobile for a selection of verticals on ExoClick's network:

#3 ExoClick's minimum prices for all video formats
Recently ExoClick introduced new minimum bid prices for all video ad formats:  
Tier 1 : 0.1 CPM / 0.01 CPC / 0.01 CPV

Tier 2: 0.05 CPM / 0.01 CPC / 0.005 CPV

Tier 3: 0.01 CPM / 0.01 CPC / 0.001 CPV
These new low bid prices are the perfect way to launch campaigns with minimum risk. They are a great opportunity for you to experiment and test out campaigns, ensuring a wide range of data is collected for campaign optimization. Running new low bidding RON campaigns will help you discover new ad zones to target. We advise you to set up new campaigns using ExoClick's Bidder which will adjust each ad zone according to the CPA goal you set, to build up a solid white list. 
TIP 1: It is very important you keep your test campaigns running for 7 days including the weekend, don't give up after 2 days if you have few or no conversions. You need to test for at least a week to collect a decent amount of data. You will then use this valuable data to launch full campaigns. 
TIP 2: If you are new to video advertising we highly recommend that you create separate campaigns for In-stream, Video Slider and Outstream, each format performs differently and you should monitor and optimise each campaign separately so that you get specific useful data for each format. Also create separate campaigns for each format on Mobile and Desktop due to the different performance of each format on various devices.
TIP 3: Additionally you could try the CPV (Cost Per View) bidding model that is available only for video formats, which only charges you if the end user watches 10 seconds or more of your video ad.
#4 Video content creation has never been so easy
With the explosion of video content apps like TikTok and Instagram Reels shot by real users, consumers are now accustomed to seeing a video that is not full of high production values. Video ads can now be created using a decent quality mobile phone and can be edited into ads with texts and logos on several cheap apps on mobile or desktop. 
Try one of these ExoClick recommended video editing platforms, all can produce video ads in just a few minutes:
Or you could use ExoClick's video making service where we create video ad for you free of charge and we produce videos for the following verticals:
Dating

VoD

Nutra

Casino/Gambling

Games
All you need to do is contact our Customer Success team or your ExoClick account manager for more information. You will also receive information on how to set up your campaigns and tips for a successful campaign.
So it's that easy to get content for video advertising!
#5 Using Video as part of a wider marketing mix
Many advertisers use video advertising as part of a wider campaign which can also include using a mix of other formats including Banners and Native. To better track the results of how your video ad is performing let's look at Attribution. If you are using VAST video ads these metrics can be found out by using custom attribution, and the reason why it's useful is that you can see how video ads work as a support to your overall sales funnel, and from what we have seen, we estimate that this could be contributing to about 30% of your sales.
 Let's look at two scenarios:
What if a user saw your video ad and didn't click on it, but later remembered your product and did a type in search in Google – wouldn't it be good to know that this type in was because the user had previously seen your video ad? Simply add a new pixel conversion tracking goal on your video ad campaign to track the conversions without a click, typically coming for type in and Google search.

What if a user saw your entire video or a high percentage of it and didn't click, if you track video views with a pixel, you can create a retargeting campaign with Banner/Native ads for the same offer. This will help you to measure the increased conversion rate for users after having seen your video ad. Don't forget to attribute some value to the video ad campaign based on your attribution model.
For more information on using VAST and Custom Attribution, contact your account manager or our Customer Success team.
Conclusion
One final thought, video advertising is the future and more and more advertisers and affiliates are using video ads to really tell a story about their offer/product. Video allows you to show much more about the offer's benefits, what exactly a consumer can expect to get if they make a purchase, a product tutorial, and more etc. It has never been easier to create video content and with ExoClick's minimum prices – all I can say is it is time to convince your boss you have the tools to take your media buying to the next level. But before you begin make sure you check out our Ultimate Guide to Video Advertising which shows you tips on campaign creation, optimisation techniques and creative ideas to make your video campaigns irresistible to your target consumers.