Italian mobile internet users overtake desktop only users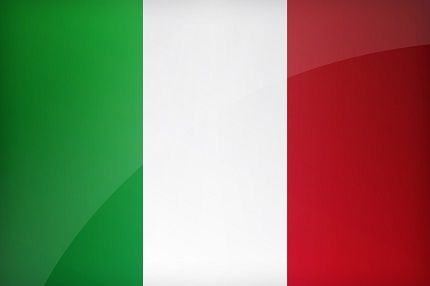 According to data captured by comScore, in March 2017 9.3 million (24.9%) of the country's 37.3 million internet users accessed the internet exclusively via smartphone or tablet in March. By comparison, 9.1 million (24.3%) did so solely from a desktop or laptop computer.
Just over half (51%) of Italy's internet users employed both mobile and desktop devices to go online during the month, up 4 percentage points from the 47% who did so in September 2016.
Mobile devices are now the gadget of choice for several content categories, showing an increase of mobile-only consumption between September 2016 and March 2017, led by news, which rose from 28% to 40%; retail, up from 22% to 33%; and sports, which jumped from 41% to 51%.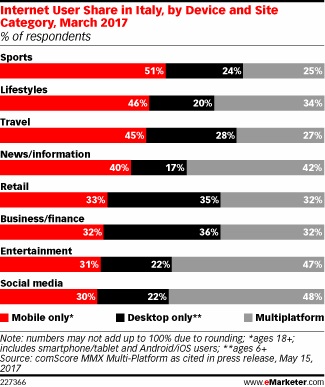 Internet User Share in Italy, by Device and Site Category, March 2017 (% of respondents)
Content categories requiring low user interaction, such as news and lifestyle, now draw 80% of their overall audiences from those using either mobile devices only, or some mix of mobile and desktop/laptop.
Retail ecommerce which is historically a desktop-first activity has migrated to mobile with 28.4% of retail ecommerce sales in Italy completed via mobile devices. So even activities long characterized as problematic on mobile devices' small screens, such as inputting details needed to complete a digital purchase, are becoming less of a nuisance and more the norm.