Use ExoClick's free Video Ad Making Service for your Valentine's Day Dating Offers!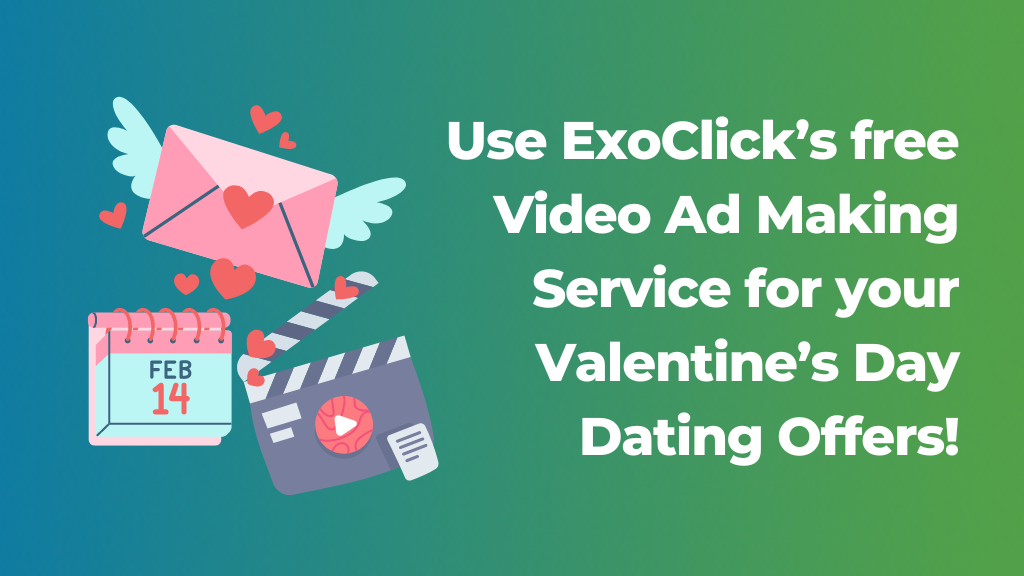 Have you tried ExoClick's free Video Ad Making Service for your Valentine's Day Dating Offers? Video ads are an essential part of online advertising: They are a popular format because they are engaging, entertaining, and can be passively watched, resulting in high CTRs, along with the opportunity to really entertain an end user and make a connection with them. Because they are used to apps like Instagram, Youtube and TikTok, audiences prefer short video explainers to other formats. This is especially true when it comes to Dating sites, since what your audience wants is to really get to know other potential daters. On Valentine's day 2023, you can cater to this need through small introduction videos and similar!
At the table below you can find last year's valentine's day global average CTRs for the 3 main video ad formats, during the days surrounding the event, and also the CTR increases comparing the days surrounding the event with the week before. For instance, In-Stream video ads had an average CTR of 2.5% between the 2022-02-06 and the 2022-02-16, which was an increase of +5.20% compared to the week before.
Global average CTRs during the week surrounding Valentine's Day and CTR increases comparing to the week before: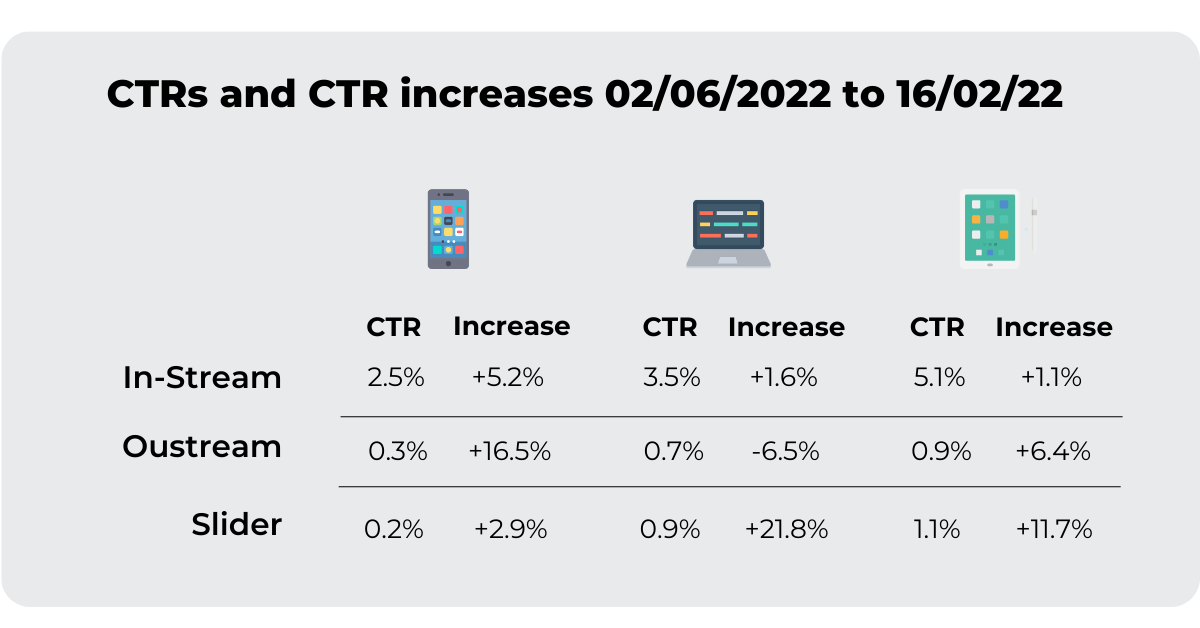 Find out about the fundamentals of video advertising here.
Use our Video Making Service and Tools for your Valentine's Day video ads!
A lot of advertisers don't have either the time of the resources to be constantly creating videos to keep their ad roster fresh. Valentine's Day Dating offers generate huge reveues for advertisers during February.  This is why we offer our clients our free video making service, through which you can access great content of video ads that you can use free of charge. You choose the text, and we turn around with your fresh new video in a couple of days, so you can get your campaigns started, and start generating conversions asap with these high CTR video formats. Another feature that you can access when using our Video making Service is the Voiceover service:
Voiceover Service
Our voiceover service allows you to add captions to your video ad creatives so that the end user can watch your videos either on mute with texts, or with sound with the texts being brought to life by a female voice. The service is available in the following languages:
European: Dutch, English (American or British), Finnish, French, German, Italian, Norwegian, Portuguese, Romanian, Russian, Spanish, Turkish
Middle Eastern: Arabic
Indian: Hindi, Tamil
Asian: Chinese, Indonesian, Japanese, Korean
Voiceovers on your video ads makes them more engaging to your audiences, leading to a positive impact on CTR and ROI.
Get going with your Valentine's Day video campaigns by speaking to your account manager, or contact our Customer Success team here to get your video ad materials ready for pushing your offers in the run up to Valentine's Day.
Top Tips to use the Video Making Service for your Valentine's Day Dating Offers
The Video making Service is designed to help you make your Valentine's Day video ads pop and achieve best results! Here are a few creative tips to help you make the most of this service:
TIP! Keep your videos fresh at all times: Don't let your videos go stale! It is a good idea to refresh your creatives from time to time, so that your recurring audience doesn't get bored. Phone cameras can take high quality content nowadays, so you could constantly be sending fresh new assets to our Video Creators, and they would take care of the editing process. Or even reuse older assets in different order to create new stories. For Valentine's Day Dating offers, the video making service gives you a chance to quickly adapt your creatives to this calendar event, adding Valentine's Day imagery like cupids, roses, hearts, and refreshing the texts to reflect this Holiday.
TIP! TikTok style creatives: TikTok, YouTube and Instagram style videos are great to engage your dating audience. With the Video making service you can pick video styles that use popular filter types and effects, colors and fonts, to keep it trendy and relevant. You can also use emojis in your video creatives if you are showing bits of text (if this is two characters talking, the text could be contained within WhatsApp text style bubbles), as well as abbreviations such as LMAO, LOL, etc.
TIP! We help you tell a story: One of the main qualities of video is that you can really tell the story of your service to the audience in a highly engaging and entertaining way to capture their attention fully. For example, we can help you create small interview style videos of different daters introducing themselves, with their hobbies, likes and dislikes etc. Or you could even stage a small love story about 2 daters that met at a cafe after connecting on your dating site. Get your creative juices flowing, and sky's the limit!
TIP! Reinforce your CTAs: Add additional CTAs throughout your video ad's story, incorporating phrases such as "Find out more", "Click for more info", "Click for a discount" throughout the video story. This gives your audience more opportunities to click, in turn, increasing your video. Mention Valentine's Day Dating offers in your creatives to make it seasonal and timely.
TIP! Use the CTA feature: Video Call To Action (CTA) allows advertisers to add a call to action text on their video ads, to direct potential shoppers to their service landing page. CTAs are key to let the users know what it is that they are expected to do with your ad, persuading them to act quickly, encouraging clicks, sales, signups, or subscriptions, based on the information displayed on your ad campaign's CTA.
TIP! Localize your voiceovers: With the voiceover service, you gain the ability to have several different languages for your video ads. Because this allows you to target numerous different GEOs, you can now communicate with the end user in their own language. With this you build closeness, and increase the emotional impact of your ad, building trust and connecting more with the end user to push them to find out more about your offer.
TIP! Download our Ultimate Guide to Dating: Find our best tips to thrive within the dating vertical in our Ultimate Guide to Dating, where we have compiled industry stats, network volumes, CTRs and useful advice to help you maximize conversions!
Do you want to start using this useful service to create your Dating Valentine's Day video offers? Get in touch with your account manager, or contact our Customer Success team here.