How to beat Adblockers: Monetize adblock traffic with ExoClick's solutions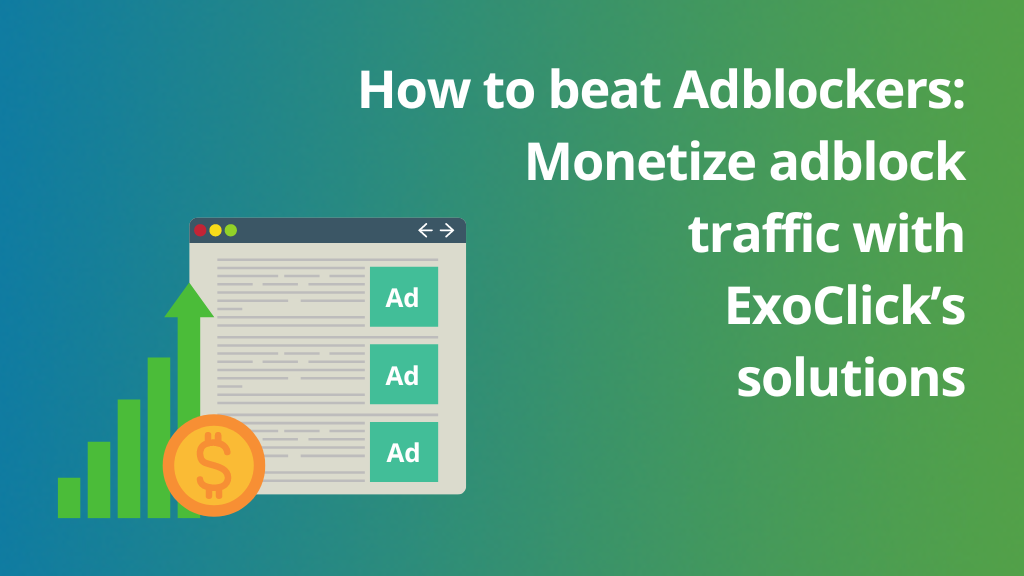 Ad blockers are becoming increasingly more popular, with 42.7% of internet users using ad blocking tools globally, according to Backlinko. This huge percentage costs billions of dollars in ad revenue losses for publishers, and stops advertiser campaigns reaching end users. But what exactly are ad blockers and how do they affect you as an ExoClick client? In this blog post, we will explain how to beat adblockers: How they work, and what you can do to monetize adblock traffic and prevent them from diminishing your returns.
How do ad blockers work?
To learn how to beat ad blockers, it is key to understand how they work. Ad blockers are browser extensions that block communications between ad servers and your browser, then hiding the elements of the site designed to showcase ads, which appear blank to end users who use ad blockers.
Here's how it works: Ad blockers disable these ad placements by using filtering lists such as Easylist (more on that later) containing the addresses of all known ad servers, along with sequences of pattern matching rules. When an adblock plugin is installed on a user's browser, the ad blocker quickly scans any web page the user navigates for any element (scripts, links, folders, css, etc.) that might be related to the addresses in the filter list. If any of these elements match, they will be blocked from being displayed.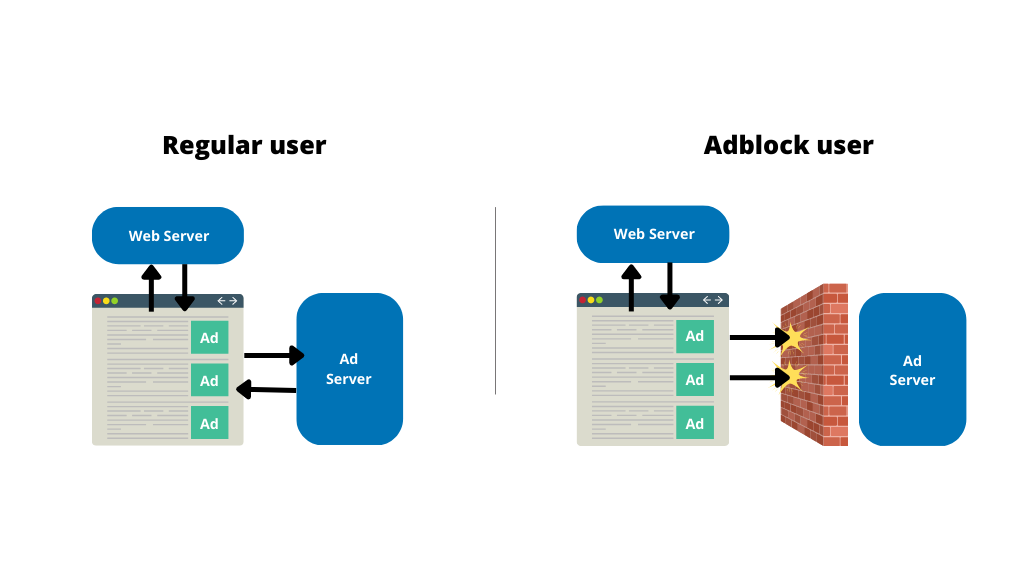 How do ad blockers negatively impact publishers, advertisers and end users?
As stated above, globally, ad blocking costs publishers and advertisers billions of dollars, and the losses are growing year on year. And although they promise privacy and navigating efficiency to their users, they can cause issues, including:
Negative User Experience: Ad blockers can disable crucial site functionalities that are designed to provide a good user experience. Because they won't replace the blocked ad content, the site will show missing parts to the end user, or even display error messages. In some cases, the ad block may block DMCA copyright control, cookie policies, and even missing CTAs, and interfere with order tracking.
Lost Ad Revenue: This affects both Publishers and Advertisers. For Advertisers it is crucial to get their ads shown to the end users in order to sell their products and services and make their business grow. And most publishers earn revenue by selling ad zones to advertisers who want to display their products or services! They count on their traffic for impressions, subscriptions, conversions and, of course, revenue flow. Ad blocking severely impacts these metrics, as well as Publishers and Advertisers ROI, brand awareness and business development.
Problems with Analytics: Ad blockers can block cookies, so user activity cannot be tracked. They can also prevent tags from firing, blocking events such as page views and clicks. Generally, by blocking the loading of certain scripts, such as those used by Google Analytics, ad blockers interfere with data collection. This all leads to inaccurate data collection on traffic and behavior metrics.
Google Manifest V3: Impact on ad blockers
Manifest V3 is an API that Google will use in the Chrome browser, as Manifest V2's successor. The MV3 will be rolled out in a major update to Chrome extensions, affecting ad blockers. This update was first announced in 2018 and is now in process of testing pre launch, to be launched in June 2023. So, from June 2023 we could see ad blockers becoming less effective against advertiser campaigns, relieving the pressure of ad blockers on both publishers and advertisers. However, there are so many ad blockers in the market, and their developers will probably come up with a solution to bypass the effects of MV3 once they have adapted to the change. That means that we still need to come up with solutions to bypass these pesky ad blockers!
How to beat adblockers: Solutions For Advertisers 
As explained above, the work of every ad blocker is powered by "filter lists" which are lists of rules that outline exactly how ads should be blocked by ad blockers. Here are 2 ways in which advertisers can know whether their domains are currently being blocked and understand how to beat adblockers.
Maintain your domains adblock free
There are two main recommended ways to stir your domains clear from ad blockers as an advertiser. One is EasyList, which is a community-run project that maintains one of the world's most popular ad blocking filters and filter lists, including a list of domains that are currently being blocked. If your domain comes up as flagged in EasyList, then consider rotating the domains you used in your Campaign Variations. This way, you will make sure that users coming from adblock traffic are able to make use of your promoted website and take advantage of all its features.
You can also track whether your site is being added on EasyList using BlockAdblock, which is a very easy solution to use. To use this tool, you just need to input your landing's url in the search feature to identify these threats as they develop. This tool also has got what is called 'Block mode', which keeps ad blocker users out completely until they whitelist your site. This tool can also be used by Publishers.
Track Conversions with Server-to-Server
You could also consider switching to Server-to-Server tracking to track conversions from adblock traffic. Since these conversions are notified directly via server, it is impossible for adblockers to prevent you from tracking your conversions and identifying traffic that is profitable for you. Note that retargeting is not available for adblock traffic because Adblock blocks the tracking script (and Server-to-Server tracking doesn't generate the cookies needed for retargeting).
Solutions for Publishers: Basic steps to handle Ad Blocker effects
As a Publisher you can find many blogs online claiming to have the best strategies on how to beat adblockers, from inserting Js. codes to track adblock traffic, to paying for adblock dashboards. From ExoClick, aside from the aforementioned EasyList and BlockAdBlock tools, we recommend to:
Track and Measure your Adblock user audience 
One tracking tool that could help you understand your adblock audience is Google Analytics, which gives you detailed insights on what's happening on your site. You can set up a custom tracking event in Google Analytics that gives you some indication of how many users are visiting your website with adblock enabled. This will help you get an idea of how much traffic you could be monetizing. Note that we will be referring to the Google Analytics 4 version since Universal Analytics will be discontinued in July 2023. Want to read more about this way of tracking adBlock audience? Read our latest entry on our Documentation.
Monetize adblock traffic 
You can do this either by asking to disable adblock or by using an adblock circumvention solution such. Some ad networks have these solutions inbuilt.
#1 BlockAdBlock Nag Mode: BlockAdBlock offers an option to display a message to prompt adblock users to disable the adblock in order to proceed to the website. It is called "Nag mode", and it is shown to adblock users only once per session, asking them to whitelist you. If they don't turn off their adblocker they can come in anyway, so it won't impact your website traffic negatively.
#2 Use an ad network that offers ad blocking solutions: Possibly the best strategy to monetize adblock traffic is to use an ad platform such as ExoClick that allows only the best viewability standard to their advertisers, and serves high quality, fully compliant ads. ExoClick focuses on providing ad formats that improve the user experience and help users find what they're looking for, instead of annoying them, leading your site outside of the radar of ad blockers. We also have specialized tools to help you bypass ad blockers:
ExoClick Solutions for Publishers: In-line Code and AdBlock traffic monetization tool
ExoClick offers two adblock monetization solutions that are completely free of cost for our Publisher clients: The In-line Popunder code, and the Adblock traffic monetization solution:
In-line Popunder Code: 
Popunders are a very popular ad format because they are served in the end user's browser after they close the website where the ad has been served. Although it can be subjected to ad blockers, there is a very simple way to sort the issue ExoClick's In-line Popunder Code helps solve this problem, enabling Popunders to still be shown to adblock users, and allowing publishers to monetize adblock traffic for this specific ad format. For this specific format, you need only one single code, and it is very easy to implement: Find out how to use it here!
How to beat adblockers: Adblock monetization tool: 
The Adblock Traffic Monetization tool provides a clear answer on how to beat adblockers on Banners, Sticky Banners, Native and Instant Message. This solution's script has been developed to be compatible with multiple ad blockers, and it works on all browsers, and on all platforms and devices, with easy integration.
Whilst the Popunder Code allows publishers to recover Popunder blocked traffic, the Adblock solution allows recovering traffic from other formats including Banners, Sticky Banners, Native and Instant Message. So we recommend that publishers implement both solutions. Again, for the Inline Popunder, you need a single code, whilst for Banners and Native Publishers, you will need to use the code and additional configuration files.
Conclusion:
Still wondering how to beat adblockers and recover lost adblock revenues? If you are a Publisher, recovering users lost to adblock and monetizing this potentially lost traffic is key to maintaining and increasing revenues. This is also the case for advertisers, whose ads stop being shown to end users due to ad blockers, making them lose huge amounts of potential good quality leads, resulting in lost revenues.
Do you want to ensure that all your ad formats are shown on all devices, across all browsers and to all your end users? Talk to your account manager or a Customer Success Specialist here.