Expert tips to help your campaigns convert in LATAM with Video Slider ads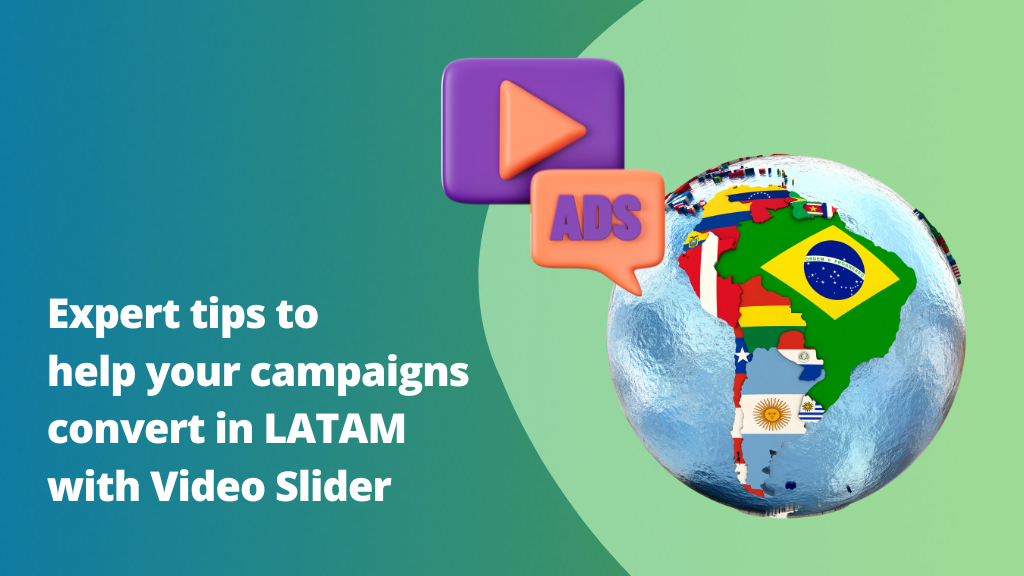 The Latin American advertising industry seems to have been in constant expansion throughout the last decade. According to Statista's estimation, LATAM's online ad spend will increase by almost 14%, to about 13.7 billion US dollars throughout 2023. If you want to be a part of this expansion, Video formats are ideal to promote your online offers – According to the most recent Hubspot survey, 92% of video marketers reported that video gives them a positive ROI! On this occasion we will do a deep dive on Video Slider ads, which with over 2 billion yearly Network impressions across LATAM using ExoClick's best video advertising traffic sources, can become your best ally to promote your offers and maximize conversions.
Video Advertising with ExoClick
Video advertising is potentially your best asset to convert your offers, because with it you can create a highly immersive experience for your potential consumers. Also, it allows you to showcase your product or service in depth, explaining how it works and what's in it for the end user in great detail. It is eye-catching, engaging and entertaining, helping you maximize your ad campaigns' results. Bidding is CPM, CPC and CPV. ExoClick currently offers three popular video formats: In-stream, Outstream, and Video Slider ads, which is the format that we are going to look into today.
Benefits of Video Slider ads
Just like its name, The Slider format slides in from the bottom right of the screen when an end user first visits a website, which makes it highly eye-catching, compelling the end user to click on the ad to go to your offer's landing page. Here are some of the main benefits of Video Slider ads using ExoClick's best video advertising traffic:
#1 Avoids ad blindness: The Slider format appears at the bottom on top of the rest of the website's content, moving into the end user's visual field and catching their eye instantly, making it highly visible, and avoiding ad blindness.
#2 More engaging than other banner formats: Because it is a highly visual format that uses moving images and appears on top of the website's content, Slider is a very engaging video format – It also helps you convey your brand message in a very concise and attractive way.
#3 Non-obtrusive: Although the Slider format's motion and behavior makes it highly visible, it covers a relatively small portion of the end user's screen, making it non-obtrusive. Also, the end user is in full control of their experience with the ad, being able to expand and close as they please.
#4 Responsive: ExoClick's Slider ads are completely responsive, meaning that they adapt size and behavior depending on the end user's device, which promotes a great user ad experience.
#5 Increased clicks and revenues: Because Slider ads are highly visible, engaging, non-obtrusive and offer a great user experience, they are a great format to attract and engage the end user with great content, leading to quality clicks that will increase click, sales, subscriptions, sign-ups and, ultimately, your business' revenues.
Video Slider advertising in Brazil, Mexico, Chile, Argentina, Colombia and Peru
With around 533.17 million internet users in 2021, Latin America is the fourth largest regional online market in terms of online users worldwide, behind Asia, Europe, and Africa, according to Statista. For this article we will concentrate on LATAMs 6 most important GEOS: Brazil, Mexico, Chile, Argentina, Colombia and Peru. To help you see what verticals will work best across LATAM GEOs we asked our Business Intelligence team to provide us with some network stats. Here are ExoClick's Network statistics for LATAM's best video advertising traffic impressions per device, per country: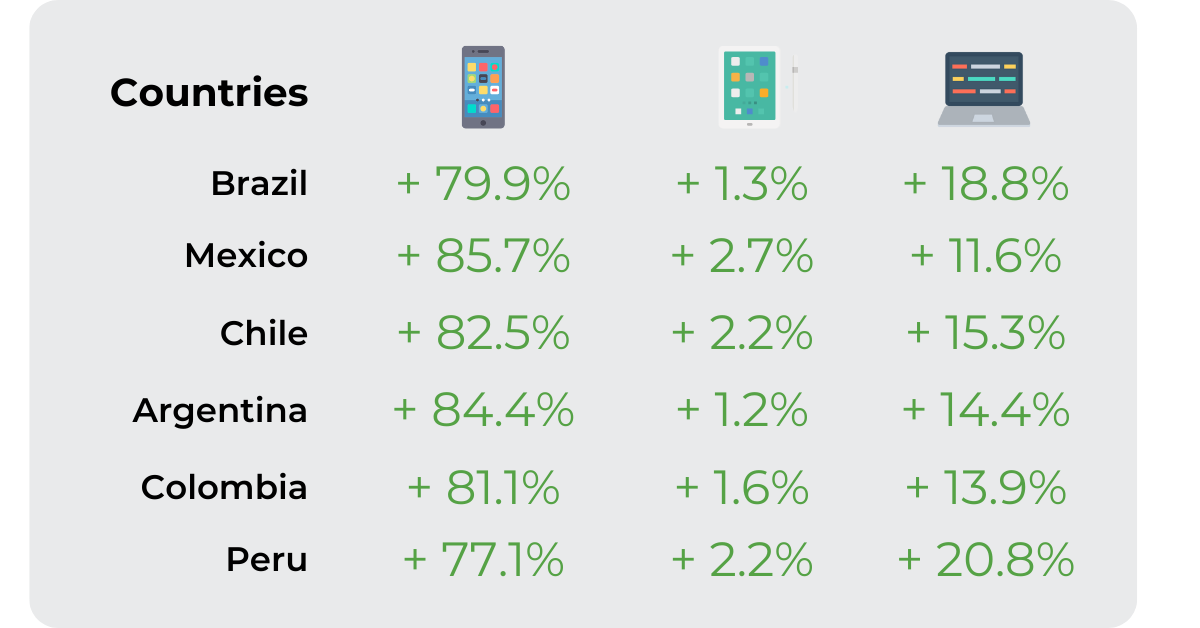 So as we can see, mobile is the most popular device for the Slider format in Latin America, followed by desktop, and tablet.
What are the most popular verticals for Video Slider ads in LATAM?
Latin American end users enjoy online content. The most popular verticals are Live Streaming, Online Gaming, Dating, eCommerce, Nutra and Casino:
Streaming: Latin America's online Streaming market recorded revenue currently amounts to $490 million, and is expected to grow to $851 million by 2025, according to Market Data Forecast.
Online Gaming: Over the past decade, online Gaming has exploded in popularity in Latin America, with the gaming market being expected to grow to $3.6 billion USD in 2023 alone.
Dating: The online Dating market has been growing non-stop over the past few years, with Latin America featuring the highest subscription rate of 10.97% compared to all other regions, according to The New World Report.
eCommerce: According to Statista, Latin America harbors more than 300 million digital buyers, a figure forecast to grow by more than 20 percent by 2027.
Nutra: The South American Cosmetics and Personal Care products market is projected to register a CAGR of 6.8% in the upcoming five years.
Casino: According to G&M, online Gambling revenue will reach USD 4.4 billion by 2026 across LATAM GEOs.
Now, let's look at each one of these vertical's impressions partition per device and CTRs across the LATAM countries Brazil, Mexico, Chile, Argentina, Colombia and Peru:
Brazil Top 6 Verticals
In Brazil, the best video advertising traffic verticals are Live Streaming, Gaming, and Dating: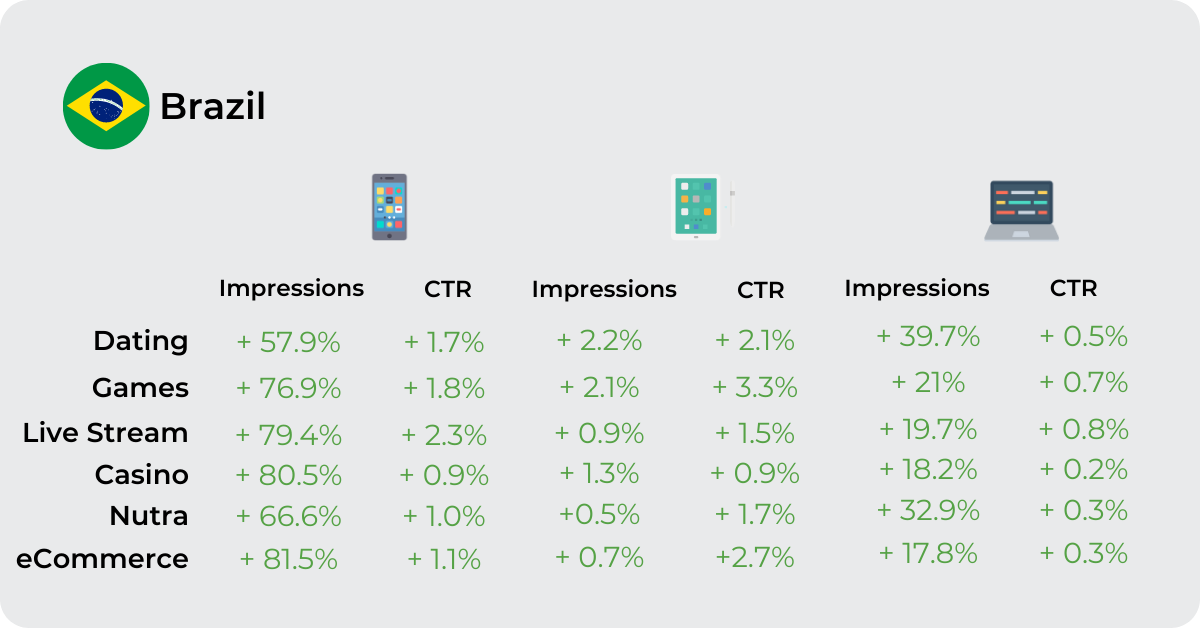 Mexico Top 6 Verticals
Live Streaming, Gaming and Casino present the highest CTRs in Mexico: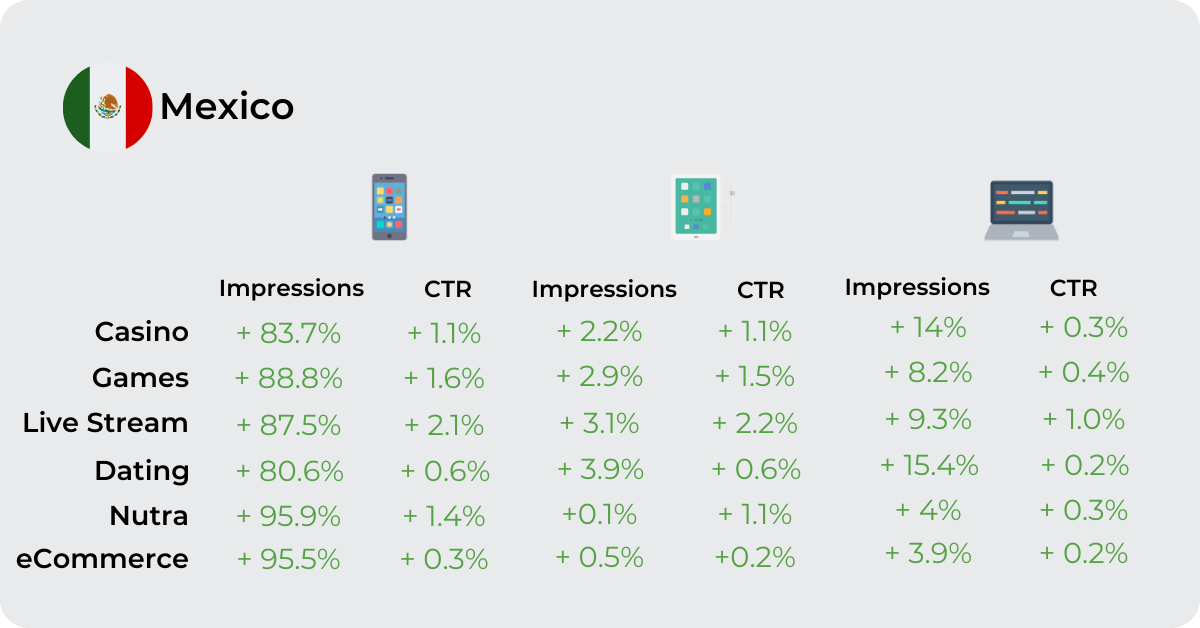 Chile Top 6 Verticals
In Chile, Live Streaming once again presents the highest CTRs, followed by eCommerce and Nutra: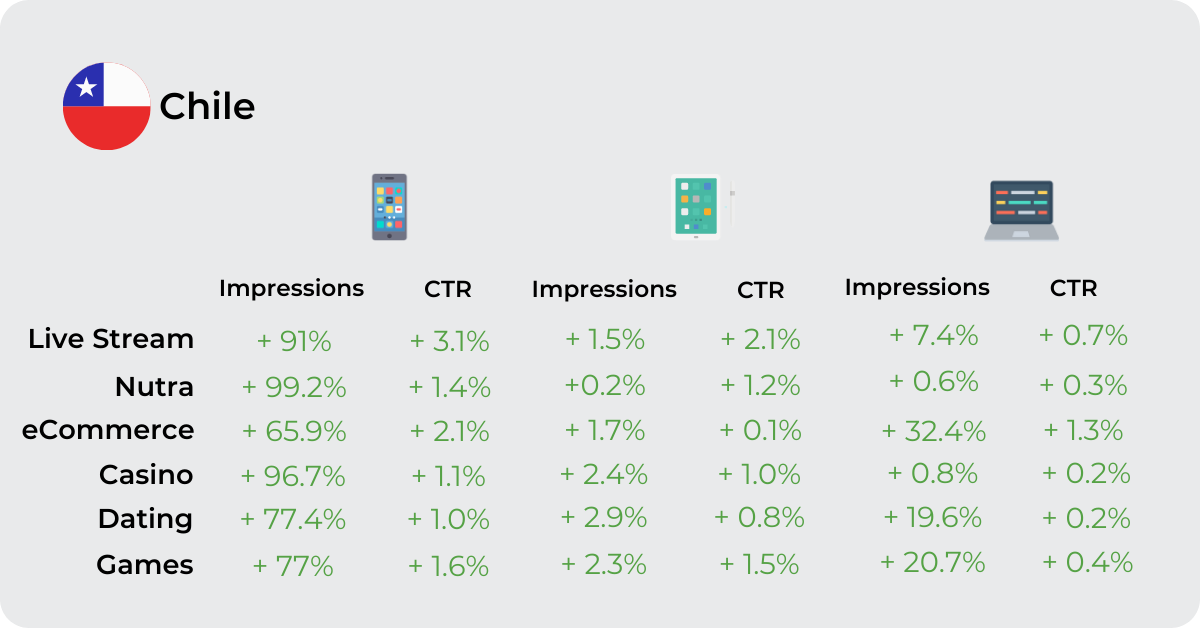 Argentina Top 6 Verticals
In Argentina, Live Streaming, eCommerce, and Gaming are the verticals with higher CTRs: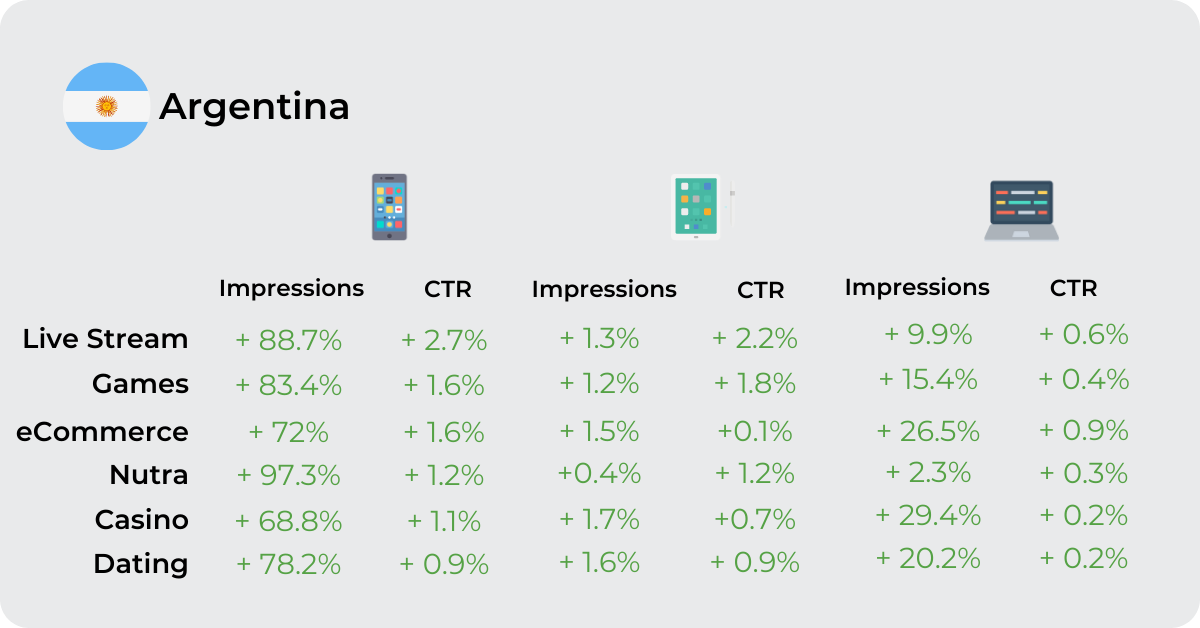 Colombia Top 6 Verticals
Live Streaming, Gaming and eCommerce are the most popular verticals in Colombia based in CTRs: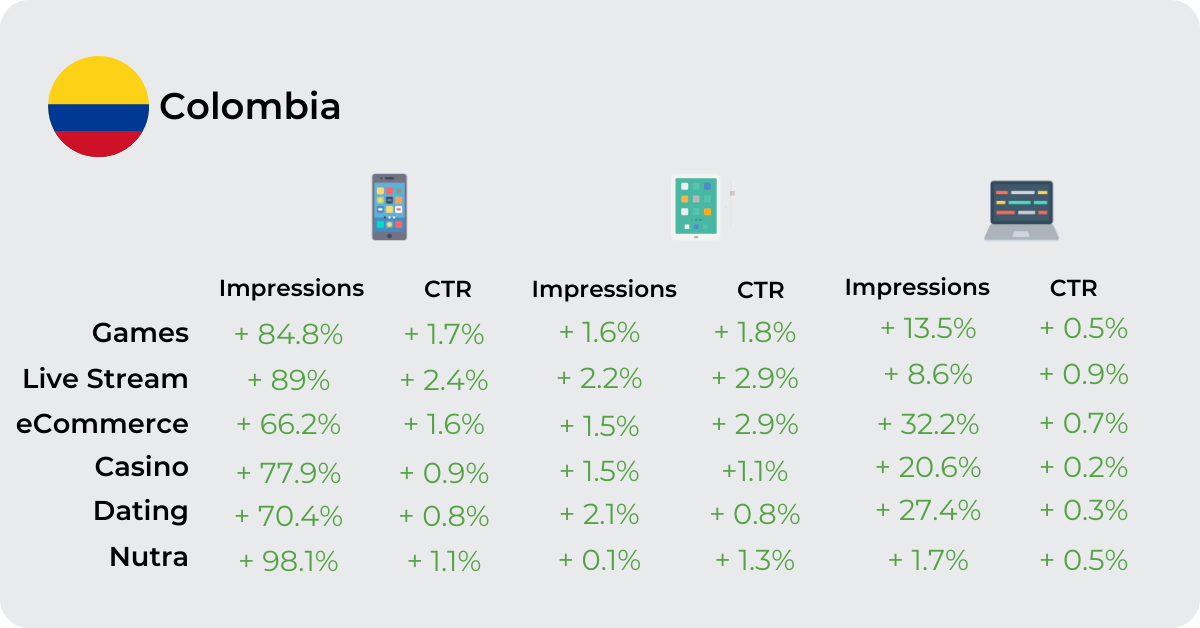 Peru Top 6 Verticals
In Peru, once again Live Streaming, Gaming and eCommerce present highest CTRs: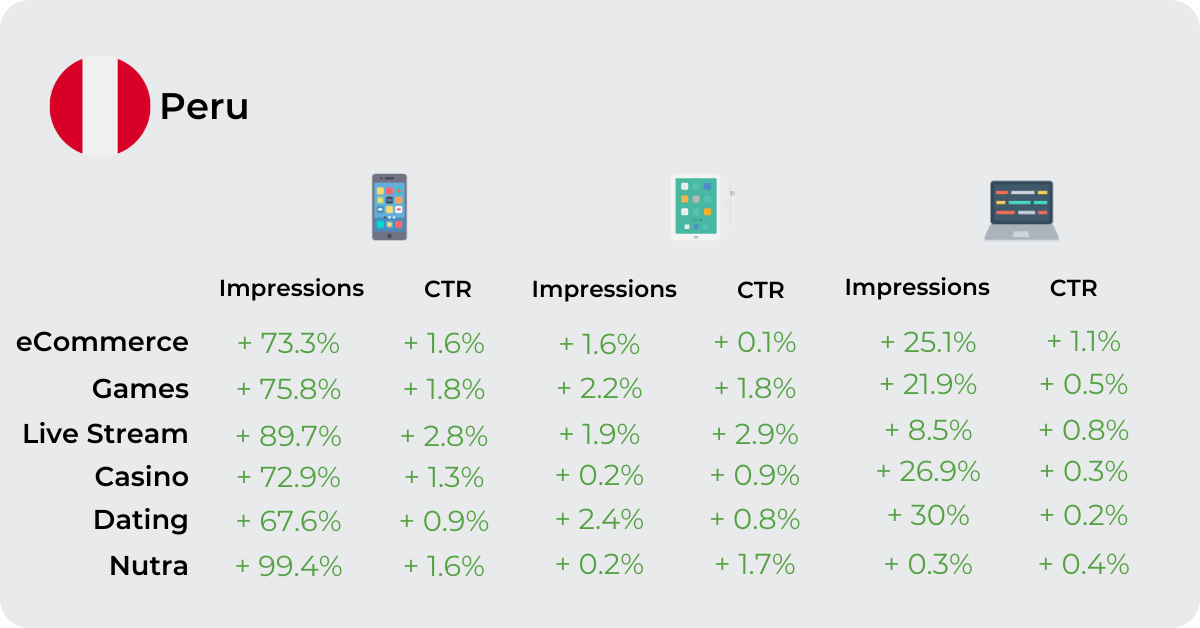 Video Slider ads tips
TIP! Get them hooked in 3 seconds! You have got between 15 and 30 seconds to tell a story, and around 3 to make an impact so that the end user continues watching the rest of the video! So you need to tell a compelling story where the first 3 seconds have the most striking and engaging visuals to get them hooked! Keep the message tight and offer entertainment value to end users so that they enjoy your ad and feel intrigued to click on it.
TIP! Keep millennials and Gen Z in mind! The internet is full of potential buyers who are millennials and Gen Z, so it is necessary for you to keep your Slider video content fresh and young. Make your own original video content that doesn't use stock footage so that it doesn't feel staged or antinatural. Instead, you can record your own videos with your phone using TikTok like creatives, or Instagram filters – Creating video content doesn't need to be expensive!
TIP! Make it Mobile friendly! Ensure that your Video Slider ads are set at the correct screen resolutions to ensure the ad shows well across all devices. Also, if you are advertising on mobile formats, bear in mind that the characters or elements in the creative need to be easily seen on smaller screens, which means that the main elements need to be well centered, big enough, and not be surrounded by way too many more elements! For instance, if you are promoting a Dating page, get one attractive potential dater as the main subject of your video, instead of 2 or more, and favor showing their face properly, instead of a full body frame, for the sake of high visibility and not making the space too crowded. Also, make the texts short and concise so that they are highly visible on smaller screens.
TIP! Sound advice: Most internet users will see your ad without sound, so your video should be able to connect with the end user that finds it just with images alone – Incorporate subtitles in different languages so that you can attract audiences around the world.
TIP! Use ExoClick's ad creative service! You don't have time or resources to create your Video ads? No worries, talk to your account manager to use ExoClick's ad creative service, where we will create your video Sliders for you!
TIP! Use ExoClick's Voiceover service: If you are already using ExoClick's best video advertising traffic, you can access to our voiceovers to the video ad creatives service. This way the end user can watch your video ad on mute with texts or with sound with the texts being brought to life by a female voice. Check out which languages we offer here!
TIP! Remember to localize your ads: If you are targeting several GEOs where different languages are spoken, remember to localize your ad's texts! You can either translate your in-video text on your creative, or add subtitles in the different languages. Aside from Brazil, all LATAM GEOs mentioned above speak Spanish, making localization easier in this case.
TIP! Use the Video CTA feature: In your admin panel, you can now use predetermined CTA text overlays on your video ads from a drop down menu, with CTAs such as Click for More, Click Here, Play Game, etc.
TIP! Copyright: Make sure you own the copyright or you are officially authorized to use all the content featured in the video.
TIP! Combine it with other formats: Use other ad formats including display ads and Native as well as video Slider ads to promote the same offer. Between 40- 60% of conversions come from browser type-ins shortly after users have seen a product's video. If you use VAST advertising for your video campaigns you can use Custom Attribution data to evaluate the effectiveness of how the ad formats work together to convert the offer.
Do you want to test out Video Slider ads on your campaigns across LATAM or any other GEO? Get in touch with your account manager or our Customer Success team here to learn about ExoClick's best video advertising traffic sources!