Video advertising campaign case study: 36% ROI for Dating offer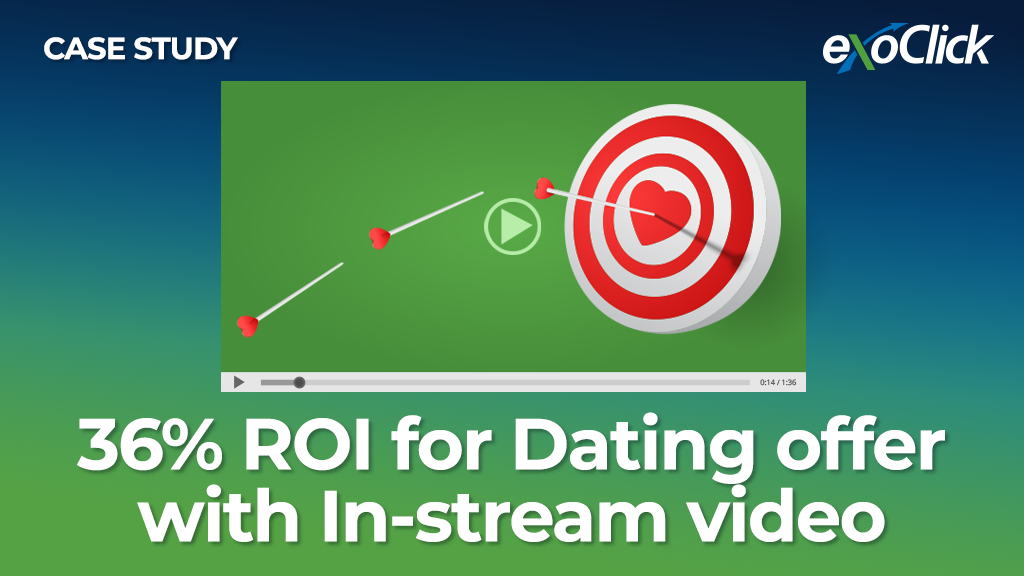 In this Video advertising campaign case study we go through the process carried out by this advertiser to set up and optiize the campaign for Instream video for a dating offer.
Campaign period: 1 October 2020 – 28 Feb 2021
Offer: Dating
Ad Network: ExoClick
Ad formats: In-stream video, Native, Banners
GEOs: UK, Germany, Italy, Hungary, Romania, Poland, Czech Republic, Sweden, Norway
Investment: 116,100 USD
Total income: 157,896 USD
Net profit: 41,796 USD
ROI: 36%
Introduction
An ExoClick advertiser wanted to convert affiliate dating offers. He had never used Instream Video advertising before and was advised by his account manager that video has a very high CTR and is a great way to showcase offers to potential leads.
Because the advertiser was not the dating product owner and was promoting a range of different dating offers, he didn't have any video creatives available for launching video campaigns. So he used ExoClick's Video Ad Making Service.
Video campaigns require a different set up and optimisation strategy compared to display advertising, this advertiser had never launched video campaigns before, so his account manager helped him set up test campaigns, evaluate test campaign data, create ad zone white lists and then set up full campaigns.
The advertiser also ran campaigns for the same offer using Native and Banner ad formats. The advertiser very kindly shared how his campaigns were set up, his strategies and the results for this Video advertising campaign case study.
Q: Tell us about the offers you were promoting
A: I used several different dating offers, whichever provided a decent Payout in a given GEO. I set my Goal as a Sale. The Payouts varied from $3-$5. I was targeting a lot of tier 2 GEOs in Eastern Europe where payouts tend to be lower, and also the traffic is less expensive than Tier 1 countries. This was the first time I had used the In-stream video format and at the time it seemed to be a less crowded ad type, but competition has been growing ever since.
Q: What marketing materials did you use?
A: I used 2 video creatives using ExoClick's Video Making Service and also created several Native and Banner ad creatives.
Q: And your Landing Pages?
A: I created 100 different landing pages so I had many variations for each language. They consisted of surveys with different questions and landing pages with a sneak peek preview of profiles, the CTAs were always Sign Up For Free.
Campaign set up
Q: What was your bidding strategy?
A: I launched 104 campaigns in total, using the CPM bidding model. I didn't use the Bidder because I had issues with conversion tracking on my side. My strategy was to stay as low as possible on my CPL goal to get traffic, because I had a healthy budget and I wanted the ads to be seen on as many sites as possible to increase brand awareness. From this I created whitelists of good performing ad zones to concentrate sales. After monitoring the campaigns, I switched my bidding to Smart CPM because I found that the bid usually stayed below my goal limit.
Q: What was your targeting strategy?
A: I set up separate campaigns for desktop targeting all OS and on mobile targeting Android & iOS. I targeted RON sites because my account manager said this would bring me new traffic sources because new publishers are joining ExoClick's network everyday. I used the 24 hour distribution model. For frequency capping I used 1/24 because I didn't want to get video ad blindness but it was still enough to create regular brand awareness. One thing that I did notice is that in Hungary many users have their browser language set to English, so I targeted Hungarian and English and this brought good leads. I did use the Variations Optimisation tool. At the beginning I used the Even algorithm which spread out the traffic evenly between my variations, then switched to Automatic CTR which sent traffic to the video ad with the best CTR, which brought much better results. I didn't use the Landing Page Optimisation tool, but I A/B tested different landing pages then just focussed on the best converting landing page for each GEO.
Q: Tell us about your campaign optimisation
A: It is difficult to explain in detail what optimization I used because I had so many campaigns running. But a general strategy was to first optimize the creatives after a certain amount of conversions and then start optimizing ad zones, after I had reached 2 or 3 times the value of the offer's payout.
Q: What were the overall results of your campaigns?
A: Initially I had low eCPAs with In-stream Video, which gradually grew over time, but the lead quality was lower when compared to Native and Banners. I decided to create some more video ad creatives and found that this engaged more users because the content was refreshed and I wasn't showing the same video ad all the time, this helped keep the campaign performance up. I tracked the Video campaigns and saw this pushed up leads later by retargeting users who had watched my video ads with Native and Banner campaigns. In-stream Video was our major source of sales, in some GEOs it accounted for 80-90%, but overall we got around 60% Video, 30% Banners and 10% Native as a very rough estimate. CTRs for Video were between 2-3% compared to Banners & Native at around 0.1%.
Q: Do you have any advice for other advertisers wanting to try video ads?
A: In-stream Video seemed to work well in the beginning as it was a relatively new format, only a few advertisers were using it and this is still the case. You have to remember that Video ads need a totally different approach from Banners. You have to develop genuine ideas, you can't simply reuse Banners to create Videos and you have to remember it's easier to change a Banner or Native creative compared to a Video creative. But apart from the creative production, the funnels after the Video is clicked are pretty much the same as for any other ad type.
Using ExoClick's Video Making Service introduced me to Video advertising and it was a great way to learn about making Video ads work. By creating more Video content it allowed me to tell different stories about the dating offer and then use supporting display campaigns to drive sales through Native and Banners. I highly recommend that advertisers invest in Video content and use it in tandem with other ad formats, and Video ads are a great way to raise awareness for your brand.
We hope you found this Video advertising campaign case study useful. Check out our other Instream Video Case Studies: