Advertisers! How to get maximum value from Members Area traffic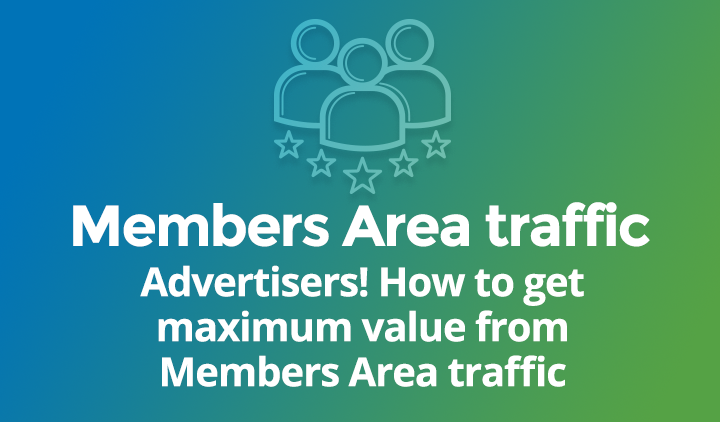 What is Members area traffic?
Members area traffic consists of users of any website that requires the user to sign up and join to see the content. This traffic source is very high quality and therefore highly valuable to advertisers. Dating tends to have the largest market share of members area traffic, but there are also other sources of membership sites such as VoD platforms, content pay sites and live cam sites to name a few. For the purpose of this blog post we will look at Dating membership site traffic.
What makes Members area traffic so valuable?
Members area users
Each member has signed up to the dating website by giving and verifying their email address, additionally each member has created a dating profile that includes information such as gender, sexual preferences, location and lifestyle interests.
There are two types of users:
Paid member: Has full access to the site and has used their credit card to pay for a monthly subscription/bought tokens. These users are happy to make online purchases.
Freemium member: Has not paid for access, but has created a profile and has some features blocked that are only available to paid members.
By signing up, users have opted-in to see advertisements within the website's members area.
Unlike a free content site, within each members area there are limited ad zones, so an advertiser's ad will really stand out as there are less competing ad zones for the members to see. Less competition increases engagement with well targeted ads leading to more clicks.
Each site is a large active community of members who visit the site on a regular basis, sometimes daily to interact with other members on the site.
There are many sites that cater to specific dating niches e.g. age, race, religion, sexual orientation, hobbies, etc.
Advertising to members of Dating sites with ExoClick
The main formats allowed by publishers for ad spots within members area are Banners, Tabs, Popunders and Email Clicks. In this blog post we will focus on Banners. There are some good positions of banner ad zones including the main page, footers, on user profiles and exit banners when a user leaves the site. CTRs are much higher for members area compared to free content sites and ExoClick's Business Intelligence department looked at banner CTRs between members area and network traffic above and below the fold.
Please note: The term below the fold refers to the portion of a webpage that a user must scroll to see. Above the fold is the content that an end user sees at the top of the web page, without scrolling, it is what is first visible when the user loads the page, this is considered prime real estate because it gets the most attention from users.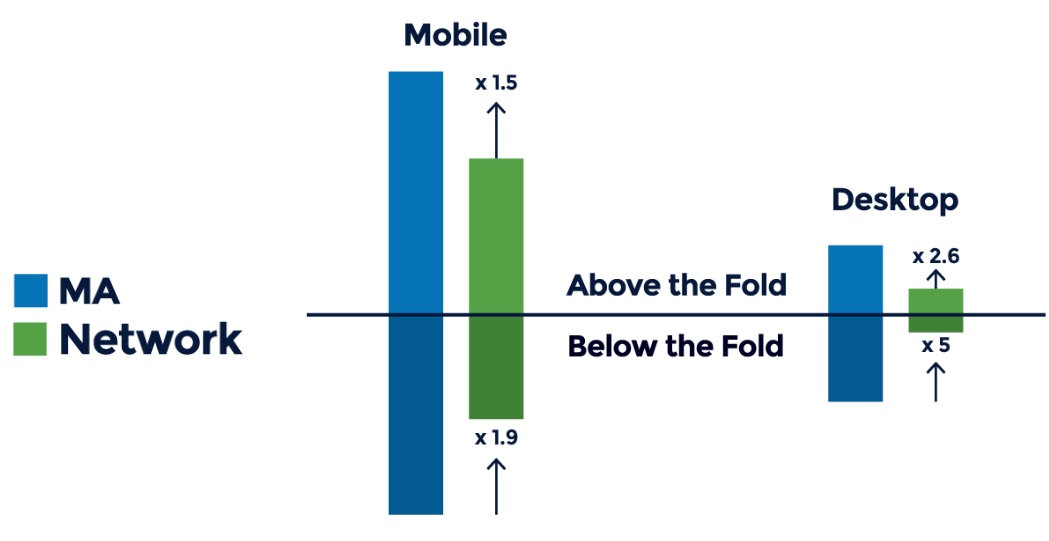 Banners above the fold had 1.5 times more clicks on mobile and 2.6 times more clicks on desktop, below the fold 1.9 times more clicks on mobile and 5 times more clicks on desktop, proving that dating site members engage more with banner ads.
What are the best offer verticals for this audience?
Based on clicks our Business Intelligence stats show the following: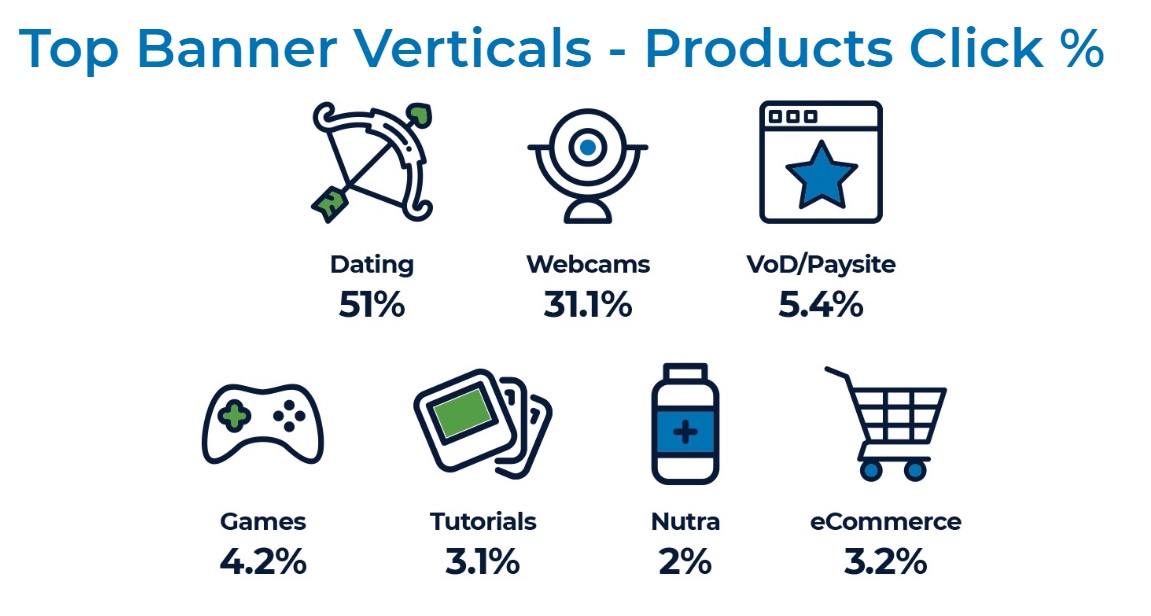 Dating at 51% gets the largest percentage is the most popular vertical because it is perfectly targeted to the dating site user. Most people are members of several dating sites at the same time therefore they are open to joining more. 
Tutorials are a growing vertical and they are a great way to get conversions. Content based tutorials such as, how to plan the perfect date, tips for meeting a partner, how to start a conversation with someone you find attractive, etc. The tutorial can be a landing page with video content which leads to a dating site offer.
More insights into ExoClick's members area traffic
ExoClick has exclusive traffic deals with some of the worlds biggest dating site publishers with more than 40 million daily impressions available. GEO's are tier 1 & 2 countries with 80% English speaking countries including USA, Canada, UK, South Africa, Australia, New Zealand and tier 1 European GEOs including France, Germany, Italy, Scandinavia. Traffic is available on desktop, mobile and tablet.
Best practices for members area traffic
Ad creatives
Because the majority of traffic is English speaking GEOs, there is no need for multiple language ad copy or landing pages, everything can be in English.
Your creatives should reflect the dating niche you are targeting for increased engagement, so if you are advertising your offer for a dating site that caters for sportsmen and women tailor your creative and texts to appeal to this market.
Keep your ads compliant, different dating site publishers have different rules for this and also the verticals you want to promote, speak to your account manager or contact ExoClick's Customer Success agents to check before you run your campaing.
Testing and optimisation
Test your campaigns between mobile and desktop to see which converts best for your offer.
Target desktop users in the evening when they are at home browsing dating sites, and during the day on mobile when they are at work, commuting or out and about. 
Because of the different dating niches available you have an extra level of contextual targeting.
Use seasonal events to push special promotions for Valentines Day, Singles Day, Black Friday, Gay Pride, etc.
Use data insights generated in your campaigns along with ExoClick's automation tools to help optimise further.