7 ways to maximize your Christmas online sales 2022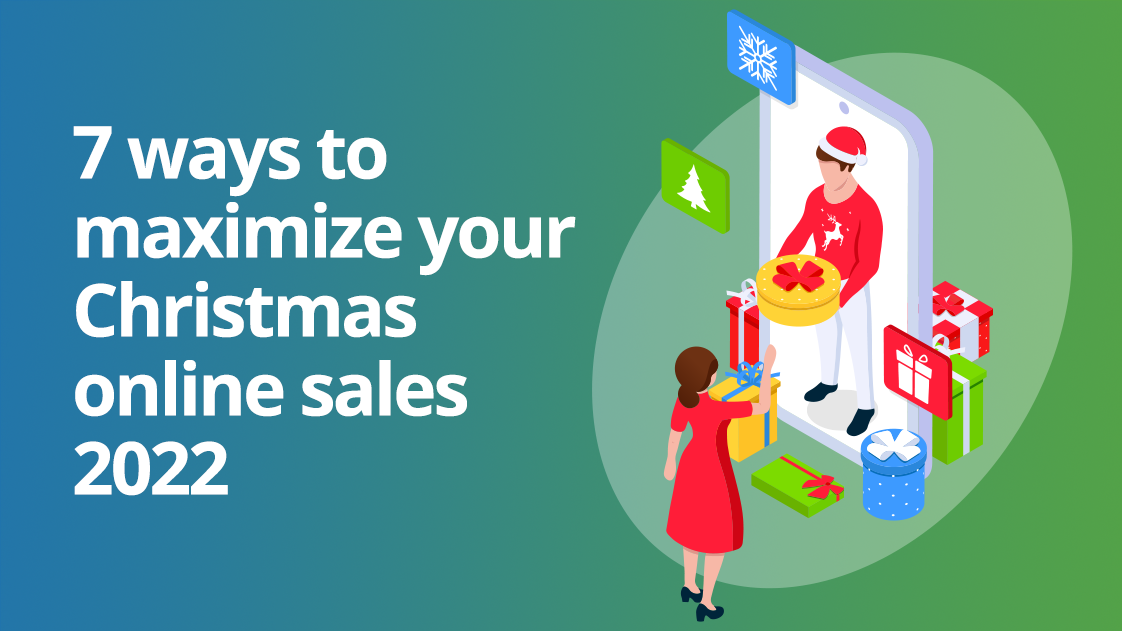 Christmas is just around the corner! And it is the biggest shopping event of the year – even bigger than Black Friday and Cyber Monday. In this blog post we bring you 7 ways to maximize Christmas online sales, with Christmas strategy tips and network CTRs to help you generate better conversions using ExoClick's traffic sources this holiday season.
#1 Christmas online sales are the main growth driver
This year, online sales are expected to be the main driver of sales growth in 2022, with Adobe predicting 2.5% growth in online sales November 1-December 31. This is partially due to the COVID effect. According to Forbes, online shoppers are looking for personalized services that can make their lives easier and better: They are looking for an experience, beyond the product. 'If we thought the experience economy was here before, COVID expedited it even more so.'
That means that eCommerce hard goods and digital entertainment products such as Games, VoD, Casino, etc, should be part of your Christmas strategy, since they provide a valuable experience to the end users.
#2 Mind the key December shopping days!
There are 4 key shopping days in December:
Green Monday is the second Monday of December, that's when shoppers realize they only have around 10 shipping days left before Christmas. This year, Green Monday falls on the 12th, so it is the peak shopping day for eCommerce products.
Free Shipping Day is a mega Christmas online sales event also focused around eCommerce traffic. It's a one-day event held in mid-December (Which falls on the 14th this year), and it guarantees free shipping with guaranteed delivery by Christmas Eve. With over 1000 niche and big-name retailers in the US involved, consumers expect special delivery deals if they make purchases on this day.
Last Pay Day before Christmas, many people get paid earlier in December, usually the week in the run up to Christmas between the 20th and the 24th December, so they have money to spend.
Boxing Day, 26th of December is when the first post-vacational sales start. Generally this day is a public holiday in most parts of the world, so this is a huge day for online shopping.
As part of your Christmas online sales strategy, make sure that your campaign budgets are not capped on these 4 key days, because in order to drive sales volumes you want to make sure you are winning all the available traffic on those days. It's a good idea to plan for spikes in your December budgets. Also, revisit the daily caps across your advertising accounts, either before or on the day, to check they are not restrictive. Otherwise your competitors will be there to snap up the traffic.
#3 Your ideal Christmas online sales strategy
Your Strategy will be strongly informed by the sort of product or service that you are promoting – Is it a physical item to be received online? Is it a subscription to a specific site? What sort of experience does it offer? Beyond that, it is important to consider what your potential customers will be doing during the Christmas holidays, which can basically be broken down into two time periods:
Period 1 – Sprint towards Christmas: 1 – 24 December, where everyone is focused on their Christmas shopping.
Period 2 – Post christmas sales: 25 – 31 December, where the Christmas sales kick in and people are looking for online entertainment during the holidays.
The ideal strategy is to drive sales throughout the Christmas shopping period and then double down on potential customers who are looking for bargains in the Christmas sales period.
#4 In-Stream and FPIs get the highest CTRs
Consider FullPage Interstitials (FPI) and In-Stream video ads as part of your Christmas online sales strategy. We looked at network global CTRs from last year's Christmas season, comparing Pre-Christmas 1-24 December to Post-Christmas sale time 25-31 December for popular Christmas verticals eCommerce, Games, VoD and Casino.
eCommerce top 5 ad formats CTRs: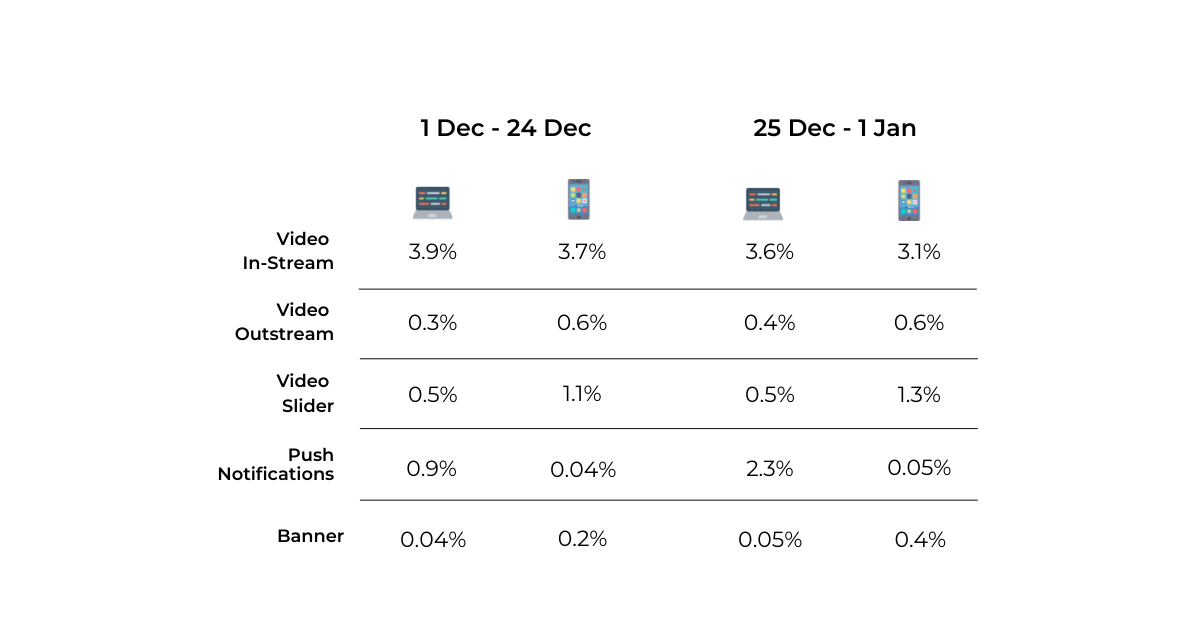 eCommerce traffic displays highest CTRs for the Video formats In-Stream, Outstream & Slider, so it is a great idea to use these formats to drive traffic to your ecommerce site. This is because Video is a great way to showcase products compared to static display ads. For eCommerce products, advertisers can show a detailed product demonstration. This is key because the majority of people will always check out influencer product reviews on Youtube, and increasingly more on IG Reels and TikTok before making their purchase, video ad formats allow you to do the same to help drive sales.
Games top 5 ad formats CTRs: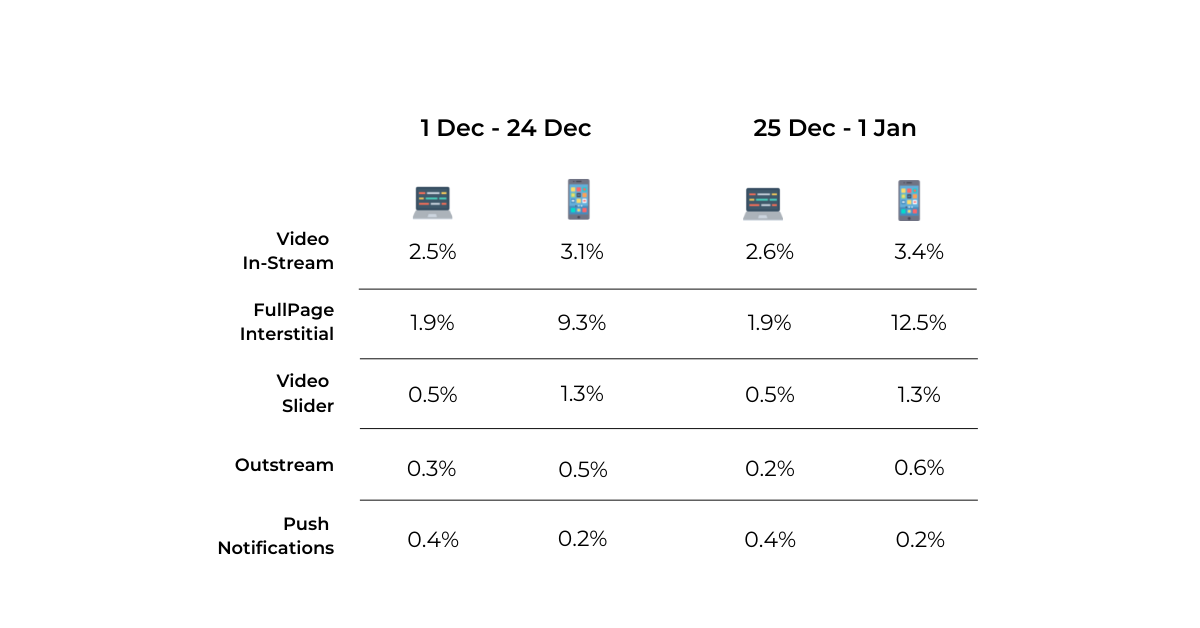 The Games vertical showcases high CTRs for Video formats and Fullpage Interstitial. This is  because all these formats can show gameplay videos to entice end users to play. Consumers are looking for entertainment between Christmas and New Year, as they are off work and spending quiet time with their families, so we see increases in CTRs in this period.
VoD top 5 ad formats CTRs: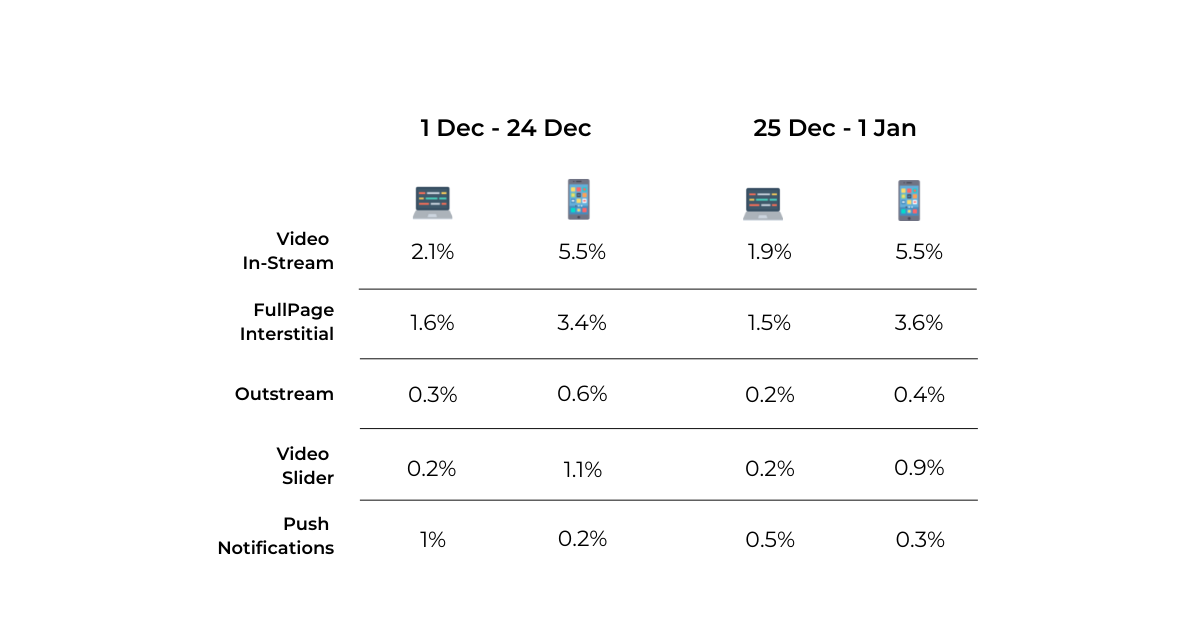 VoD is the perfect fit with Video Formats, including FPIs, because VoD platforms offer video entertainment to the end users. Show them the best gags of their favorite series, YouTubers, useful Christmas cooking content, etc! The higher CTRs are reflected Pre-Christmas as end users look for video entertainment as they get cozier inside their houses towards the Christmas season!
Casino top 5 ad formats CTRs: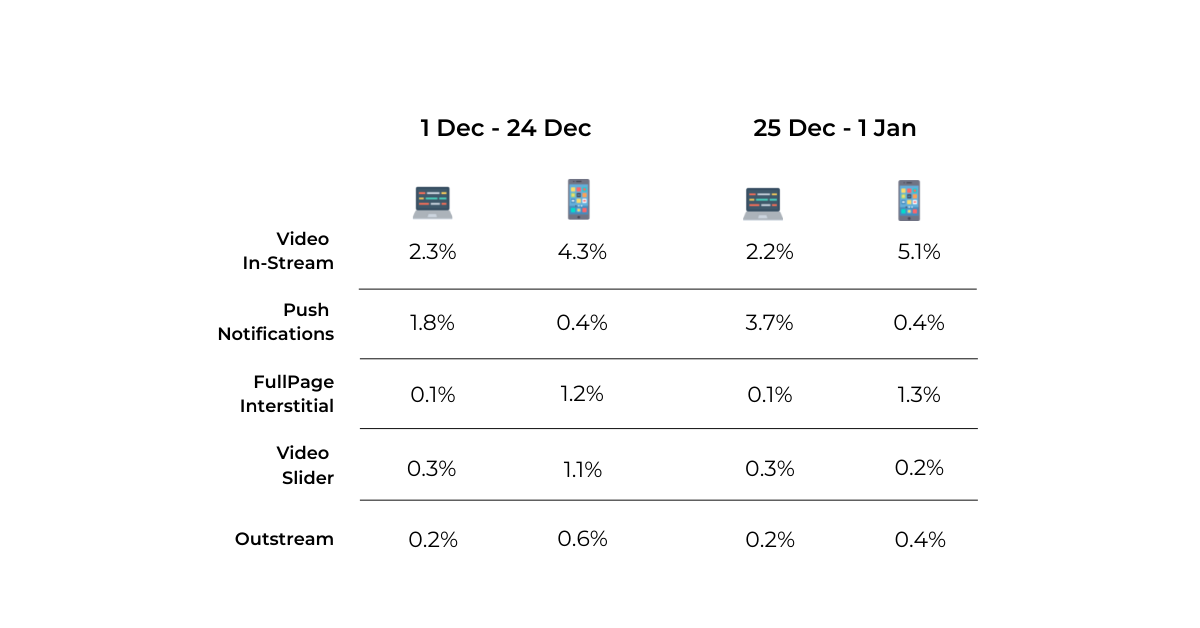 The best formats for the Casino vertical are In-stream, Push notifications, and FPIs, with some CTR increases in the last week of the year as an entertainment source.
#5 Consider Video as a key strategy
As we have seen above, video Ads tend to have higher CTRs, which means that they should be a part of your Christmas strategy. Video is a great format all year around, but especially during big shopping events such as Christmas online sales, because the consumers will be researching products and services thoroughly before making purchases, which means that they are after tutorials and product feature videos.
Here are a few tips to make your video ads achieve more conversions this Christmas:
TIP! Make your videos look Christmassy! Give a refresh your creatives and customize them to reflect the Christmas theme! Make sure that both your visual and written content reflect the holiday and the discounts that your consumers could get. For instance, if you are promoting an online game, the characters could be dressed up as Santa klaus.
TIP! Product demo: Showcase your product and remember: your ideal customer is looking for an experience, so make sure to reflect how useful, or how much enjoyment they will get out of your product. Remember that it is the Holiday season, so, if for instance you are promoting VoD sites, showcase films, series or content that reflects that topic – Christmas stories, Seasonal favorites, etc.
TIP! TikTok style: Create the video ad to look like a #Christmas tips. For instance, you could feature content that gives advice on how to decorate your house for a Christmas party, bake gingerbread cookies, win an online game where the rewards are Christmas presents, etc.
TIP! Reaction videos: Thanks to TikTok, YouTube and Instagram, reaction videos have become very popular! You could show a video of your customers reacting to receiving your product for Christmas or using your service for the first time after a family member or friend bought it for them.
TIP! Adapt the video's language: Everybody is experiencing the Christmas hype! You could use Christmas based puns such as 'The Christmas alphabet has noel.', 'All the jingle ladies, all the jingle ladies', 'Love at frost sight!', 'But wait—there's myrrh!', etc.
TIP! Sound advice: Remember to include Christmas music and jingles, and make it sound jolly! – Be careful with the Copyright, though! Also, keep in mind that your video ad should be able to connect with the viewer without the aid of sound. Many people browse in silent mode and Outstream Video automatically plays on mute. So incorporate subtitles and call to action texts into your video creative to get your message across.
TIP! Test out attribution of campaigns:  What if an end user saw your video ad and didn't click on it, but later remembered your product and did a type in search in Google – wouldn't it be good to know that this type in came because he had previously seen your video? What if a user saw your video but didn't click but later saw your banner ad for the same offer then clicked on the banner – wouldn't it be useful for you to know that he had previously also watched your video.
If you are using VAST video ads (what is VAST) these metrics can be found out by using custom attribution, and the reason why it's useful is that you can see how video ads work as a support to your overall sales funnel, and from what we have seen, we estimate that this could be contributing to about 30% of your sales. Speak to our Customer Success team here or your account manager for more information
#6 Make your marketing materials Christmas themed 
An obvious tip for your Christmas strategy perhaps, but well designed Christmas touches on your landing page and ad creatives can amplify the festive spirit, pushing end users to purchase.  For example, you can create special Christmas banners featuring snow, Santa, reindeers, Christmas trees, etc. You could change the colors of your logo to red and green. For video ads, you can quickly add a short Christmas themed intro and outro to an existing video ad.
Add Christmas themed 'how-to-videos' or product walkthroughs on your landing pages. A/B test Christmas landing pages and creatives against non-Christmas themes using ExoClick's automated Landing Page and Variations optimization tools. More on that below!
#7 Test and optimize your landing page
Especially when applying new creatives (seasonal or not), it is always a good idea to test out your landing pages and marketing materials. To save time and resources, you could automate the testing out of your creative and landing pages using ExoClick's algorithms:
Even: Traffic is spread out evenly between different landing pages, so if you use 4 different landing pages, 25% will be sent to each page.
Fixed: Enables you to define the exact percentage of traffic each landing page will receive, for example, landing page A 10%, landing page B 15%, landing page C 35% and landing page D 40%.
Automatic optimization: Based on the multi-armed bandit algorithm, optimizes traffic distribution based on conversion tracking results. So the landing page that is performing the best will automatically receive the most of the traffic, while continuously testing against existing landing pages and any new page that is introduced.
Here's a more extensive tutorial on how to use these algorithms, or if not you can check out our documentation pages.
Also, make sure your landings look good on both desktop and mobile. Shoppers do a lot of research on mobile before they buy, especially while they are killing time on their daily commute. Your Christmas strategy should ensure a great mobile shopping experience – According to Forbes, Over the holiday season, 43% of online sales came from smartphones which is a slight increase from the 40% usage last year.
Do you have any more questions about making the most of Christmas online sales this year using ExoClick's traffic sources? Contact our Customer Success team here!