'Your success is our commitment': Meet the ExoClick Customer Success Team!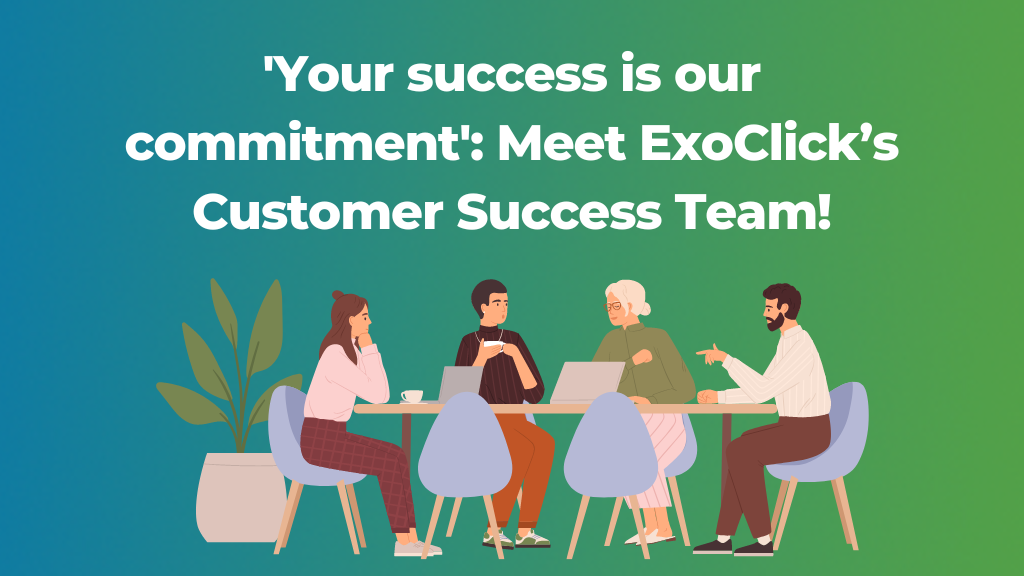 ExoClick is an international innovative Ad Tech company which provides digital ad services to advertisers and publishers, helping them monetize their traffic and offers globally. With a client base that spreads across the globe, an instrumental part of the company is the Customer Success Team and Tech Support Team, which provides 24/7 multilingual assistance. Want to know more about this team and its wonderful members? Keep reading!
Meet us: What's it like to work in the ExoClick Customer Success Team?
Hi! We are the Customer Success Team: The vanguard of ExoClick, providing 24/7 multilingual assistance both via email and live chat in order to help clients anytime with whatever they need. To better assist ExoClick's client base, we work closely with the Sales, Marketing, Finance, Compliance and Technical teams to cover all bases."
Our knowledge ranges from campaign or ad zone set up & optimization to technical support, while our main purpose is to provide excellent and personalized assistance to both Publishers and Advertisers. For this reason, our mission statement is:
"Your success is our commitment. We DO care!"
But our work does not finish there. Here are our main duties:
Contact our new clients to guide them through the process of setting up their accounts.
Help our clients on scaling up their account activities and getting better results.
Provide assistance with technical issues or implementation measures.
Create awareness regarding the new features and changes in our platform.
Collect feedback and forward it to the relevant departments in order to improve our platform and the services
And many, many others!
In the first 8 months of 2022 we had a monthly average of 2171 unique tickets with an average of 72 tickets/ day. On email we sent 17,817 replies to our customers and we assisted our customers on 7698 unique Live Chat conversations: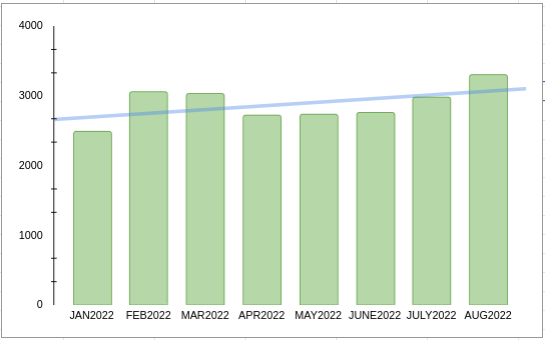 Meet our Customer Success team members!
What's it like to work in the ExoClick Customer Success Team? Our team works 24/7 in 3 fixed shifts (morning, afternoon, and evening) with 3 Specialists on each of them – Get to meet them:
Marc – Customer Success Team Lead [SP & EN] – Tue – Sat (07:00 am – 03:00 pm)
Marc was born and raised in Barcelona (Spain), where he still currently lives. When he was younger, he practiced Taekwondo professionally and studied to become a sound technician and producer. Marc worked in different companies, ranging from gastronomy to tech, and usually as a Team Leader or Manager. Currently, Marc is in the last year of Bachelor's degree in Psychology, which he has always been passionate about.
As a Team Leader of the Customer Success Department, Marc's duties and responsibilities are to provide both clients and the team members with help with anything they need and to assist and backup the Customer Success Director when it is required. Amongst other duties, he also reviews communication with Clients to ensure that quality standards are met. Marc loves to help people, whether they are Clients or team colleagues.
Juan – Customer Success Agent [CN & EN] – Sun – Thur (07:00 am – 03:00 pm)
Juan was born and raised in China and moved to Barcelona in 2013 to fulfill her Master's, where she settled down upon finishing her studies. She worked as Chinese Customer support for a few internet companies, gathering some unique experiences in Customer service roles. As a Chinese native speaker, Juan's main job is to take care of the Chinese clients, resolving doubts, solving problems and helping them understand the functionality of the ExoClick platform.
Juan is also a professionally trained Chinese painter, so whenever she has some free time, she enjoys painting to relax. However, this doesn't happen too often lately since she had a baby 4 years ago! Additionally, she loves watching series. such as Criminal Minds!
Yashoda – Customer Success Specialist [HI & EN] – Mon – Fri (2:00 pm – 10:00 pm)
Yahsoda was born in a remote village in Nepal. After finishing high school she moved to the city. Living apart from her family at such a young age, Yashoda learned to be independent, experiencing new ways of life. She started her career working in different fields and, after finishing her bachelor's degree in business management, she moved to Barcelona.
Some of Yashoda's main duties are responding to customers' questions and needs via email and live chat as well as monitoring customer care goals. Her hobbies are learning new languages and discovering new cultures, traveling, and hiking.
Yana – Customer Success Specialist [RU & EN] – Mon – Fri (2:00 pm – 10:00 pm)
Yana was born and raised in Ukraine and moved to Barcelona in 2017. She has worked for several companies that helped her evolve and learn from people and their perspectives! Yana has always been a good listener. One of her main duties is to help clients make the most of the ExoClick platform, helping them feel more confident and being able to achieve their goals.
Yana enjoys working in a Customer Success team with such varied backgrounds, experiences, and dreams! The team has one very definite goal -to provide the best assistance possible to clients- towards which they work daily, helping and supporting each other to excel, and always surrounded by warm and friendly vibes!
Mohammed – Customer Success Specialist [EN] – Sun – Wed (9:00 pm – 07:00 am)
Mohammed is from the UK, was born in Kashmir but quickly moved thereafter. He has been in Barcelona for 13 years, where he came with the intention of relaxing and enjoying some time off… And he ended up making it his permanent residence! He always focused on building his colleagues' confidence and creating a positive impact. Advising, assisting, teaching are some of the things he focuses on as part of his responsibilities which all lead to providing the best Customer Care.
What Mohammed loves the most about his role are the New Challenges, tough situations that lead to positive changes, and enjoys always having something new on the horizon!
Maku – Customer Success Specialist [ES & EN] – Mon – Thu (9:00 pm – 07:00 am)
Maku was born in a small city in Argentina and moved to Barcelona with her family when she was 7 years old for a short period of time, going back to Argentina when she was 13. Upon finishing school, she decided to move again to Barcelona with her brother. She then started working as a cashier in a shoe store in the center, gaining a lot of customer service experience.
One of Maku's primary duties is to focus on communication with clients. She is constantly working to improve, finding new creative ways to assist clients with all their needs. In her free time, Maku enjoys analog photography, especially when she travels.
Anna – Customer Success Specialist [ES, RU & EN] – Wed – Sat (9:00 pm – 07:00 am)
Anna studied Finance and banking and used to run 2 small businesses. Her working life is very eclectic: She has worked for a start-up, and has changed industries several times starting from real estate to the restaurant business. Her primary Duties in the Customer Success Team are providing professional customer service, resolving the issues and ensuring customer satisfaction
Although Anna has worked in the Customer Success Team for less than a year, she has already witnessed amazing examples from her colleagues on how to provide the best service to clients, which she feels is the best source of inspiration to fulfill her duties!
Joe – Senior Customer Success Specialist [SP & EN] – Mon – Fri (07:00 am – 03:00 pm) 
Joe's main duties as the Senior Customer Success Specialist in ExoClick are to assist Publishers and Advertisers to get the most out of the ExoClick platform and its tools by quickly answering their questions, providing solutions and optimization tips, understanding how our tools work and staying up to date as they keep improving, releasing new features and blog posts as well as resolving issues and troubleshooting technical problems, amongst others.
In his free time, Joe enjoys volunteering (community service, charity work), sports such as hiking and swimming in nature and mindfulness practices such as meditation.
Lavinia – Director of Customer Success [EN & RO] (Business hours)
Lavinia graduated from the Western University of Timisoara and worked as a language and literature teacher for several years, which taught her how important communication and decision making is when working with people, as well as listening and being flexible to achieve a common goal or fulfill individual needs.  Lavinia's primary responsibilities are to plan, develop and manage the team's and the customer's projects. From internal processes to external communication, the focus is on the development of the team skills, in order to help customers achieve their goals.
What Lavinia enjoys the most about her job is the opportunity to work with great professionals within the team and ExoClick in general, in order to offer the best solutions both internally and externally.
About The Tech Support team: What do we do?
Hello! We are the Technical Support Team, and our duty working in the Customer Success Team is to be the bridge between the ExoClick software provider and the clients using the platform and products. Mainly focused on the ExoClick customers, our team also provides guidance and support within the company.
Wondering how to get a career in Customer Success in tech? Here are the Technical Support Team's main duties:
Guide & provide support to any technical issue to Sales, CS and ExoClick's clients.
Understanding of product lines and roadmap (business & technical).
Knowledge of the ad platform, procedures and implementation.
Internal training sessions.
Liaise with developers & product managers to prioritize, assign, solve or escalate tickets created on Jira.
Provide visibility about the most important issues.
Develop internal Dashboards helping other departments to achieve their goals.
Participate in the creation of Marketing and external educational material

Blog – ExoClick

Maintain and improve

ExoClick Documentation
Meet the Tech Support Team members!
Rubén – Senior Technical Specialist [SP & EN] (Business hours)
Ruben's main duties as Senior Technical Specialist are answering technical inquiries raised by clients and forwarded by the Sales Team, reporting Bugs, providing reports from data available only in the ExoClick's databases, researching on technical matters in the company initiatives, and updating Exoclick's documentation, amongst other.
Within his role, Rubén especially enjoys learning about programming languages and discovering new things about IT and getting the chance to understand the industry better while helping his colleagues at the same time.
Juanma – Head of Technical Support [SP & EN] (Business hours)
Juanma comes from a Computer Science background with +10 year experience working with FE, BE and Product teams. He has also studied a postgraduate Course in Agile IT Management & Masters in Marketing Online. Some of his main duties are leading the Technical Support Team, guiding and providing support to clients for any technical API / Saas integration, establishing and updating scalable processes that ensure the optimization of resources, and is responsible for assigning, prioritizing, scaling or updating tasks through Jira Board.
When not at work, Juanma enjoys traveling, sports (padel, football, surf, yoga, trekking, mountain biking), reading (Adventure: Fire & Blood or Business & Leadership: Radical Candor), trying new food, wine and good beer!
Want to get in touch with one of our amazing team members? Contact us here! Or maybe you want to join the ExoClick Customer Success team? Check out our available roles!