6 Reasons you should target India with mobile video ads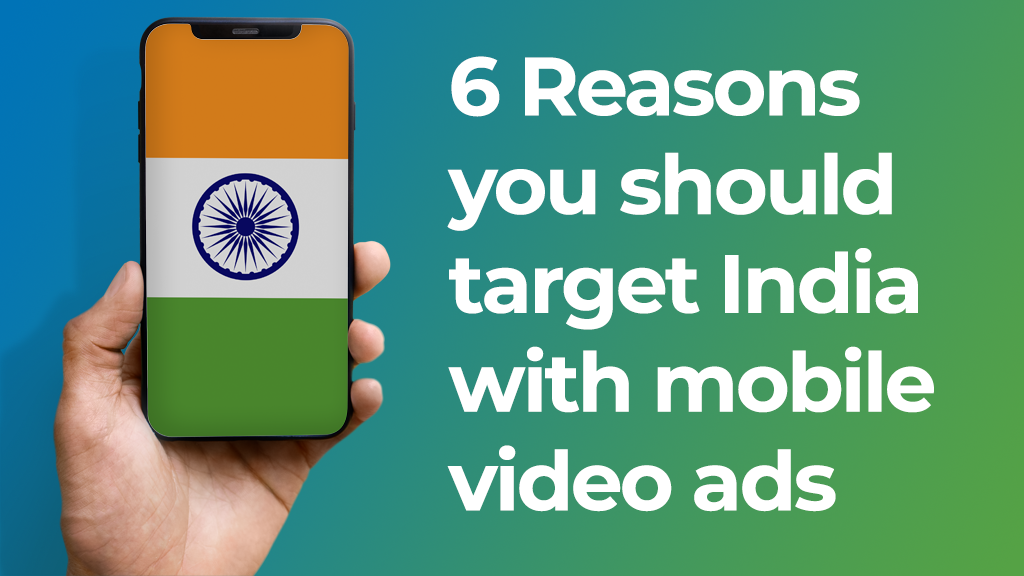 #1 It's a massive market
India has one of the biggest online economies in the world and its potential grows every year as more people become connected to the internet. With a population of 1.37 billion, according to Statista, 50% (685 million people) had access to the internet in 2020. This also ranks the country as second in the world in terms of active internet users (behind China).
#2 More smartphone users are coming
According to Cisco, by 2022, there will be 829 million smartphone users in India, accounting for 60% of the population. So what phones is the rest of the population using? You guessed it, 2G Feature Phones. But that is about to change because Google has partnered with Indian comms giant Jio to build a cheap, entry-level smartphone that is hoped to convert 450m Indians who still use feature phones into smartphone users.
#3 Mobile first
The Indian market should be considered a mobile first GEO. Just like LATAM, most individuals don't own a personal computer, they get connected to the internet using their smartphones. ExoClick's network serves 1.8 billion daily ad impressions just to India, and Indian traffic on ExoClick's network is overwhelmingly mobile traffic:
Mobile 97.3%
Desktop 2.2%
Tablet 0.5%
#4 Indians spend an average of 4.48 hours a day on their smartphones
According to a report released by Nokia, the average time spent by Indians on smartphones is the second highest in the world. An average user in India has increased their consumption by 4 times since 2020, spending an average of 4.48 hours a day on their smartphones.
So what are they consuming? 55% of Indian's consume videos on channels like YouTube, video content sites and social media apps, whereas fintech, e-commerce and other kinds of browsing activities make up the remaining 45%.
#5 High CTRs for video ads
Compared to Banner ads in India, ExoClick's video formats far outshine on CTRs, our Business Intelligence team pulled the following data for mobile CTRs for our main verticals: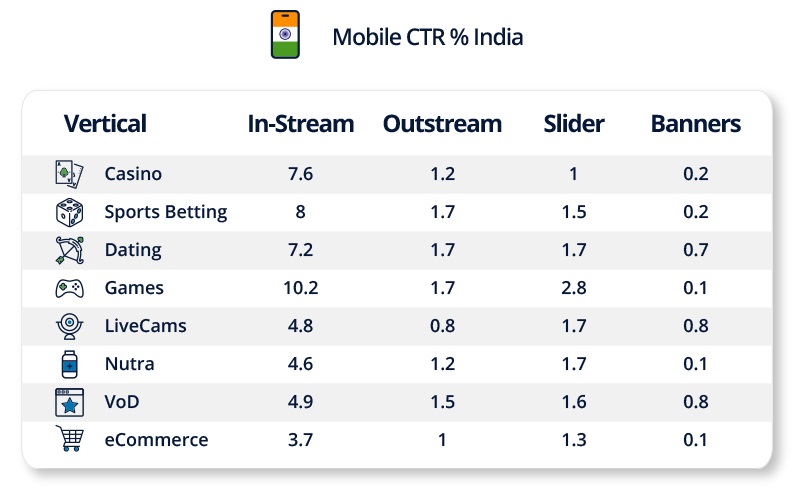 #6 Tier 3 lower bid prices
For ExoClick's three video ad formats: In-stream, Outstream and Slider, earlier this year we introduced new lower bid prices for Tier 3 GEO's such as India at $0.01 CPM / $0.01 CPC. The new lower bid prices are a great opportunity for you to experiment and test out campaigns, ensuring a wide range of data is collected for campaign optimization. Running new low bidding RON campaigns will help you discover new ad zones to target. Additionally make sure you use the ExoClick Bidder which will adjust each ad zone according to the CPA you goal set. These low bid prices are the perfect way to launch your video campaigns with minimum risk.
Tips for targeting the Indian market with video ads
Create fun video ads: Indian consumers love short video apps. In June 2020 India banned TikTok, which led to many new homegrown Indian TikTok copycat apps. The three top apps are MX TakaTak 195 million downloads, Moj 192 million downloads and Josh 166.6 million downloads. The Indian audience is really open to short videos, so make your video ads in a TikTok content style. You don't need to create video ads with high production values, your ads can be shot and edited using a mobile phone. Try to keep the videos entertaining or informative to capture audience interest.
Use ExoClick's Video ad making service: If you are an ExoClick client, we will create a free video ad for you to use for our In-Stream, Outstream and Video Slider ad formats. No minimum spending commitment is required. Contact your account manager of our Client Care Team here for more details.
Speak the right language: Don't assume everyone can speak English in India, there are many different languages spoken, especially in different regions. The top 5 languages are:
Hindi spoken by 366 million

Bengali 207 million

English 130 million

Telugu 69 million

Marathi 68 million
Use ExoClick's regional targeting feature to reach consumers in specific Indian regions and use the regional language with texts in your video ads to attract your audience.
Mobile targeting: With such huge daily mobile volumes, it makes sense to target mobile OS and devices in your campaign. Apple users tend to be more affluent in India, so target more expensive offers at iOS and less expensive offers at Android. Test out WiFi and 3G targeting also, many Indian's pay for subscriptions and products through Carrier billing.
For more Video advertising creative and optimisation tips download our Ultimate Guide to Video Advertising.