World Cup 2022: Maximize your Online Sports Betting Offers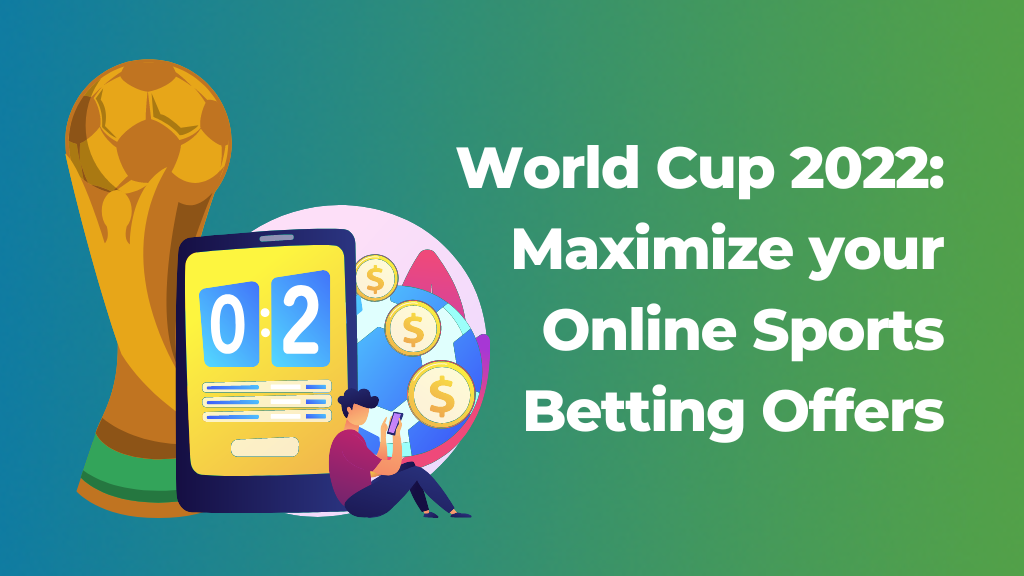 Football fever is rapidly taking over the world as the FIFA World Cup 2022 approaches! Because everybody will be tuning in to watch the matches, it is the perfect time to promote your Online Sports Betting offers. To help you prepare for this occasion and to help buy gambling traffic that is high quality we have put together 10 Tips and Video advertising advice to maximize the results of your Betting ad campaigns.
Online Sports Betting Offers CTRs
Our Business Intelligence looked at global CTRs across the ExoClick network for the Sports Betting vertical. Currently, our CTRs for the Sports Betting vertical are as follows: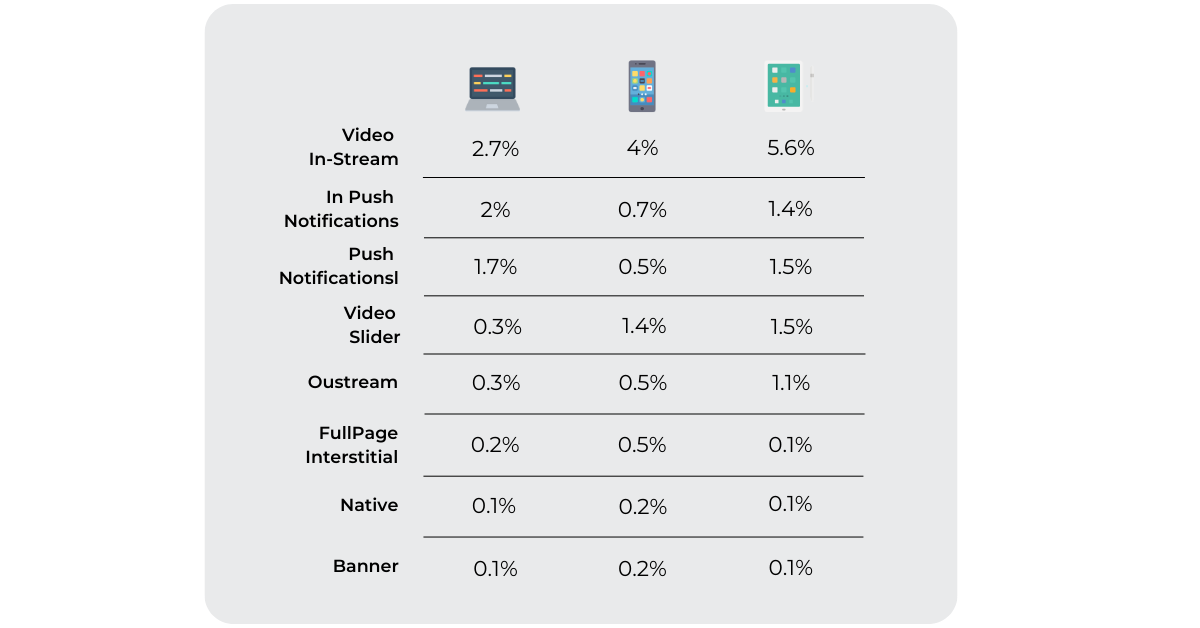 10 Creative tips to maximize your online sports betting offers!
#1 Use branding to attract the audiences: Consumers trust popular brands. So if you are the product owner or affiliate of one or more online sports betting offers, make sure branding is prominent in your ad creatives, landing pages and the rest of the marketing materials. This will make your campaigns more eye-catching and likely to be clicked on. 
#2 Customize your texts: You will be targeting football fans, so use football based creatives. Football fans' ultimate high during a match is the scoring of a goal, or the team members' celebration on the field, right after the goal. Inspire your audience to place the winning bet basing your creatives around a win! This also works for your ads' texts: Use positive affirmations related to football, words like score, goal, and win can be incorporated. For example if your creative features a striker scoring, use a text like "You too can score big winnings."
#3 Make it highly visual! Marketing a Betting site is all about eye-catching creatives, especially for highly visual formats like some Banner formats and video. Every football team has its own colors, which are recognized and worn with pride by fans. Also, during the FIFA football tournaments, online media around the event will dress up for the occasion. Combine both elements on your ads' creatives and make them extra flashy and visual to make them pop! Use GEO targeting to reach end users for specific countries so they can bet on their countries team matches.
#4 What are the odds? Aside from the excitement of the matches and the bettings high, most of your users are in it for the win – Let them know what the potential reward will be if they place a bet on their favorite team. This will increase your CTR. You could also add favorable testimonials from other end users who have used your betting site and obtained big wins! 
#5 Run special promotions for the event: Offer a special sports betting promotion for each tournament such as a cash back to make another bet, or a free bet! You could offer extra free promotional tokens that can be used on your site if they make a deposit for this specific event. Also, run welcome bonuses and promotions for new users, and reward loyal players with some additional packages that are specific to bets placed during the World Cup. 
#6 Push notifications: This format is highly successful as you can send them to consumers just before a game to push the user to make their bet before they watch the match. They receive them on mobile even if they are not browsing the internet.
#7 Landing pages: Same as your other marketing materials around the event, keep your landing pages current, updating them with match wins throughout the two football tournaments! Make them become a source of news, betting tips and similar for the end user, driving them to keep coming back to visit your landing page, then feature strong CTAs to push them to make another bet. Apply A/B testing to see which approach works best and, to save time, automate the testing using ExoClick's algorithms:
Even:

Variations that have the same CPM will have traffic evenly distributed between the

Automatic CTR (Default):

Traffic will be distributed between the variations based on their CTR.

Automatic on Conversion Rate:

The Advertiser chooses a conversion tracking goal. The variation with the highest conversion rate for that goal will get more traffic.
#8 Use The Bidder! Optimize your campaigns using The Bidder, ExoClick's bidding automation tool, which allows you to automate the optimization of your campaigns by adjusting your bids by ad zone and blocking non-converting ad zones. Read our guide on The Bidder here.
#9 Test out Social Media traffic: Social & Messenger Apps traffic allows advertisers to target users interested in specific vertical topics being discussed in groups on social media and messenger apps, or target followers of a celebrity, popular influencer, etc. This traffic source can be very beneficial for Sports Bettings offers because football fans are going to be on social media socializing and commenting on the matches and results throughout the championship. Target this audience focusing on groups and messenger apps around Football, the World Cup, and specific football teams.
#10 Use Video! Video works well because it can create an immersive experience with the visuals and the sound, making the viewers feel like they are in the epicenter of the action. It also allows you to showcase how to use your site to place bets. Formats like Fullpage Interstitial, video banners, In-stream, Outstream and Video Slider formats will help you score big with end users!
5 Extra Tips to generate conversions with Video advertising!
As stated above, video formats are ideal to promote your online sports betting offers: They allow the viewer to experience the excitement of the match by just looking at your advertising, making them more likely to click and generate a conversion. Here are some tips to make your video ads pop:
TIP! Amp up the excitement: The user wants to see just how much fun and excitement they can get betting for their favorite team. Combine footage of a user placing bets and watching the scores grow with footage of the football match taking place and big win 'loops', with flash wins and bonuses.
TIP! For social butterflies: A lot of players like to socialize online whilst placing their bets and watching the matches – It is exciting because the outcome could be big wins! Highlight your site's chat and social features by showing conversations about the match, reactions to what is happening during it, or real users looking at their phone whilst talking to each other about what is happening, real time.
TIP! TikTok style: Create a Do's and Don'ts Betting Tips video, featuring a bettings pro giving winning tricks.
TIP! Sound advice: Although many people browse in silent mode, sounds are an important component of online sports betting offers. Incorporate subtitles and call to action texts into your video creative, as well as text bubbles with onomatopoeias of football sounds, such as 'GOAL!', 'PENALTY!', etc. But also put extra care into your ad's actual soundtrack, adding music and sounds that the user could experience if they were at an actual real-life game, such as the public cheering, their team's anthem -Beware of the copyright! You could use ExoClick's new video CTA feature which lets you select pre determined CTA texts to drive conversions.
Tip! Combine it for the win: Many advertisers use video advertising as part of a wider campaign which can also include using a mix of other formats including Banners and Native to promote online sports betting offers. To better track the results of how your video ad is performing let's look at Attribution. If you are using VAST video ads these metrics can be found out by using custom attribution, and the reason why it's useful is that you can see how video ads work as a support to your overall sales funnel, and from what we have seen, we estimate that this could be contributing to about 30% of your sales.
There are two scenarios:
What if a user saw your video ad and didn't click on it, but later remembered your product and did a type in search in Google – wouldn't it be good to know that this type in was because the user had previously seen your video ad? Simply add a new pixel conversion tracking goal on your video ad campaign to track the conversions without a click, typically coming for type in and Google search.

What if a user saw your entire video or a high percentage of it and didn't click, if you track video views with a pixel, you can create a retargeting campaign with Banner/Native ads for the same offer. This will help you to measure the increased conversion rate for users after having seen your video ad. 
For more information on using VAST and Custom Attribution, or if you want to learn more tips from us about promoting your online sports betting offers and to buy gambling traffic, contact your account manager or our Customer Success team.