The fundamentals of video advertising campaigns with ExoClick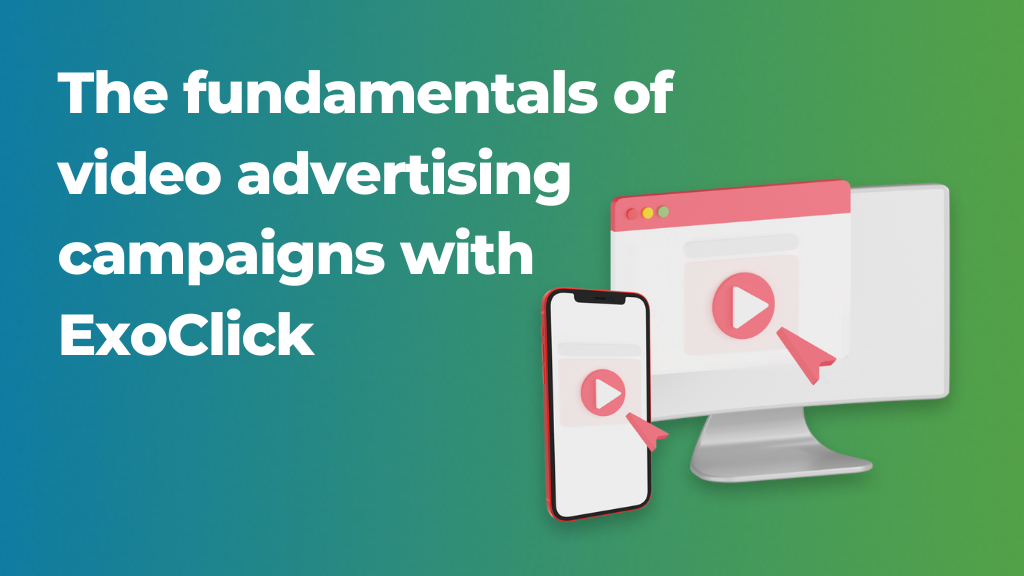 "I have never seen such a high CTR!"
That's how one ExoClick advertiser described our In-Stream video ad format for his video advertising campaign, which you can read in his video advertising campaign case study here. This is why is ExoClick the best video ad network for advertisers and publishers! Video advertising is perhaps the most important conversion tool in your arsenal to convert your offers. Finding the best video advertising traffic will help you maximize your video campaigns with ExoClick. In this blog post we will explain the fundamentals of video advertising campaigns with our network. It includes everything you need to know about video ad creatives, formats, video advertising platform features. We also talk about video ad campaign set up, best practices to get conversions. And finally check out our video advertising campaign case study, to show you different strategies for campaign success. 
ExoClick offers three video formats: 
In-Stream plays before an end user watches video content, just like Youtube. The format features a 'skip ad' button that the end user can click after 5 seconds.

Outstream is positioned within the content of a publisher's site. As the end user scrolls through the content, an Outstream video ad will appear.

Video Slider slides in from the bottom right of the websites page when an end user first visits a website.
Bidding for video formats is CPM, CPC and also CPV (Cost per View). For CPV, the advertiser only pays if the end user has watched 10 seconds or more of the video ad.
Video marketing statistics
The fastest growing ad format is video, according to Wyzowl:
96% of consumers have watched explainer videos to learn about a product or service

94% think video has increased their customers understanding of their business

86% of businesses utilize video marketing, and 87% of marketers think video provides a positive return on investment (ROI)

84% of video marketers think video has helped with lead generation

84% of people have made a purchase after watching a brand's video ad

78% of video marketers think it's had a direct positive impact on sales
Bitebale also states:
74% of marketers think video has a greater ROI than static imagery, such as display ads

68% of marketers think video has a greater ROI than Google Ads
So let's look in more detail how you can convert your offers using video ad formats.
How to create high performing video ads
It's a 15-30 second video creative to sell your offer, which is much more compelling than simple image display ads. Additionally it is a very powerful tool for engagement. You can show product demos, tutorials, entertaining marketing and brand messages. When an end user clicks on your video ad they are taken directly to your offer's landing page. A good creative targeting the best video advertising traffic will bring great results as you can see in our Video advertising campaign case study later on in this article.
Video advertising creative
A typical video ad will contain video imagery that tells a story. The content doesn't have to be shot on a professional video camera, a good quality mobile phone is perfectly acceptable. We are now used to seeing TikTok and Instagram Reels videos shot by real users. So consumers are now accustomed to seeing a video that is not full of high production values. Video ads can be edited into ads with texts and logos on several low cost apps on mobile or desktop. Try one of these ExoClick recommended video editing platforms, all can produce video ads in just a few minutes and find out why is ExoClick the best video ad network for advertisers and publishers:
ExoClick has specific video ad specifications that are inline with the IAB industry standards which ensures a better CTR for your video ads. Additionally the format is fully responsive to work for all our 3 video formats across all devices. Another reason why is ExoClick the best video ad network for advertisers and publishers. Here are the specifications:
Type: MPEG-4 video (video/mp4)

Aspect ratio: 16:9

Resolution 128×720

Duration: 15 – 30 seconds

File size: 50MB maximum

Video Codec: H.264

Audio Codec MPEG-4 AAC
Video ad texts and voiceovers
Next come the texts to tempt the end user into finding out more and hopefully converting into a sale. We recommend that your video contains texts, and a voiceover of the same texts. Check out our blog post Use Video advertising voiceovers to improve conversions. Remember that some end users may watch your video ad with the sound muted, so you should always include texts. Your texts and voiceover should cover the following 5 messages:
1: Introduce your offer
2: Key message one
3: Key message two
4: Pricing or discount promotion
5: A strong call to action
A strong call to action
To reach and convert the best video advertising traffic, this is the most important stage. It it is the strongest message to get the end user to click. We recommend that you keep the CTA short and to the point. Additionally, ExoClick introduced a new Video CTA feature and Friendly URL feature. 
Video CTA feature: In your admin panel, you can now use predetermined CTA text overlays on your video ads from a drop down menu, available options include:
Click for More

Click Here

Play Game

Play Game Now

Play Now

See More

See Now

Try for Free

View Here

View More

Watch Free
Friendly URL feature: This feature will display on your ad as a Domain name, below the CTA, with a maximum of 15 characters. To pass through our Compliance team, the domain should be the same as your landing page URL.
The benefits for both these features are that you can test different CTAs to see which converts the best for your campaign and the Friendly URL lets the end user know the domain they will be taken to, which builds end user trust. In the example below, you can see how a dating advertiser could use these features: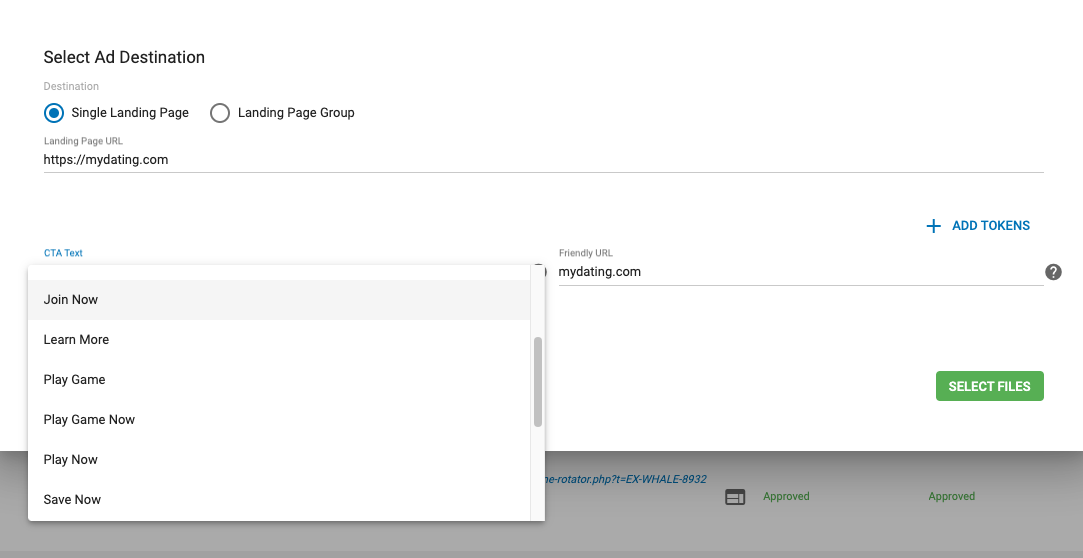 Check out our Video advertising campaign case study here. It shows how effective our CTA feature was for generating a higher CTR for this advertiser's offer using the Outstream video ad format. It showed an overall click growth of 11.66% compared to when the advertiser didn't use the CTR feature.
ExoClick's Video ad making service
Our free Video ad making service is available for advertiser clients to use on ExoClick's network. We produce video ads for Dating, VoD, Nutra, Casino/Gambing and Games. The video ads include texts and female voiceovers in the following languages:
European: Dutch, English (American or British), Finnish, French, German, Italian, Norwegian, Portuguese, Romanian, Russian, Spanish, Turkish

Middle Eastern: Arabic

Indian: Hindi, Tamil

Asian: Chinese, Indonesian, Japanese, Korean
We use AI generated voice platform Murf, that uses real peoples voices seamlessly creating compelling voiceovers that sound natural, exciting and with perfect accents.
If you would like to use ExoClick's free Video ad making service, contact your account manager or a Customer Success specialist here. Also read this Video advertising campaign case study which used our Video ad making service.
Using Video advertising as part of a wider marketing mix
Many advertisers use video advertising as part of a wider campaign which can also include using a mix of other formats including Banners and Native. To better track the results of how your video ad is performing let's look at Attribution. If you are using VAST video ads these metrics can be discovered by using custom attribution, and the reason why it's useful is that you can see how video ads work as a support to your overall sales funnel, and from what we have seen, we estimate that this could be contributing to about 30% of your sales. Let's look at two scenarios:
Scenario 1

: What if a user saw your video ad and didn't click on it, but later remembered your product and did a type in search in Google – wouldn't it be good to know that this type in was because the user had previously seen your video ad? Simply add a new pixel conversion tracking goal on your video ad campaign to track the conversions without a click, typically coming from type in and Google search.

Scenario 2

: What if a user saw your entire video or a high percentage of it and didn't click, if you track video views with a pixel, you can create a retargeting campaign with Banner/Native ads for the same offer. This will help you to measure the increased conversion rate for users after having seen your video ad. Don't forget to attribute some value to the video ad campaign based on your attribution model.
For more information on using VAST and Custom Attribution, contact your account manager or our Customer Success team here.
Best practices for video advertising campaigns
In order to win the best video advertising traffic, video advertising campaigns need a different strategy to display advertising campaigns, here are some tips for success.
Campaign testing phase: It is very important that you run test campaigns for your offers first. Keep your test campaigns running for 7 days including the weekend, don't give up after 2 days if you have few or no conversions. You need to test for at least a week to collect a decent amount of data. You will then use this valuable data to launch full campaigns.
Create separate test campaigns for each format and device: You should test all three video ad formats: In-Stream, Outstream and Slider to gather data and see which format gives you the best conversions. You need to create dedicated test campaigns for each format because if you target all three video formats the key performance metrics between In-Stream, Slider and Outstream are different. Please note: in Video campaign set up ALL is enabled by default. This means you will target your Video campaign at all formats:

To set up individual video format campaigns only, select the format you want to use, in the example below we have selected Outstream Video:

It is also important to set up separate Mobile and Desktop campaigns, due to different performance on various devices.
Create separate RON and Premium Traffic campaigns: RON (Run of Network) is a less expensive traffic source, each day new traffic sources are added to RON, so it's a great way to discover new ad zones from which you can create whitelist campaigns. 
Premium are verified high quality traffic sites with more stable volumes than RON sites, this source is more expensive. 
If you target both RON and Premium together you can waste money on RON campaigns because you are bidding a higher price for the mixed in Premium traffic sources. So better to create separate campaigns here also. 
Bidding: In order to win the best video advertising traffic, for test campaigns always use Smart CPM, this will help you win bids within your set budget. We also recommend that you use ExoClick's Bidder to automate bids for you and automatically block non performing ad zones. We recommend not to set too many rules, this example is a good starting point for video advertising.:

Set a Target CPA slightly lower than the actual CPA, for example if the CPA is 2, set your Target CPA at say 1.9, then set your Maximum Test Budget at twice the CPA and don't use any zone blocking rules. This might seem like a basic algorithm but it is very effective for video advertising when tryign to get the best video advertising traffic for your white lists.
Frequency Capping: Ensure that you enable Frequency Capping, which allows you to restrict the number of times a unique user will see your video ad, to prevent video ad blindness. We recommend 1 time every 24 hours.
Daily testing budget: Aim for $50-$100 as a daily test budget, anything less will not get you enough data.
Delivery mode: Select 'Distribute throughout the day' for your test campaigns, again this will help you gather more realistic data. 
Targeting: For test campaigns keep the Time Schedule field open, if you set specific time periods you will get less traffic, and that traffic will be more competitive/expensive. However make sure you do basic targeting such as OS, device, language, etc, only use targeting that is really necessary. Again this is to collect a good range of data, then after 7 days you can evaluate the performance of your test campaigns. 
For example, maybe after 7 days you see that your offer is performing really well on Android but not on iOS, so when it comes to launching your main campaigns you can target Android and block iOS.  Or, perhaps after testing you get no clicks on a Wednesday evening but lots of clicks on Saturday evening, so when you launch your main campaigns set the Time Schedule to focus more on Saturday.
Landing Page Algorithm: Use this tool to test out different Landing Pages. Choose between three traffic share algorithms to automate testing your landing pages and see which converts the best. Even spreads out the traffic evenly between LPs, Fixed lets you set percentages of traffic share to LPs and Automatic sends more traffic to the LP that is performing the best. 
Keep checking: Don't just leave your test campaigns to run, keep checking them everyday including weekends, if you see something strange or something you don't understand, reach out to your account manager or a Customer Success Specialist here for help.
Your 1 week follow up: So you have been testing for one week, analyze your test campaigns data to help you set up your full campaigns. If you need help here, please contact your account manager or Customer Success Specialist to set up an optimisation meeting.
Launch your full campaigns: After your 1 week follow up you should have gathered enough data to start building white lists of ad zones that have the best video advertising traffic. So you should be ready to launch those full campaigns. Just bear in mind a couple of things:
If you see that 1 publisher site or 1 ad zone is converting really well for you and therefore you have optimized your campaign accordingly, bear in mind that traffic can change from day to day, so you may have to re optimize your campaign.

Be aware of different minimum bids on different ad zones, we recommend that you create different campaigns specifically for ad zones that you are targeting or you could burn money on cheaper ad zones, because you will be paying more for them than they are worth.
Just as we did in our Video advertising campaign case study, keep checking those video advertising campaigns everyday, and don't forget to review each video advertising campaign case study mentioned in this post to help you get video advertising campaign success!
Bid for the best video advertising traffic
Not a client of ExoClick yet? Sign up today and start testing out our best video advertising traffic sources. Or, if you need more reasons why is ExoClick the best video ad network for advertisers and publishers get in touch with our Customer Success team now. Convert your offers with video ads today!