Target Dating Sites with Members Area Traffic for your Valentine's Day offers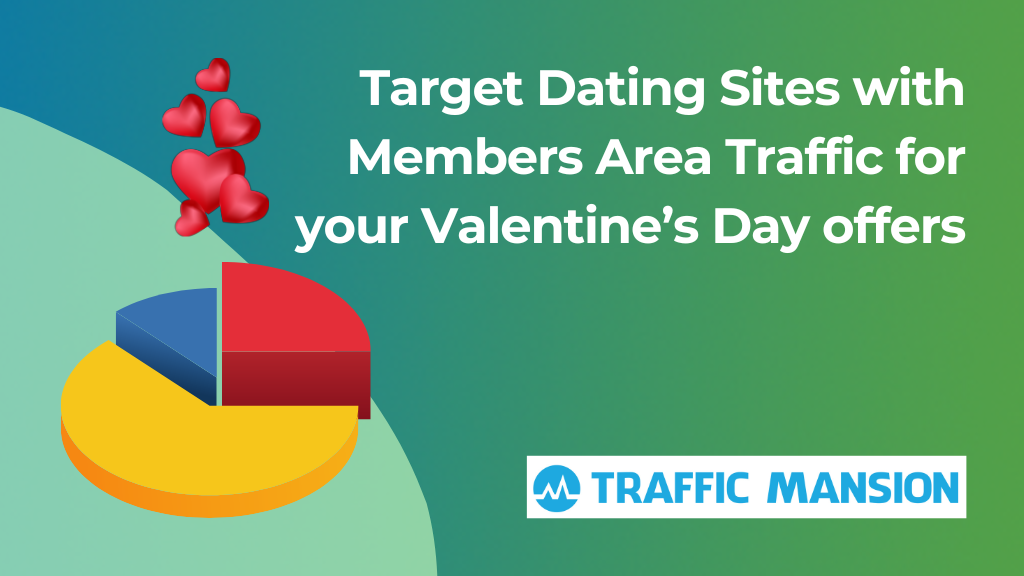 Around Valentine's Day time, lots of daters looking for a special someone will increase their activity on Members Area dating sites. This is the ideal time for advertisers across the globe to target dating sites to promote streaming, games and dating offers. Members Area is one of the best traffic sources to target these verticals, because your ads are placed inside the Members Area section of dating sites, where opted-in dating site users who are currently active can view your ads.
To help you maximize your offers on Valentine's Day 2022, we have worked with the business intelligence department of Traffic Mansion, one of our biggest international publishers in the Members Area dating vertical, to bring you some fascinating insights into their dating traffic sources comparing 2021 and 2022. Their top 5 GEOs are all Tier 1 English speaking GEOS, making their traffic ideal for targeting English language ad creatives to a very large audience:
US
UK
Canada
Australia
South Africa
Traffic Mansion's sites are ideal to promote games and streaming offers on all their ad formats, and dating offers on Popunders and Menu Tab ads. Continue reading to learn more about their ad formats, their network insights for registrations, signups and device performance.
Target dating sites age niches: Registrations increases per age ranges
Looking at Traffic Mansion data, comparing 2021 with 2022, there was a slight increase in the 18-24, 25-34 and 55-64 year age ranges. Here are the percentages for sign-ups across all age ranges: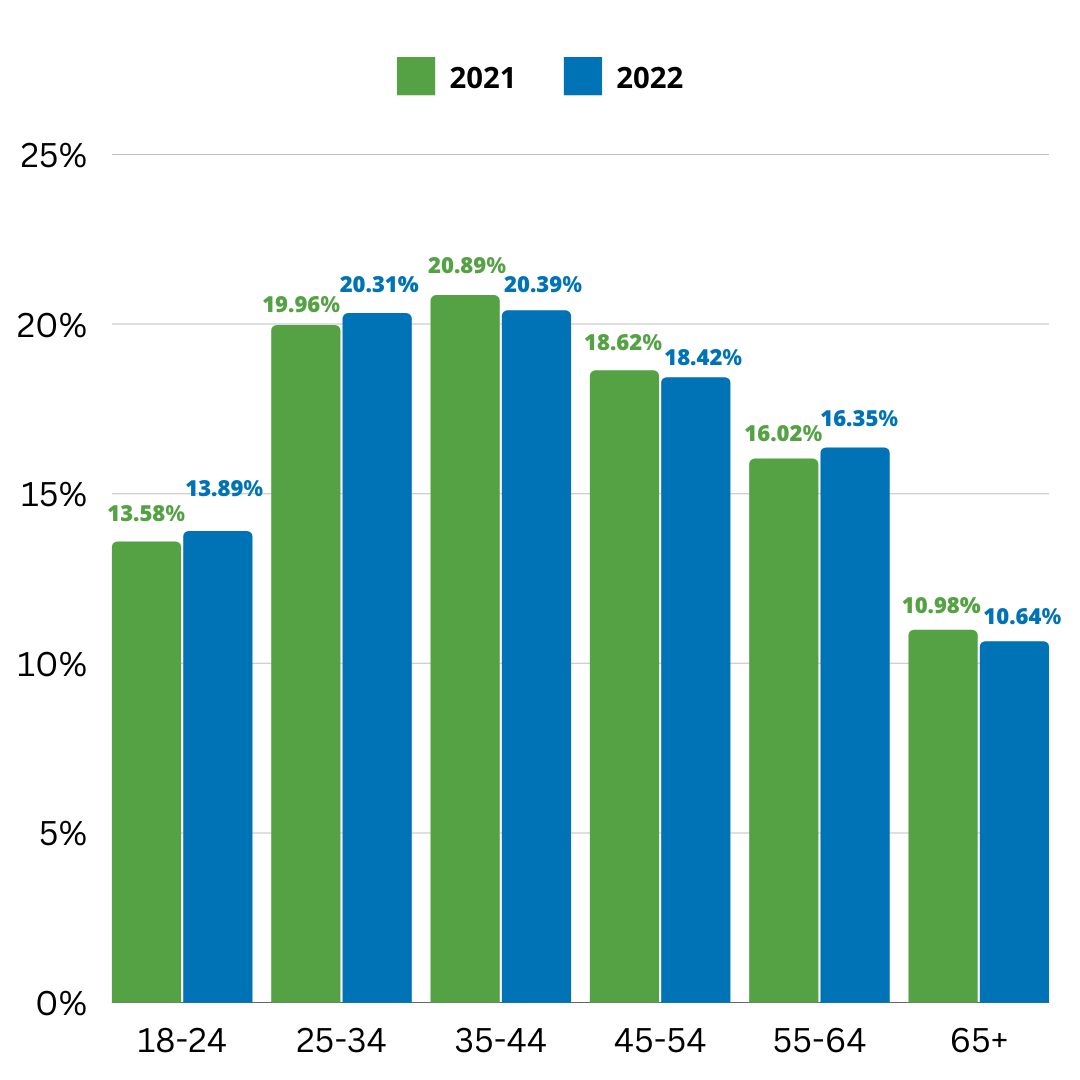 The dating vertical is one which includes very specific niches, some of them focused on age groups, with specialized sites for different age groups, such as Dating for the over 50s, Senior Dating, Millennial dating, etc. This is something important to take into account when you target dating sites to promote your offers, so that you can adapt your ad texts and creatives to match your communication style to appeal to specific age groups.
For instance, if you are promoting a Games offer on sites focused on Millennial dating, remember to build your promo around games and content aimed at younger audiences. For example:
Use phrases that appeal to this age group, here is a glossary of

Gaming slang for young people.

Feature images of young people playing games, or screen shots of popular characters of young gamers.
Use lots of emojis, and abbreviated expressions such as GOAT (Greatest Of All Time), FTW (For The Win), etc.
Learn from your daters' behavior: Sign up Peaks and device usage
On Traffic Mansion's network of dating sites, sign up peaks happened globally, in January and February in 2022, with the build-up to Valentine's Day, and in June and July in 2021, where lots of daters make the most of the hot weather, seeking a summer romance! We can see an increase in signups from 2021 to 2022, with medium signup rates spreading out all the way to September in 2022:

Red = Highest peak
Orange = Medium peak
Grey = Normal
As we can see above, in 2021, as life was slowly going back to normal after the pandemic, signups for Traffic Mansion dating sites didn't fully peak until June and July, where the warmer weather allowed for a more active social scene – However, we can still see a medium level of signups during Valentine's. In 2022, as the social scene has fully recovered, we can see the highest peak of signups in January (daters most likely wanted to start the year finding a special partner) and in February, as a result of the buildup towards Valentine's Day. We can expect a similar increase in Valentine's Day sign ups this year.
Devices Breakdown
According to Traffic Mansion, Mobile has been the device that has been used the most, and the one that has displayed growth in usage from 2021 to 2022. This is mainly because potential daters will look through dating profiles when they commute back and forth from and to work, stuck in traffic, during breaks, and at home, all with the convenience of their phone. In 2021, most of the population were still working from home, using their laptops and tablets more than they would compared to more normal times, when the day is spent mostly outside of the house, making the phone the personal device of preference.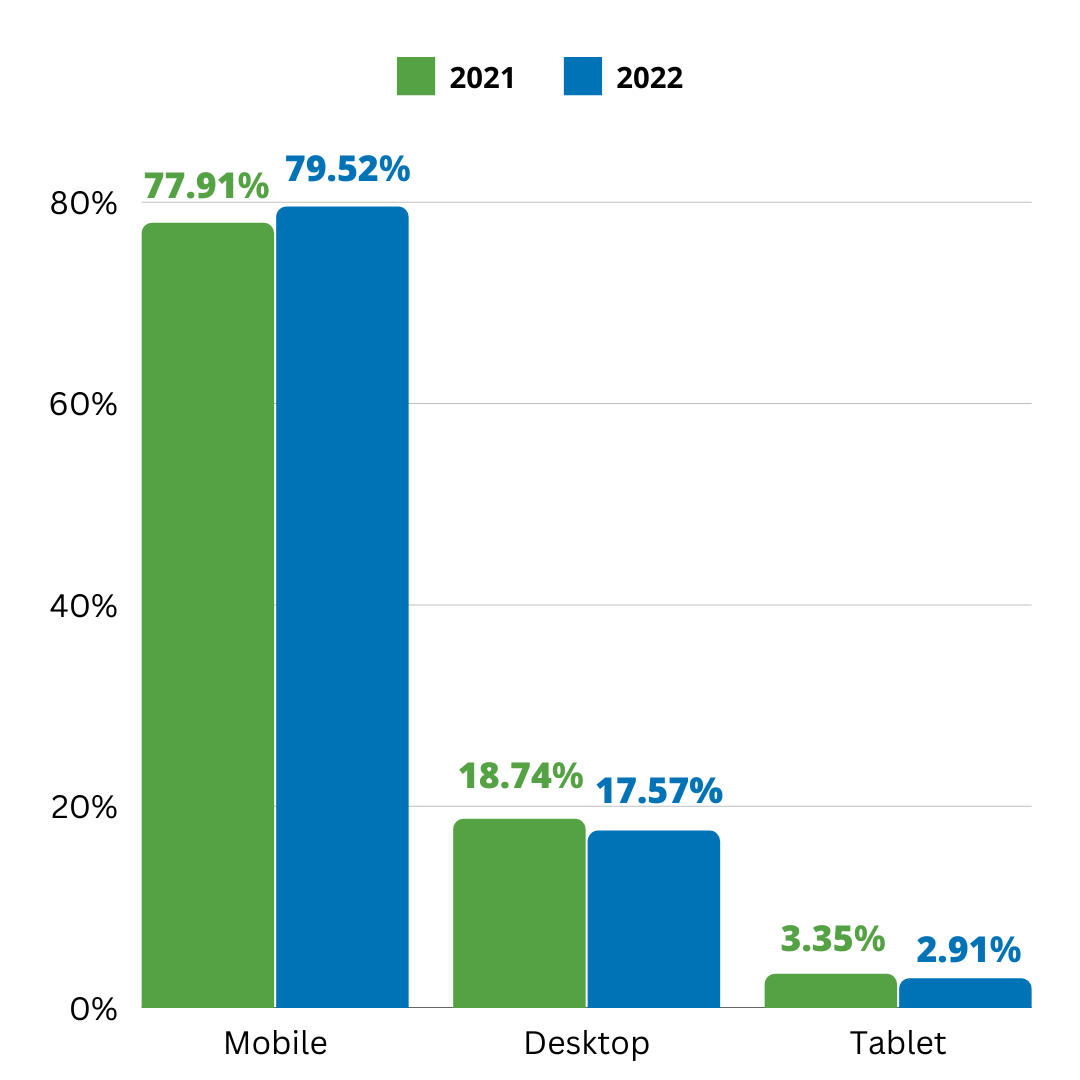 Buying Traffic Mansion's members area traffic on ExoClick's platform
Converting Dating offers with ExoClick's members area traffic can lead to a great ROI for advertisers, because you can target dating sites that are high quality, across the globe. Are you thinking of buying dating traffic from Traffic Mansion? Here are the ad formats that they serve:
Banner ads: Members Area sites have limited banner ad spots, which means that the end user isn't bombarded with ads during their user experience on the dating site. This ensures that your banner ad will really stand out as there is less competition for eyeballs. Traffic Mansion offers the following Banner ads: Games and Streaming.
Direct links, or menu tabs: All our Menu Tabs are ad zones that are displayed in prime position, they appear within the menu section of Traffic Mansion's network of sites. The network Menu Tabs are available for bidding on CPC or on flat/monthly Traffic Share deals. Traffic Mansion offers the following Menu Tabs: Games, Streaming, and Dating.
During Valentine's Week 2022 Menu Tabs on Members Area traffic on ExoClick's Network experienced huge increases in clicks, showcasing online users trying to find themselves a Valentine's date:
Desktop: +10.2% increase
Mobile: +30.5% increase
Tablet: +16.6% increase
Native ads: Native ads are perfect to target offers on dating sites because they look exactly like the editorial content of a website, catering for a very immersive user experience, and leading to high CTRs and conversions. Traffic Mansion Native ad zones are available for Games and Streaming.
Popunder ads: Popunders are a very popular format because they are served in the end user's browser after they close the website where the Popunder has been served. It is a large format ad, so it offers advertisers a large creative opportunity to appeal to end users for their offer and publishers can earn big revenues from the ad format. Traffic Mansion allows for Popunders: Games, Streaming, and Dating offers.
Are you looking to buy dating traffic using Traffic Mansion's or other Members Area traffic sources? Get in touch with your account manager or our Customer Success team!