How ExoClick ensures quality traffic sources for your advertiser offers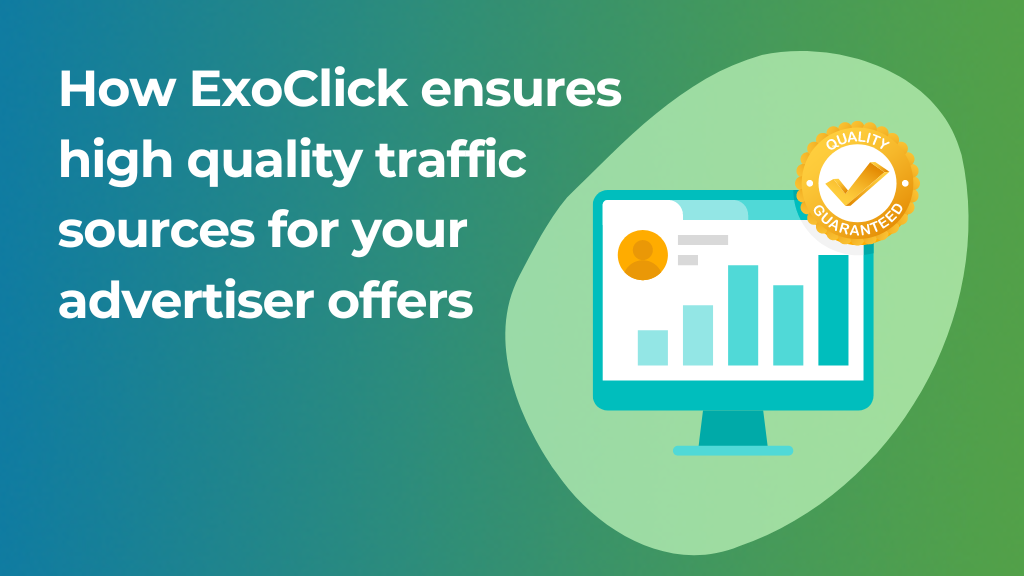 ExoClick's mission is to ensure that all advertiser clients have access to high quality traffic sources. Quality traffic sources are the best performing which enable advertisers to get more conversions and maximize campaign ROI. In this article we will explain how ExoClick ensures that it offers advertisers a large range of great traffic sources. From premium traffic sources to brand new traffic sources to test.
ExoClick's quality traffic sources
Digital marketing requires access to traffic in order to test out affiliate marketing offers to many different target audiences. Correctly targeted audiences are all potential customers. ExoClick's traffic sources consist of Premium and Run of Network (RON). Let's look at Premium first. Premium sites are managed by ExoClick's team of Publisher account managers. There are 4 varieties:
Free Content entertainment sites

Members Area dating sites
Email lists consisting of emails of dating website members
Social messenger apps groups with traffic from Telegram, Facebook, Instagram, Reddit, Snapchat, Twitter, Groupme, WhatsApp, TikTok, Viber, etc
These sites have large volumes of organic, high quality traffic sources and many are exclusively on ExoClick's network. 
Premium free content sites
Each site contains large quantities of quality content which ensures a big global audience of loyal end users. These premium publishers are experts in SEO, ensuring high search rankings, bringing more exposure of their content to end users. Daily user visits are in the 100s of millions and are quality traffic sources. There are a large range of ad formats to reach these high quality traffic sources with advertiser offers including video, display, native, rich media, push notifications, popunders, direct links and menu tabs.
Run of Network (RON) free content sites
These sites are free content sites and have signed up to ExoClick's platform to join our global network and create various ad zones in order to monetize their content. Ad formats include video, display, native, popunders, rich media, push notifications, menu tabs and direct links. Although bidding for RON site ad zones is less expensive than Premium sites, they bring great value to advertisers. Because new sites are being added every day, they are a great way to test brand new traffic sources with your offers.
Members Area sites
95% are dating sites that have huge volumes of freemium and paid for subscription members. This audience has registered with the site and is actively using the site in order to find dates and chat with other members. These high quality traffic sources consist of Tier 1 English speaking GEOs including US, UK, CA, AU, NZ, ZA and Tier 1 EU. Advertisers can target these sites with Dating offers as well as other verticals. Ad formats include menu tabs, display, native (including in profile), popunders, back button offers and rich media. 
Email traffic
Again for dating, these quality traffic sources give advertisers access to opted in members of dating sites via email using ExoClick's Email Clicks ad format. Available for advertisers promoting dating offers, which makes it a perfectly targeted premium traffic source. Traffic is from Tier 1 English speaking GEOs such as US, UK, CA, AU and Tier 1 EU. All email lists are handpicked by ExoClick's account managers and only premium quality email lists are allowed on our network. 
Social Messenger Apps traffic
Social media groups can be targeted across a range of different verticals and platforms. All traffic is hand picked by ExoClick account mangers and tested for quality.
What happens when a new Publisher signs up to our network?
ExoClick is very strict before approving a new Publisher site. Our Compliance Team works 24 hours, 7 days a week and carries out a number of performance checks, before the site is allowed on our network. These checks include:
The quality of the site's content:

A website with poor and low volumes of content will have low quality traffic because end users will bounce quickly and will not come back to visit the site. Websites that are under construction or lacking in content are rejected.

The end user experience:

Is the site easy to navigate? Is it easy to find the different categories of content on the site? Does it have a good balance between content and ad zones? A site with too many ad zones and too many different ad formats will annoy the end user and will bring less clicks for advertisers. Websites that show excessive advertising or make it difficult to view the content are rejected.

Responsiveness:

Websites that are not optimized for mobile devices will be rejected.

Only quality traffic:

Publisher's that use any tools that artificially generate impressions or clicks are not permitted. This is checked manually and ExoClick also has

automatic systems in place to identify such practices to ensure the site has quality traffic sources. These sites are rejected.

Traffic testing:

The website is tested for 5 days and if the quality of the traffic is poor it is removed from our network.

Regular follow up checks:

Even websites that are accepted on our network are regularly checked to ensure they meet our standards and are still compliant with our

Guidelines

. 
Account Managed Publisher sites
These sites have premium traffic sources and are managed by ExoClick Publisher account managers. The Publishing team helps websites to find the right balance between ad zones and content. This way, advertisers bidding for the zones get great visibility to ensure their offers stand out to end users. Additionally, the Menus Tabs ad formats are hand picked by our account managers to ensure each tab is a high quality traffic source for each vertical.
Traffic Share deals
As an advertiser, when you are testing an ad zone and you find that it is converting really well for your offer, you can also arrange traffic share deals with your account manager or Customer Success specialist here. Traffic share deals guarantee you quality traffic sources for a defined share of total impressions for an ad zone over a set period of time.
Check out our Admin Panel news
In your admin panel each day we promote premium traffic sources. Hand picked by our account managers, these can be brand new ad zones, new quality traffic sources or existing quality traffic sources that convert well. So make sure you check them out and test them each day.