Advertisers! Have you tested out our high quality Direct Link Menu Tabs?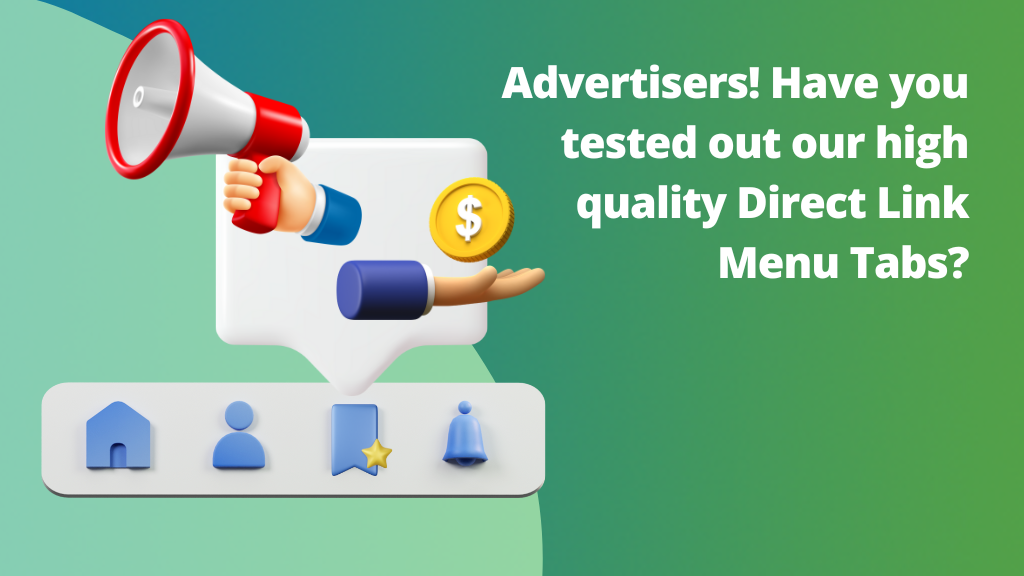 What is a Direct Link Menu Tab?
The Direct Link Menu Tab ad format is an advertisement displayed within the Menu or Navigation Tab of a website on desktop or mobile. The ad format is displayed as an actual Menu Tab. Publishers select either a Text or Image to describe the Menu Tab, so the end user is aware of what he will be clicking on. Once an end user clicks on a Direct Link Menu Tab, it then takes them directly to an offer's website or landing page. There are many great benefits of Direct Link Menu Tabs, which makes them a great tool for converting your offers.
In the example below, the desktop website has the following as their Menu Tabs. The end user can navigate around sections on the site with the Main, Community, Help and Announcements Menu Tabs. The Tab that is labeled Games, is specifically available for advertisers with Games offers.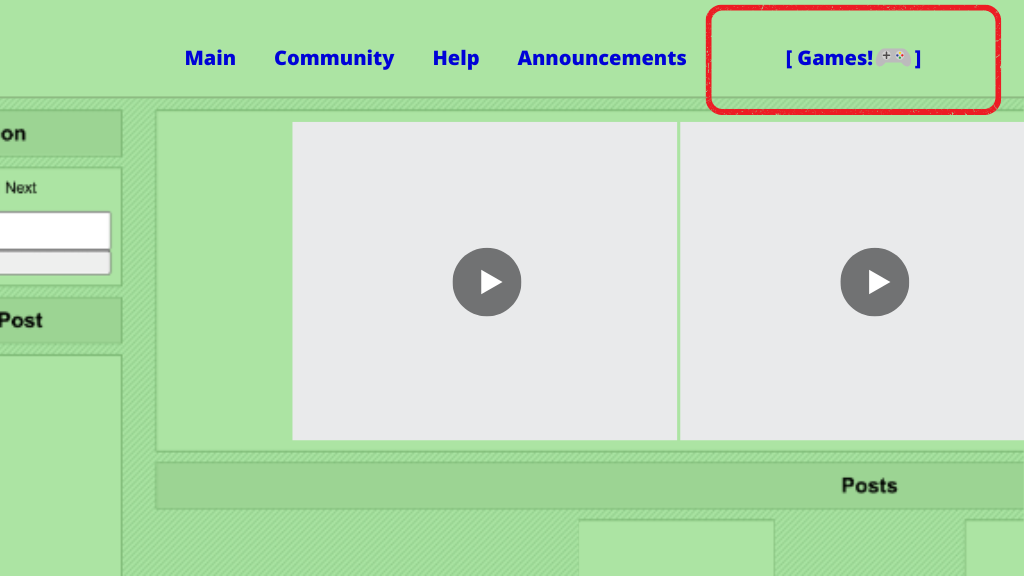 Popular Menu Tab verticals include Games, Dating, VoD, Streaming, eCommerce and Nutra.
Benefits of Direct Link Menu Tabs
There are several benefits for advertisers to use Menu Tabs to promote their offers:
You will get only qualified clicks: Website publishers want to provide a great end user experience, not just related to the website's content, but also to ensure that end users also get a great ad experience. It is the Publisher who decides what verticals will feature within the Menu Tabs, many times this is just one vertical that is of great interest to the website's end users, in the example above, Games are very interesting to this website's end users. Therefore if you buy the Games Direct Link Menu Tab, your offer will only receive qualified clicks from end users genuinely interested in playing online Games. 
Prime position ad placement: Because the Menu Tab ad placement is within the website's Navigation Menu, this is a premium location for an ad. End users will constantly use this to click around the website, generating many opportunities for end users to see your Menu Tab throughout their website visit.
Low competition with other advertisers: Website publishers limit the amount of verticals that they allow to be advertised, usually a maximum of one or two Direct Link Menu Tabs only. If the site has two Direct Link Menu Tabs, they will always be different, so for example there will never be two Games Menu Tabs on the website. All of this ensures that your ad, and only your ad, will have 100% visibility within the Menu Tab for your vertical.
Easy to find the right website for your vertical: Within ExoClick's admin panel we have made it very easy to find the correct Direct Link Menu Tabs available on our network that match your offers vertical. All Tabs on our network are labeled with a contextual vertical to allow only one product category to match the Tab's labeled text to an advertiser's offer, for example Tab Dating only allows dating advertising offers. This way advertisers can create bidding campaigns on Tabs for only dating traffic and can be assured that they will receive traffic only from tabs matching their product category. In the admin panel under marketplace select Ad Format > Direct Link and Ad Placement > Tab (Vertical). In the example below we have selected Tab Dating.

Only quality traffic sources: Menu Tabs are all high quality traffic sources, with each Menu Tab handpicked and verified by ExoClick account managers to ensure the best quality. New websites are implementing Direct Link Menu Tabs everyday, giving you new traffic sources to test on our network.
No ad creative needed: Because the ad format is a Menu Tab on a website, there is no need to invest time and resources into designing and testing different ad creatives. Freeing up your time to develop your landing pages. You can also use ExoClick's Landing Page Distribution Algorithm. There are 3 different algorithms to choose from:
Even Distribution:

Traffic will spread evenly between the different landing pages. For example, if you have two landing pages, the traffic will split by half for each. If there are 3, each will receive 33% of the traffic.  

Fixed Share:

Using fixed share you can define the exact percentage of traffic each landing page should receive.  

Automatic Optimization:

The system will assign a bigger share of traffic based on its results. To use this option, you should have created a "Goal" first, which will be factored in when determining which landing page has the best results.
All of these great benefits of Direct Link Menu Tabs make them a powerful format for conversions.
Bidding or Traffic Share Deals?
As an advertiser you can bid for Direct Link Menu Tabs or you can buy Traffic Share deals for specific Menu Tabs, let's look at the differences between both of these strategies.
Direct Link Menu Tab Bidding Campaigns:

Whereas a Traffic Share of this dating traffic is a set price for volumes of a specific Tab, bidding on Tabs allows you to target many different Tabs at the same time. Direct Link Menu Tabs are available on the CPC pricing model.

Bidding brings many opportunities for bidding optimization including using ExoClick's

Smart Bid

or

the Bidder

,

to automate your campaign bids to reach your set goals. Additionally, bidding allows you the freedom to test many different Direct Link Menu Tabs for your offers vertical, to discover which ones convert best for your offer.
Direct Link Menu Tab Traffic Share Campaigns:

Traffic Share deals are used to sell a fixed percentage of a specific website's

 

Menu Tabs traffic, generally between 10%-100% of an ad spot. The traffic share can also be for specific GEOs, so if you have an offer targeting FR traffic, then you can purchase a deal for a set volume of the FR traffic, for a set period of time at a set price. Therefore you are guaranteed a fixed volume of traffic. Whereas, a bidding campaign cannot always guarantee a stable volume and price.
Direct Link Menu Tab buying strategies
Here are two buying strategies you can try for Direct Link Menu Tabs:
Buying strategy #1 Bidding to Traffic Share:

First begin with bidding strategy across the network, that way you can test all the Direct Link Menu Tab that are available for the vertical of your offer. Set up separate campaigns for Desktop and Mobile. Once you have identified the best converting ad zones, then switch to Traffic Share deals to ensure you gain access to all the traffic for a set price to maximize your ROI. 

Buying strategy #2 Smart Bid:

Use ExoClick's Smart Bid to automatically manage your Direct Link Menu Tabs campaign. Smart Bid will use machine learning and analyze your campaign data and automatically determine the optimal bid price in real-time based on the following factors: the likelihood of a conversion, analysis across several data points and using conversion data for specific dimensions: zones, countries, device types, browsers, etc.  

You can select one of the following two bidding strategies: Target CPA (Cost per Acquisition) or Target ROAS (Return on Advertising Spend). To see how Smart Bid works, you can check out this advertiser campaign case study. The campaigns were for native advertising, however the principle is the same for whatever ad format is chosen by the advertiser.
Do you want more information on Bidding and Traffic Share for Direct Link Menu Tabs? Get in touch with a Customer Success Manager or contact your Account Manager!