Women working in tech: International Women's Day at ExoClick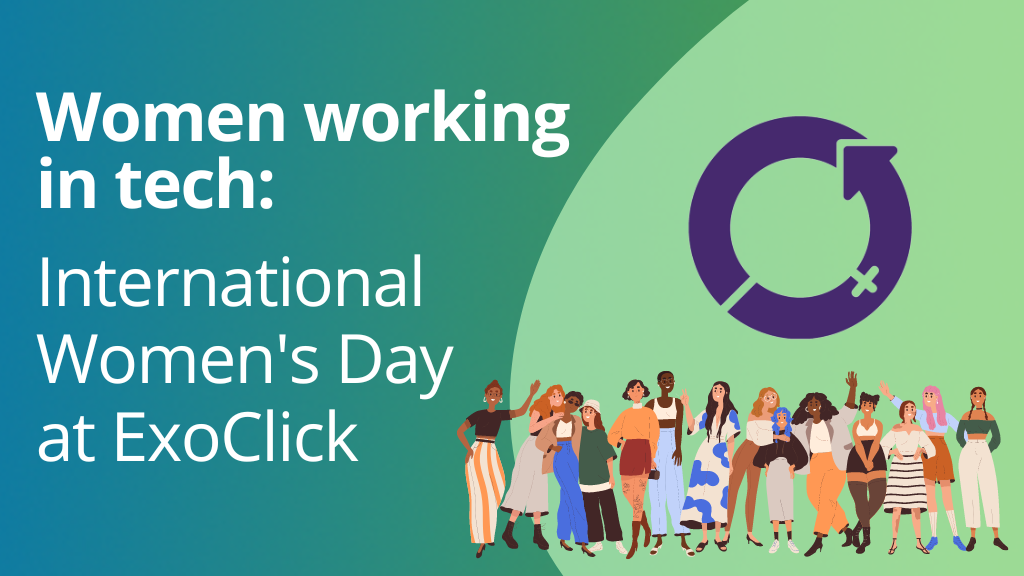 ExoClick is an innovative ad network based in Barcelona, Spain. ExoClick has a diverse and multicultural team of 90+ individuals, 43% of which are women. The international average of female representation within the tech world is 26.7%, with only 26.2% female employees in tech firms with more than 10k employees, making ExoClick one of the best places to work for women in tech. If this smaller percentage is seen at tech giants, what must it be like in smaller companies and startups? Such is the reality of working in tech as a woman. That's why International Women's Day is extremely important: To remind businesses and individuals to empower women working in tech in Barcelona and everywhere, taking action within the workplace to embrace gender equality!
International Women's Day 2023 DigitALL: Changing the tech industry
International Women's Day is a global event celebrated every year on March 8th. This event recognizes the incredible achievements of women working in tech and all other industries, raises awareness and encourages others to advocate for gender equality. National Women's Day was established in 1909, which later became celebrated in other parts of the world and became known as International Women's Day in 1911. The topic for 2023 is "DigitALL: Innovation and technology for gender equality". Whilst the tech industry has been a male-dominated field for the longest time, it is not exempt of examples of female entrepreneurs that have already been making a difference and changing the tech business landscape:
Dr. Fei Fei Li: Inventor of ImageNet
Dr. Fei Fei Li is the co-director of Stanford's Human-Centered AI Institute and was Vice President at Google, where she also served as Chief Scientist of AI/ML at Google Cloud. She is the inventor of ImageNet, a database of over 15 million images, which has contributed to the latest developments in deep learning and AI as the database helped "train" the first computer to recognize and understand what's in a picture. The Stanford professor also co-founded AI4ALL, a nonprofit aimed at improving diversity in the field of AI.
Gwynne Shotwell, president and COO of SpaceX
Gwynne Shotwell earned her Bachelor of Science and Master of Science degrees in mechanical engineering and applied mathematics from Northwestern University. After graduation she began a career in the automotive industry. But she quickly changed course to work on military space research where she developed policies for commercial space exploration for the Federal Aviation Administration and NASA. Her interest in space exploration made her a top candidate for SpaceX in 2002, becoming the 11th employee and vice president of business development, and later on, the company's president and COO. Shotwell has been inducted into the Women in Technology International Hall of Fame and was named one of Time magazine's 100 most influential people in the world in 2020.
Reshma Saujani, Founder and CEO of Girls Who Code 
A graduate of the University of Illinois, Harvard, and Yale, Saujani began her career as an attorney and activist. In 2010, she emerged on the political scene as the first Indian American woman to run for U.S. Congress. During the race, she observed the gender gap in computing classes which led to her founding Girls Who Code. The international non-profit organization is building up young girls between ages 13 and 17 with the goal of closing the gender gap in entry-level tech jobs by 2027. She is a voice for young girls and women in tech through her award-winning podcast "Brave, Not Perfect."
What is ExoClick doing to empower women working in tech in Barcelona and around the world?
At ExoClick we promote diversity, multiculturality and, of course, gender equality, by providing equal opportunities for everyone, no matter their background, nationality or gender identity. We make sure that every single employee receives fair responsibilities and access to all available resources in the company. Let's break it down:
We operate on an equally pay basis – No gender gap pay
Flexible work hours and hybrid working model for everyone in order to assist parenthood
Strong policies against workplace discrimination, power abuse and harassment
Equal learning opportunities for everyone through Udemy and our internal University training. Here are 3 Udemy courses on the topic of Gender Equality in business:
Everyone receives equal opportunities and employee appreciation
Equal hiring opportunities (as mentioned above, 43% of employees at ExoClick are female)
Making sure that all employees feel safe and empowered within the team
Our offices have private rooms where new mums can breastfeed without being disturbed
We promote career growth and leadership positions to employees of all genders
Our goal at ExoClick is simple: Making everyone around the globe feel welcome, included and empowered, and becoming one of the best places to work for women in tech – And for everyone, of course!
ExoClick's IWD 2023 digitALL Workshop on Wednesday 8 March
To celebrate IWD 2023, we are hosting an internal workshop where 3 of our team members will talk about how to build a career as women working in tech in Barcelona, and they will share what they do in their roles, their stories and wisdom. Here are our speakers: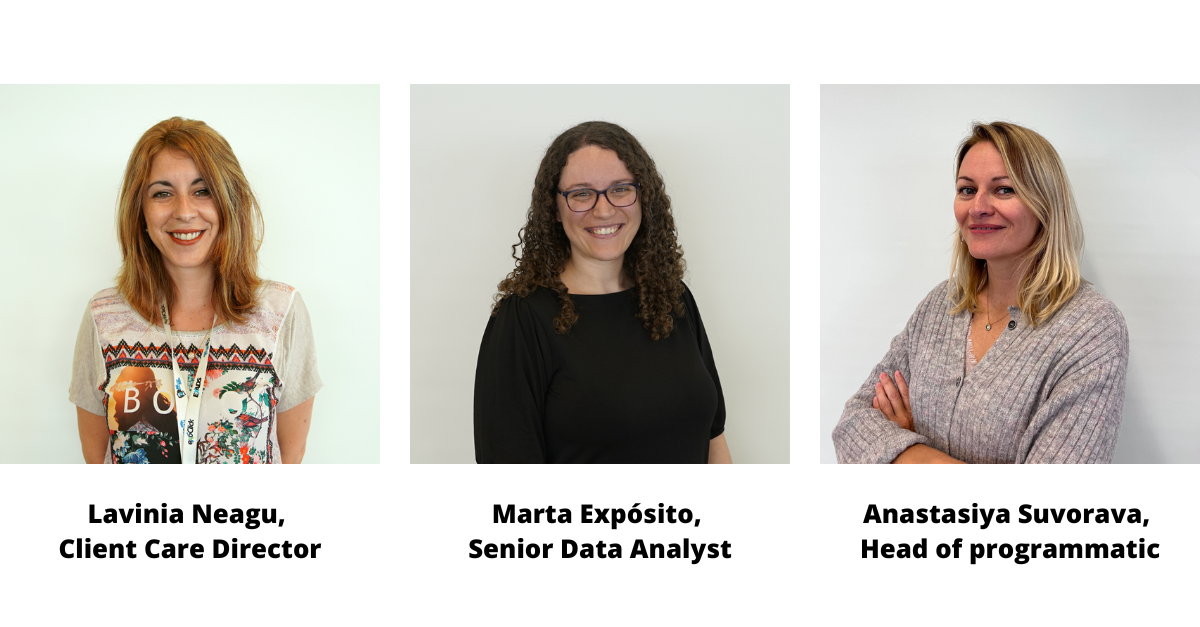 The workshop will happen at 1PM on Wednesday 8 March, with a Q&A session at the end of it where attendants will be able to ask questions, creating the perfect opportunity to open the dialog about gender equality in business and how to succeed working in tech as a woman.
Tips from our speakers to women working in tech to succeed in their career!
Wondering how to make an impact in the industry working in tech as a woman? A few of our female team members have put together a few tips from their own experience of building their careers in tech:
#2 Marta Expósito, Senior Data Analyst:
Q: 'How did you get into Data Analysis?'
A: 'Since high school I knew I wanted to work on something to do with Science! I've worked in academia whilst finishing my degree and master, and I really liked it, but I also wanted to try a different industry where I could solve real business problems. However, I wasn't sure how to find a job that combined research and data processing skills, until I learned about Data Science. ExoClick offered me the opportunity to start into this field as a Junior Data Analyst and here I'm since then!'
Q: 'What do you love the most about your job?'
A: 'What I enjoy the most is playing with data to find answers to do with the market, competition, etc – It's like solving a puzzle! My work has a direct positive impact on my colleagues and clients' decision making, which is very rewarding. This role gives me the opportunity to keep learning, which I really value, since I don't see a conclusive end in my professional path and I can always keep on growing as a professional.'
Q: 'Do you have some tips for women who are trying to carve their path in tech to succeed in their careers?'
A: 'These tips apply to everybody, regardless of their gender. But, I believe that many women working in tech have extra pressure because they feel that they need to prove that they are good in tech "despite" being a woman:'
Some people believe that if you are bad at math and numbers, you don't have a future in tech. From my experience, this is not true. In many tech roles, you don't work with complex formulas, so you just need to find the job that best suits you.
Don't be scared to not know everything. Embrace the fact that, to succeed working in tech as a woman, you will need to study and train yourself constantly to adapt to new tendencies.
#3 Anastasiya Suvorava, Head of Programmatic
Q: 'How did you get into your role as Head or Programmatic?'
A: 'For a long time, I worked in different areas of Digital Marketing, such as Programmatic, Media Buying, Affiliation, and Email Marketing. Programmatic always stood out as the part that I enjoyed the most, and in the end I decided to focus my career on this specific area.'
Q: 'What do you love the most about your job?'
A: 'I love how the whole programmatic ecosystem works – Everything is automatic and it works like a very sophisticated mechanism, like a Swiss watch! It's very exciting to get a deep understanding of all the process and succeed improving the engine!'
Q: 'Do you have some tips for women who are trying to carve their path in tech to succeed in their careers?'
A:
Because in tech you will always be learning and reinventing yourself as a professional, it is important that you are passionate about your work, so that you can get into the learning mindset with enthusiasm. Put your all into it, and things will fall into place! I am very proud to be one of the women working in tech in Barcelona.
The tech world is extremely fast-paced. Sometimes it is difficult to know when to let go and take a break. Knowing when and how to switch off is super important, since it will clear your mental space, helping you create space to make the correct decisions and prevent burnout.
#6 Lavinia Neagu, Director of Client Care
Q: 'How did you get into your role as Director of Client Care?'
A: 'I started as a Customer Service Agent and built up on my knowledge and skills. I worked towards processes and tools improvements, cooperated with various departments to achieve company goals and I focused on building a strong team, taking into account each individual's skills.'
Q: 'What do you love the most about your job?'
A: 'I love the thrill of working in tech, and how everything changes all the time – There's never a chance to get bored! I also adore my team and how professional and efficient yet friendly we all are. ExoClick is one of the best places to work for women in tech.'
Q: 'Do you have some tips for women who are trying to carve their path in tech to succeed in their careers?'
A: 
Tech work relies heavily on multidisciplinary teams. And in order to successfully work as a team towards a goal, you need to become an expert in communication, since communication is the key to success. Learn to keep an open and clear communication and collaboration with the teams you work with.
Develop your skills: The tech industry is ever-evolving. That means that you need to always be up to date with the latest changes in the sector and adapt your knowledge and skills.
Do you want to find your personal path within the tech industry at one of the best places to work for women in tech? Make sure to check out our available roles at ExoClick's careers page and join one of the best places to work for women in tech!