TES Affiliate Conference 2020 (Lisbon)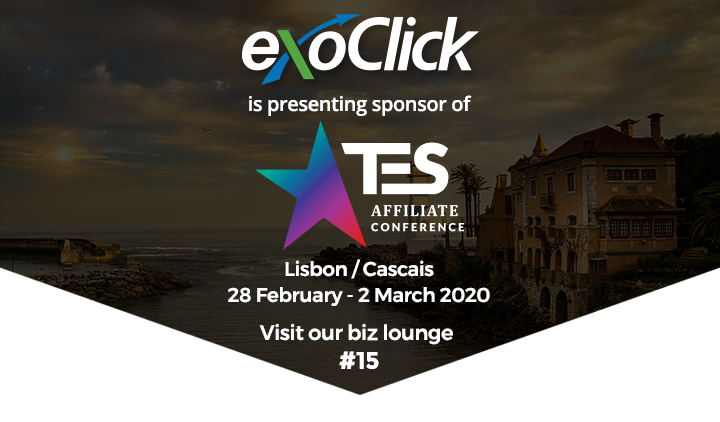 ExoClick is the presenting sponsor of TES Affiliate Conferences, the premier networking conference and expo for digital products and services. Verticals include dating, entertainment, gaming, gambling, nutraceutical/health products, astro/esoteric products, blockchain/crypto technology, fintech and mainstream digital products.
The 4 day event attracts 1,500 attendees from internet businesses from around the world.
The European Summit Lisbon show dates are 28 February – 2 March 2020, with the legendary ExoClick party being held on Saturday 29th February at Club Jezebel in Cascais.
Meet with ExoClick at our business lounge 15, email advertising@exoclick.com to book a meeting.
Visit the TES website for more information.
ExoClick will also hold two presentations at this year's show: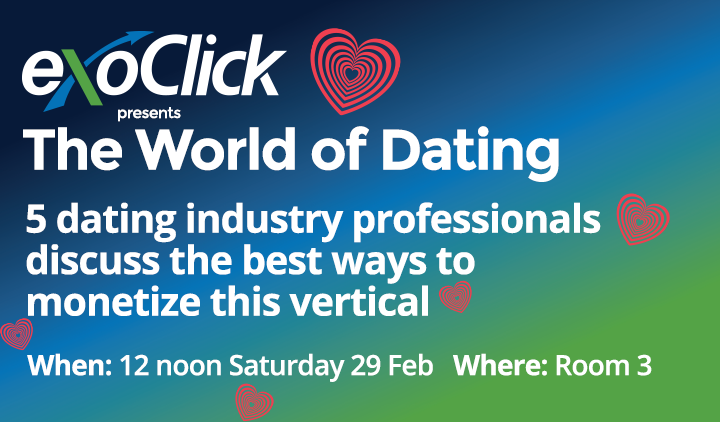 5 dating industry professionals with extensive experience in the dating industry discuss the best ways to monetize this vertical. Whether you're a business owner, affiliate manager, email marketer or dating network – make a DATE with our 5 experts – you will LOVE the insights you are going to get!  
Our 5 dating experts are:
Jenny Gonzalez is the Queen of the online dating industry, she has developed a deep passion for affiliate marketing, online marketing, and branding. Gonzalez embraced that passion and used it as fuel to successfully grow market share and achieve various milestones for several online dating operations that she has associated with. As of 2020 she is mainly focused on matching the right traffic sources with the best converting offers worldwide.
Vladislava Bogatinovski is Head of Customer Acquisition at EPC Masters, managing Traffic Mansion and Dating Factory affiliate and media buying departments. In-depth marketing and technical knowledge of the dating industry, combined with her creativity in optimizing to perfection, has made her the Mistress of ROI.
Alfonsus Kusuma, also known as AK, has been in the industry for almost two decades. Started his career in Dating. In 2015, AK founded Madzuma.com to provide services such as traffic acquisition and management.
Stephen 'Mega' Ventura,  VP of Business Development at Big Bucks Revenue, was chosen to head the internal marketing and dating software development in 2016 after amassing over 20 years of experience developing, marketing, and managing successful online dating properties.
Kelan Stone is Head of Members Area Business at ExoClick. He has over 10+ years experience in online marketing, Kelan shifted his focus to the world of dating and monetizing membership sites 6+ years ago. For the past 3 years Kelan has played a pivotal role in the launch and development of ExoClick's members area and email businesses.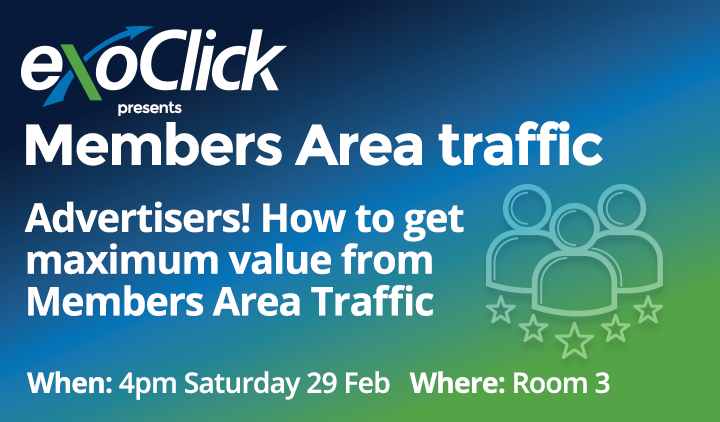 ExoClick Presents: Members Area traffic: How advertisers can get maximum value from this high converting traffic source
Aimed at advertisers and affiliates wanting to convert their offers to members of dating sites, this presentation will give you the expert knowledge and tips you need to get maximum value from this high converting traffic source.
We will cover:
Dating niches and how to micro target these communities

The distinct differences between tube sites and dating sites

The user experience in seeing your ads

What offers and how to push them to dating site members

Key business intelligence statistics

CTRs and best practices for advertisers

Question and answer session
Meet with our experts at the show!