Tutorial: 9 steps to set up a campaign with ExoClick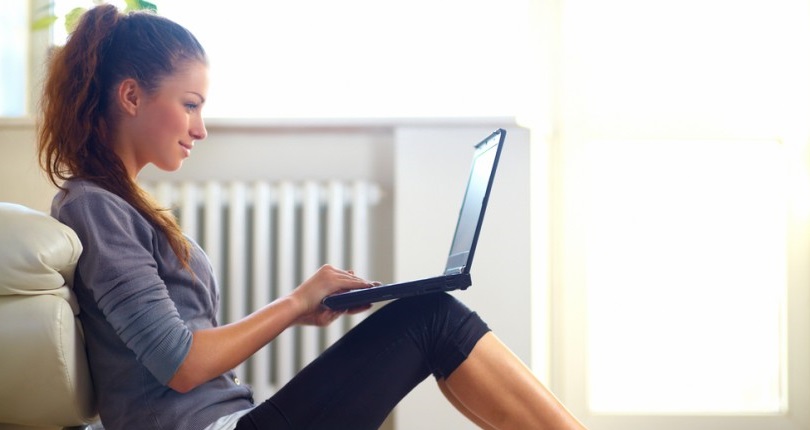 If you are new to ExoClick, this 9 step guide will show you how to set up an advertising campaign on our network, and by using our high quality traffic sources and platform features in order to convert your offers.
Step 1 – Create an account
You can create an account using our signup form here. Normally it takes a few hours for our customer services team to approve your account. You will be notified by email once your account is live.
Step 2 – Funding your account
ExoClick offers several options to fund your account which you can see in our FAQ here.
Step 3 – New campaign creation
So log into your account and click on 'New campaign' to start the campaign creation process.
The steps to follow are very intuitive, but you might need some help, so let's go!
Step 4 – General Targeting
You should set:
Campaign Name: Set the title of the campaign. Check the question mark to find our suggestion.
Categories: Target between our three main categories Adult, Entertainment & Lifestyle or Streaming & File Sharing. Each of these has additional subcategories to further fine tune your targeting. We recommend you to take a look at our Guidelines.
Ad format: Choose the ad format you want to use. You can find a detailed list of formats here.
Locations: Choose from specific countries, additionally if you click on the + next to the country you can further fine tune your GEO targeting by selecting regions within the country. and/or regions where you want to display your ads. More info here.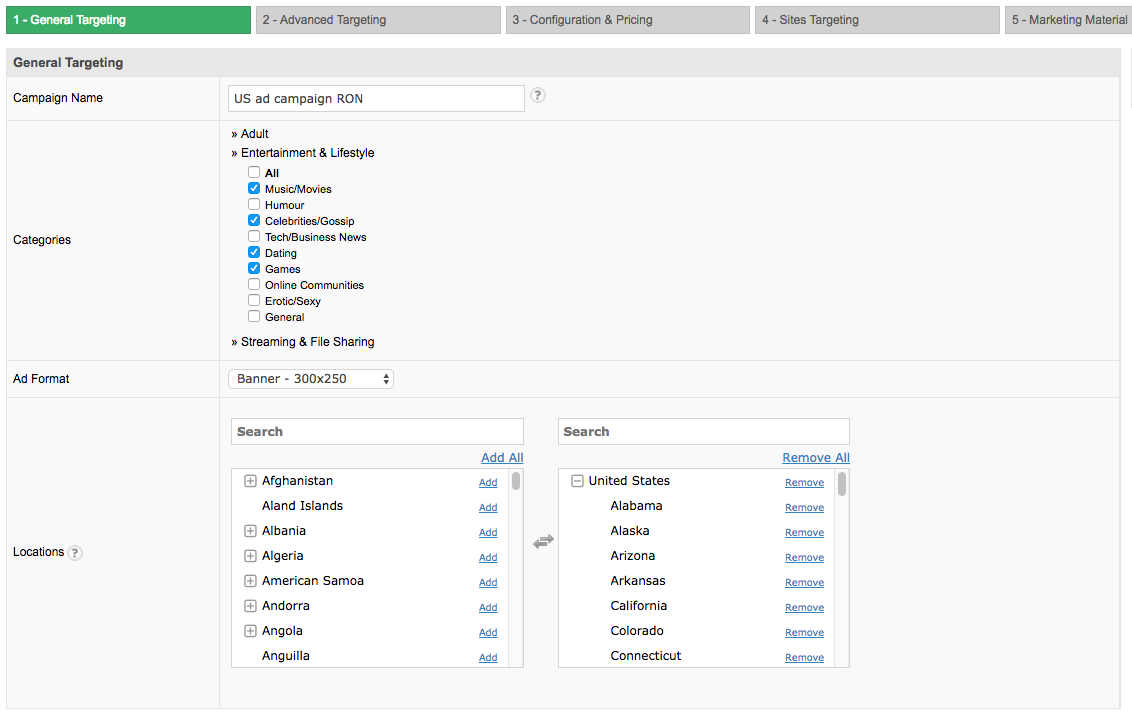 Traffic Estimation – You will see the traffic estimation volume based on your targeting on the top right. This is the maximum amount of traffic you can reach depending on your price configuration.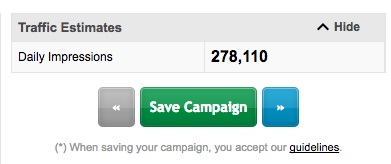 Step 5 – Advanced Targeting
This step is very important if your offer/product is targeted to a specific audience and further fine tunes your targeting.
Languages: This is the language the user has set in his browser. By default, all languages are targeted but you may want to target specific ones for those countries with more than one official language such as Belgium or Switzerland.
Browsers: Here is a list of all existing browsers. All of them are targeted by default, but maybe you want to target/block some of them depending on the offer/product, such as browser extension offers.
Operating Systems: Here you have a full list of all OS available for desktop, mobile and consoles. Note that tablet devices are included with 'Mobile'.
Carriers: Choose either 'Only Wifi' or from a selection of 3G carriers from our global network. Note that targeting both 'Wifi' and carriers is not permitted within the same campaign.
Devices: Here you will find a comprehensive list of all mobile, tablet and Smart TV devices detected by ExoClick.
Important to know: You can 'Include' or 'Exclude' any of your selections.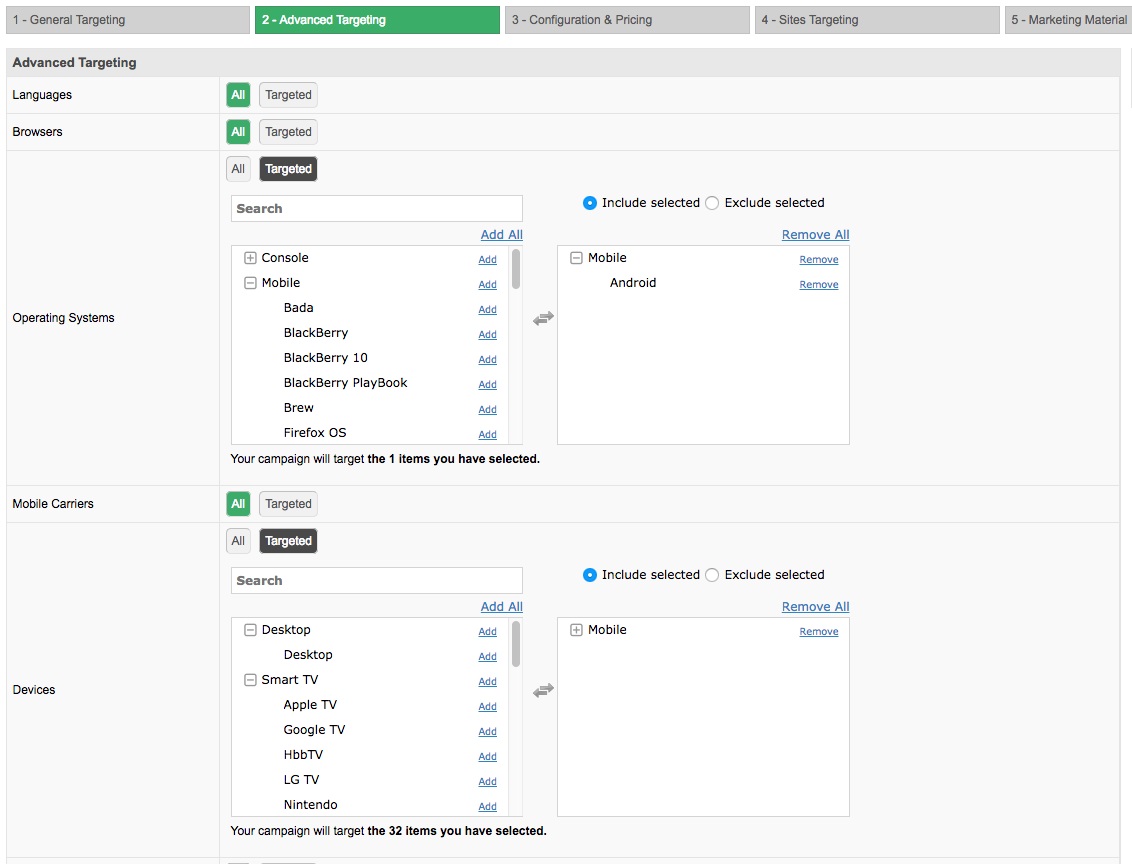 Step 6 – Configuration & Pricing
This is where you set the bid and visibility of your campaign:
Pricing Model: Choose between CPC, CPM or ExoClick's exclusive SmartCPM.
Frequency capping: Set the number and period of times a unique visitor sees your ad. Click here for more information.
CPM/SmartCPM/CPC: Set the price you want to bid. We recommend you take a look at 'Minimum Prices' and 'RON Top CPM'.
Max Daily Budget: Set the maximum budget you want to spend daily.
Ad Group: Choose where you want to store your campaign. This is more a question of organization and classification of your campaigns. You can manage your groups by clicking on 'Manage Groups'. We recommend you to manage them before/after campaign creation.

Step 7 – Sites Targeting
Here you can select the types of websites that you want your campaign to appear on.
Network Selection: four options are available:
All: includes RON, Premium and Members Area traffic.
RON: excludes Premium and Members Area traffic.
Premium: includes only our Premium traffic.
Members Area: includes only Members Area traffic.
Check the question mark to find more details.
Partner Networks: you can enable or disable this type of traffic. This traffic is being sent by other ad networks.
Zone targeting: you can choose all the ad zones available based on your targeting and include/exclude some of them. The limit is set at 1,500.

Step 8 – Marketing Material
So now it's time to upload your creatives and links:
Campaign Type: ExoClick accepts JPG/GIF and MP4 banners.
Url or Offer: Either set the url you want to send the traffic to or choose one of the offers you have previously set. Take a look at this article to know more about our 'Offers' feature.
Image/Videos: Depending on your choice, upload JPG/GIF or MP4 banners. Be aware of size limitations.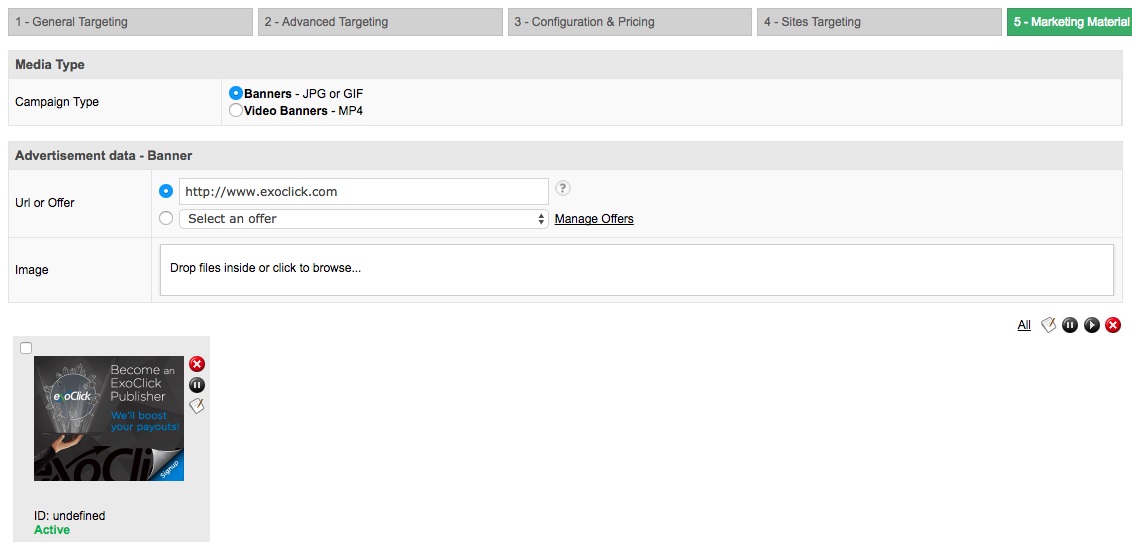 Step 9 – Advanced Settings
Now for some advanced targeting options in this final step:
Ad Schedule: Select days and hours you want your ads to be displayed. By default, your campaign will run 24 hours a day, 7 days a week.
Behavioural retargeting: Disabled by default, this allows you to track the user's behaviour depending on specific actions, previously set, for example offer subscriptions or purchases. Take a look at this article for a detailed explanation. Note that ExoClick's tracking system should be configured to use this feature. See Pixel Tracking and API (Server-to-server) implementation.
Domains: Target or block a list of a maximum of 1,000 domains.
Keywords: Target or block a list of a maximum of 1,000 keywords.
IP Ranges: Target or block a list of a maximum of 1,000 IP ranges.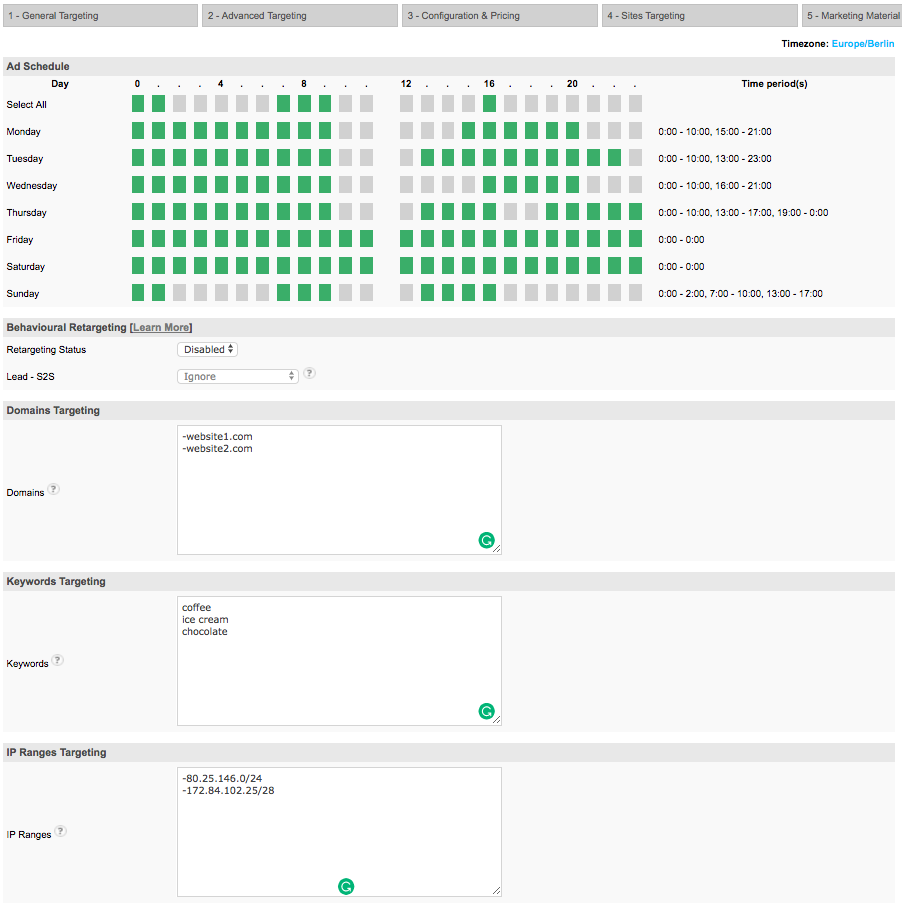 Once you have finished your targeting, click on the 'Save Campaign' button on the top right and wait for our Customer Service department to check and approve your campaign. That's it!  Did you know that if you download our Admin Panel app you can also create campaigns from your mobile device and tablet?
More questions?
If you are still not sure, you can download our 'Newbie Guide to Advertising' by ExoClick's Customer Services department who can also be contacted 24/7 and our Client Care team will be happy to answer any questions and give you more tips on campaign optimisation.
We wish you lots of successful campaigns!