ExoClick's Benjamin and Adrien Fonzé interviewed by La Vanguardia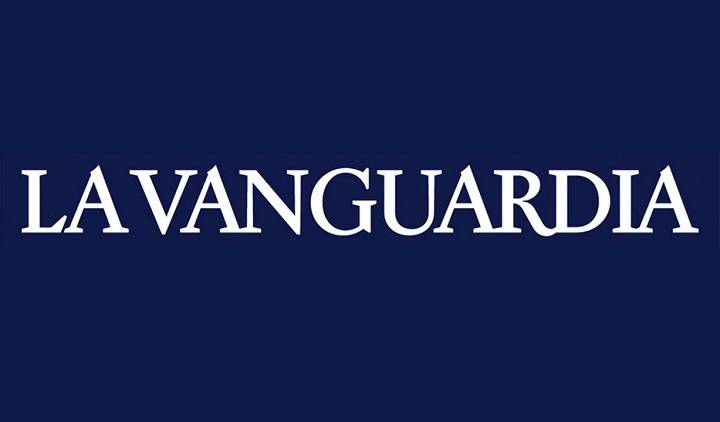 Spanish national newspaper La Vanguardia interviewed ExoClick's founder and CEO Benjamin and Adrien Fonzé (COO) for a feature in the business section of the newspaper on Sunday 15 April 2018. Below is the interview in full translated into English…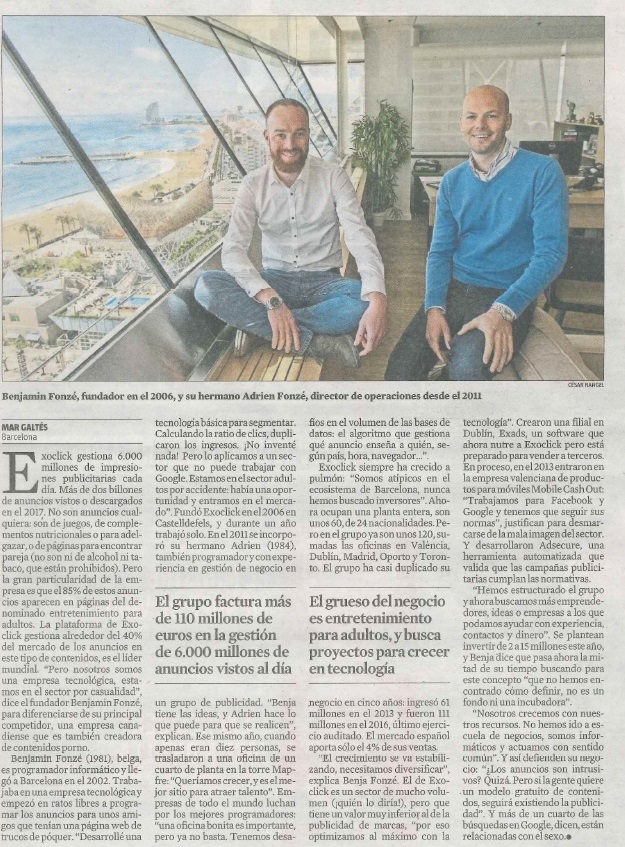 2 trillion opportunities
ExoClick serves 6 billion digital ad impressions every day. More than 2 trillion viewed ads in 2017. They aren't just any old adverts: they are for games, nutritional products or slimming products, dating sites (nothing of tobacco or alcohol which are prohibited). But the unique thing is that 85% of the websites where the ads appear are for adult entertainment. ExoClick's platform manages about 40% of the ad market place for this vertical and it is the market leader.
"But we see ourselves as a tech company, we are in this sector by accident," said the founder Benjamin Fonzé to differentiate the company from its main competitor, a Canadian company that is additionally a content provider for adult entertainment.
Benjamin Fonzé (1981), Belgian, is a developer and he arrived in Barcelona in 2002. He worked in a technology company and in his spare time he built a platform to help a friend monetise their blog about poker playing tips with ads. "I build a basic ad targeting technology. On calculating the rate of clicks it duplicated the blogs revenues. I didn't invent anything. But we applied the technology to a sector that couldn't work with Google. We are in the adult sector by pure accident, there was an opportunity and so we entered the market." He founded ExoClick in 2006 in Castelldefels and worked alone for a year. In 2011 he incorporated his brother Adrien (1984) into the company who is also a developer with experience in business management in marketing. "Benja has the ideas and Adrien makes them into reality," they explain. That very same year, with 10 staff they moved to an office in Torre Mapfre that was a quarter of one floor. "We wanted to grow, and it is the best place to attract talent." All companies are looking for the best developers, "a great office is very important, but it's not enough now. We have challenges with the huge volume of our data: the algorithm that manages what ad is shown to who, according to country, time, browser, etc."
ExoClick has always grown through internal investment. "We aren't typical of the Barcelona ecosystem, we have never looked for investors." Now the company occupies a whole floor in Torre Mapfre with over 60 people working there from 24 different nationalities. But in the group there are around 120 employees spread around different offices in Valencia, Dublin, Madrid, Porto and Toronto. The group has almost doubled its revenues in 5 years: with sales of 61 million euros in 2013 by 2016 revenues had grown to 111 million euros from their last audit. The Spanish market accounts for just 4% of sales.
"The growth has now stabilized, we need to diversify," explains Benja Fonzé. ExoClick's sector has a lot of volume (who would have thought it!) but its value is below that of brand advertising, "For that reason we really optimise with our technology." They created a subsidiary in Dublin, EXADS, that builds and maintains ExoClick's platform, and EXADS is also ready to license the platform to third parties. In 2013 they launched MobileCashout, a company that creates content for mobile: "We work with Facebook and Google and we have to follow their rules," which allows them to distance themselves from the bad image of the sector. They launched AdSecure, a tool that automates the validation of advertising campaigns to ensure they are compliant with regulations.
"We have structured the group and now we are looking for more entrepreneurs, ideas or companies that we can help with experience, contacts and money." They plan to invest 2 to 15 million euros this year and Benja says that he now devotes half his time to this, "We have not worked out how to define this yet, it is not a fund or an incubator."
"We have grown through reinvesting in our business. We haven't been to business school, we are developers and we just act with common sense." And that's how they have succeeded. "Are the ads intrusive? Perhaps. But if people want to see online content for free, there will be advertising."