Client testimonials
ExoClick's clients are harnessing programmatic buying with our RTB demand-side platform (DSP) which gives them direct access to multiple sources of high quality inventory.
"ExoClick has proved to be an excellent and reliable partner. Our experience with their RTB platform allowed us to work on a higher technical level and rewarded us with great, measurable results."

Neil Burton, Business Team Lead at Zeropark

"Media buyers using A4G DSP have been seeing incredible results from ExoClick traffic since it was integrated via Open RTB in February 2017! ExoClick team have been very helpful to get us integrated fast and make sure everything runs as smoothly as possible."

Omar Tahiri, A4G

"Integrating into ExoClick's RTB engine is a quick and easy process and Kimia is already seeing excellent results. Now we are able to reach specific audience segments via ExoClick's RTB, which is giving us highly targeted ad placements for our offers."

Greg Gago, Head of Programmatic, Kimia
How it WORKS
You can now bid on a per impression basis, eliminating wasted impressions and allowing you to really target your customers. Our technology selects the highest bid in real-time and delivers your offer right to the site that your customer is viewing. The process happens in milliseconds.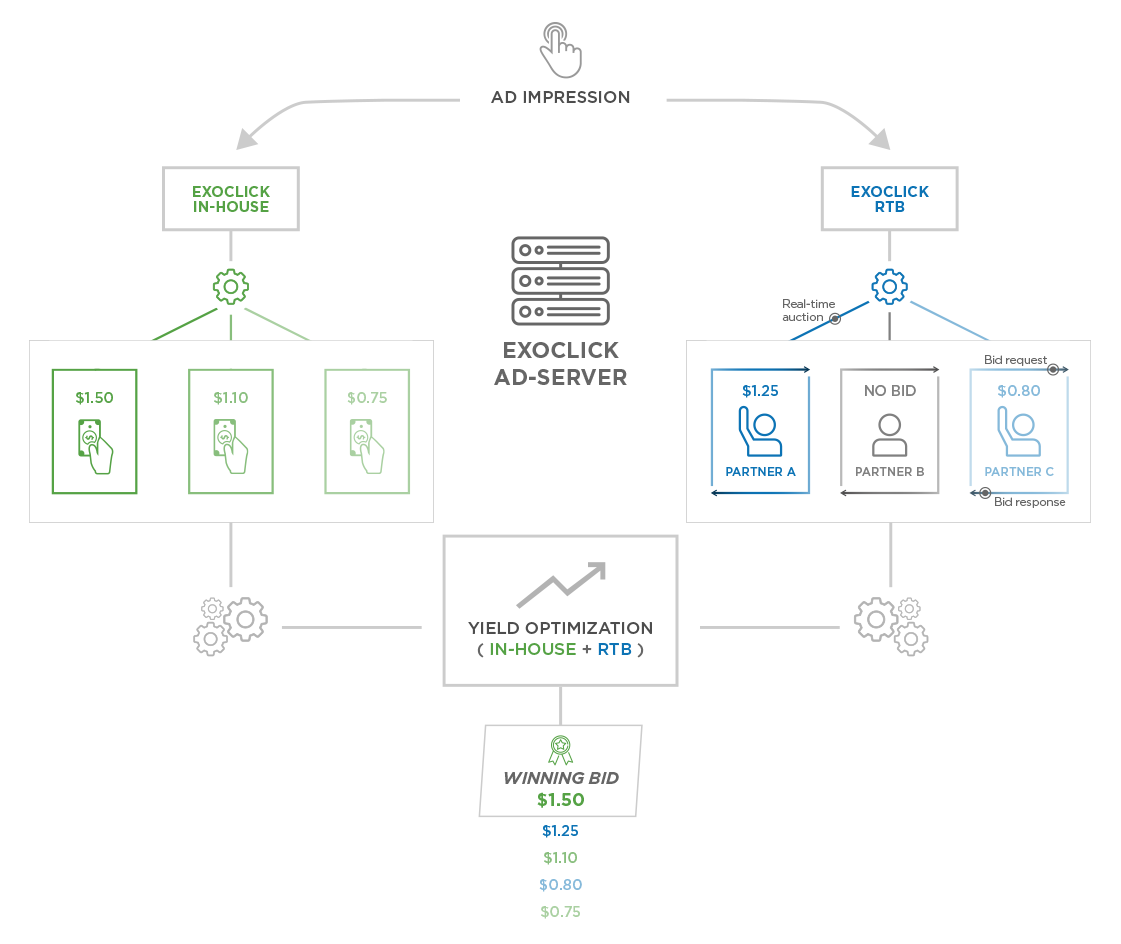 Why it WORKS
Our Technology

ExoClick's RTB engine manages hundreds of thousands of RTB requests per second

Our Marketplace

5.5 billion daily impressions via our global network of publishers. Our platform is fully transparent and gives you access to our high quality traffic.

Our Openness

Built respecting the IAB's Open RTB protocol
Make it WORK for you
Marketeers, Affiliate Platforms, Advertising Networks, Demand-Side Platforms (DSPs) you can now plug in your own programmatic ad buying tools/automization software and pair it with ExoClick's superior targeting features and automisation tools. Now you can go fully programmatic. Email rtb@exoclick.com or click the contact us button below.