Interview: ExoClick's Benjamin Fonzé Talks Online Ad Solutions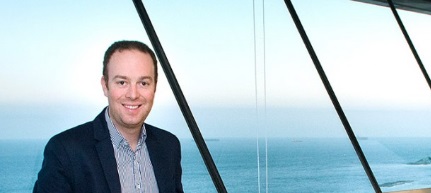 Since Google announced it will no longer accept adult advertising, webmasters, publishers and site owners have been scurrying to figure out how best to position their sites in the ever-challenging and competitive porn landscape.
What alternatives are available, how to best monetize traffic, what platforms work best and how to tap into the mainstream eyeballs goldmine are questions being asked by adult pros desperately seeking alternatives.
With an ad network that has surpassed 4 billion daily ad impressions, XBIZ thought that picking the brain of ExoClick founder Benjamin Fonzé would be a good place to start to try to unravel the predicament and learn how his company plans to offer adult operators a current and future strategic port in the storm.
XBIZ: The Google and Bing decisions are worrying webmasters. What solutions does ExoClick offer?
Benjamin Fonzé: The problem with the likes of Google and Bing is that are not specialists in the adult market and they are regulated by restrictive guidelines, for example Bing limits adult advertisers to only eight countries, whereas we have a global network that advertisers can reach. Google AdWords is set to ban any ads featuring pornographic content which of course totally restricts adult advertisers as adult is all about using visual content to generate clicks. Both recognize that adult is a huge revenue driver so they have to have a hand in it, but ExoClick has a clear advantage in that we have more than eight years of experience in the adult industry, that mixed with our excellent sources of both mainstream and adult traffic/publishers, allowing advertisers to target adult and mainstream products at both markets.
XBIZ: What about new sites – how can they benefit?
Benjamin Fonzé: For publishers we offer a complete solution for them to monetize their sites. Firstly we have volume and scale so they can have access to massive volumes of quality traffic. We offer multiple ad formats for both web and mobile platforms and specific targeting options to reach the right market with everything easily managed through our proprietary software. Our platform gives publishers total transparency of data analytics, pricing and payments. On the payment side we use a range of payment solutions including Paypal, Paxum and Payoneer and our recent partnership with Kantox allows us to make payments to publishers in their local currency.
XBIZ: You had mentioned "big data" before. Please explain what it is and how it works in your platform?
Benjamin Fonzé: "Big Data'"gives marketeers much more specific demographic information. The aim of big data is to take the guesswork out of campaigns by providing real time detailed factual information.
Over the last 12 months we have been working on the implementation of big data into our platform. Most ad networks offer basic segmentation, but we can offer access to a whole range of traffic data by segmenting it in many more ways including date, country, campaign, variation, site, operating system, device, browser, language, mobile carrier and category.
XBIZ: What constitutes ExoClick being the 5th largest ad network?
Benjamin Fonzé: We are the 5th largest network based on impression volumes, surpassing big-league companies like AOL and OpenX. One year ago we were in 10th place so we have moved up the scale rapidly and in May this year we hit 4 billion daily ad impressions. I think this is a result of the strategic way we conduct our business. We are continually adding new features to our propriety ad platform, signing up new publishers to give our advertisers a better ecosystem in which to choose where to advertise, investigating new avenues of traffic from adult and mainstream sources. Because of our market strength we sit nicely between adult and mainstream so that clients can tap into both global and localized markets.
XBIZ: How does your mainstream component affect adult?
Benjamin Fonzé: ExoClick is aggressively growing its mainstream business so that adult advertisers can target mainstream traffic and vice versa. We are continually building up our mainstream traffic assets and we are attending a host of mainstream trade shows and events to sign up more and more mainstream publishers. Our ad platform allows advertisers to target many mainstream segments including entertainment (music, humor, celebrities/gossip), lifestyle (sports/fitness/health, travel/food) motoring, dating, games, online communities and tech/biz. So why choose restrictive mainstream ad networks like Google and Bing when you can use ExoClick to target the mainstream?
XBIZ: Tell us how mobile traffic (or traffic in general) is changing the ad landscape?
Benjamin Fonzé: As devices get more sophisticated, with more and more consumers in emerging markets moving over to smart devices and with 4G implementation gaining momentum there is no turning back. Emarketer predicts that by 2017 global mobile ad spend will account for 36.3 percent of the total digital ad spend, up from 19.8 percent in 2014 with the biggest growth regions being North America, Europe, Asia Pacific and emerging markets in Latin America. By 2018, global mobile data traffic will reach an annual run rate of 190 exabytes per year, up from 18 exabytes in 2013 (nearly 11-fold growth).
So as you can see mobile is growing exponentially. It is interesting to note that mobile accounts for 27 percent of our ad impressions — a significant jump from 19.3 percent back in August 2013 and that 27 percent accounts for 50 percent of our revenues.
It is creating a highly competitive and innovative landscape both in terms of new mobile ad formats to engage and convert and devising ways to capture and monetize this traffic. We currently provide mobile carrier targeting in 24 key countries and we are adding new territories each month, we offer segmentation via carrier, operating system and device and we are working on additional technology to drive this side of our business forward.
XBIZ: Explain your targeting features and how they improve advertising.
Benjamin Fonzé: One of our objectives as an advertising network is to provide specific targeting tools for clients to optimize their campaigns and to help them reach greater conversions. We offer a range of targeting filters, for example, clients can target specific communities such as the Spanish-speaking people in the U.S. Targeting can be by browser and operating system — in both desktop and mobile, advertisers can decide to target desktop users only, specific mobile devices, tablets or even smart TV devices and consoles. We also offer retargeting which is basically the idea of targeting specific users who have already shown some interest in a product or brand. It is generally said that about 2 percent of possible buyers will actually complete their purchase on their first visit. Retargeting offers a huge competitive advantage as it brings back the other 98 percent for them to complete the purchase process, allowing us to generate more sales for our advertisers and increase the value of the traffic of our publishers.
XBIZ: Who is your major competitor and what's your strategy for being more competitive?
Benjamin Fonzé: All ad networks are our competitors and this is a healthy environment to be in. Competition keeps us focused, it helps us improve and stay ahead of the game. We regularly carry out competitive analysis and look for gaps in the market that we can fill and ultimately set the standard that the ad network industry should follow. We have invested heavily in new resources which includes superb talent within our company, our sales team is one of the strongest in the business and is growing fast. With more than 16 different nationalities on board we can provide excellent local market knowledge for our clients. Our ad network offers the option of an additional resource in the form of a dedicated account manager based on eligibility and meeting certain criteria. We have a YouTube channel filled with great tutorials to help clients learn how to get the most out of our platform and unlike many other networks we offer true 24/7 customer service to answer any doubts or problems an advertiser or publisher may have. To protect our publishers we have just added a Quality Assurance Unit to check for fraudulent activity of advertiser campaigns and violation of our guidelines.
We are continuing to improve our platform and interface with a strong emphasis on "big data" which will help us launch further advanced features, additionally we will be expanding the languages available on our platform, currently it is in English, French and Spanish, and we intend to add several more languages very shortly.
A key strategy is to see our advertisers as partners, constantly helping them to optimize their campaigns and their marketing. We want them to make maximize their revenues from our traffic, and that's also how we can pay high revenues out to our publishers.
XBIZ: What is the most important consideration a webmaster must undertake to run a successful ad campaign in today's market?
Benjamin Fonzé: Quality traffic. Lets assume that he has a brilliant product with amazing content, great billing integration and a creative ad campaign that is going to engage his audience, but without the right targeted traffic, his product will fail. Traffic is the key to unlocking the gateway to expansion for his product, both in terms of visibility and sales. Today's traffic market is becoming increasingly more segmented and complex so smart webmasters will partner with an ad network who has access to large volumes of the quality, targeted traffic that fits his needs at a competitive price, a network that is fully aware of new trends and can advise him in the rapidly changing traffic market. ExoClick is that partner.
See the interview on XBiz here