Team ExoClick raises money for the Movember charity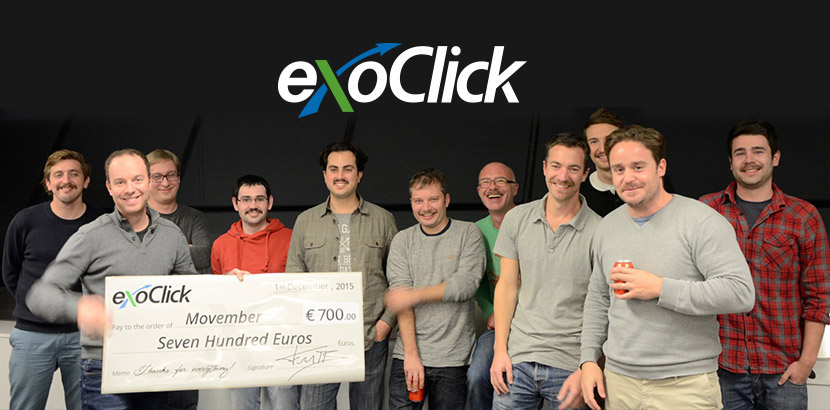 Barcelona, Spain. 2 December 2015. ExoClick, the innovative ad network, has donated 700 euros for the Movember charity which raises awareness for testicular and prostrate cancers as well as male mental and physical health issues.
14 of ExoClick's 'Movember' Men grew moustaches throughout the month of November and ExoClick donated 50 euros for every man who cultivated their hairy upper lips.
For further information about the Movember charity click here.
https://www.movember.com/?reset=1
FOR FURTHER PRESS INFORMATION:
Giles Hirst
press@exoclick.com
https://www.exoclick.com
+34 931810272
ABOUT EXOCLICK
Launched in 2006 and based in Barcelona, Spain, ExoClick is an innovative global ad network serving 140+ billion geo-targeted ads a month to web and mobile publisher platforms via its proprietary software.
Founded by current CEO Benjamin Fonzé, ExoClick is ranked as the 4th largest ad network in the world by W3Techs and the #1 ad network for the entertainment market. The Company has been ranked three times in the Deloitte Fast 500 and has also received several industry awards for its business excellence including winning Traffic Services Company of the Year 2013 & 2015 by XBIZ and the company is ranked at number 11 in the Top 20 Best Workplaces in Spain in the (PYMES) category of companies. CEO Fonzé was honoured by Xbiz with the Tech Leadership Award for 2015.