MedCash and ExoClick celebrate exclusive partnership with 50% cash back promotion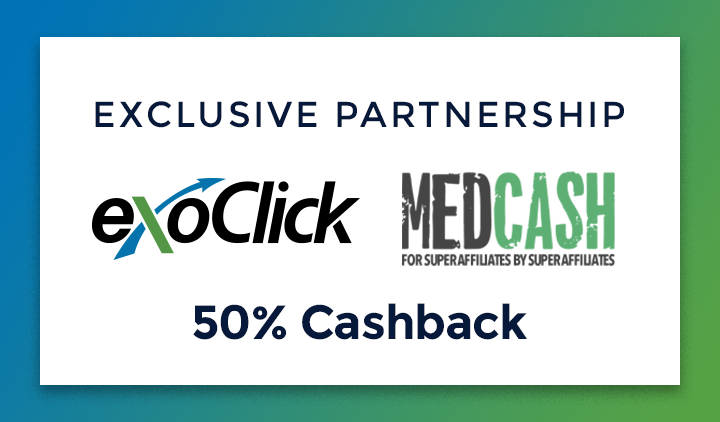 Barcelona 11 November 2019. ExoClick, the innovative ad company, and leading dating affiliate network Medcash today announced that ExoClick will exclusively manage sales for all of MedCash's dating and members area traffic.
MedCash's traffic, which is available from ExoClick as of today, is 100% prequalified dating traffic and is perfect for targeting with dating products. 95% of the traffic is US with the majority on mobile (95% Android). 15 ad zones are available: 3 x Push Notifications and 12 x Direct Links with segmented traffic. All ad zones can be bid for via ExoClick's self-service platform: Direct Links CPC and Push Notifications CPC/CPM.
MedCash CEO Elias Sahyouni commented, "MedCash works closely with ExoClick due to its excellent platform which allows our advertisers to finally pick and choose the exact traffic targeting they are looking. With such an ability, our advertisers' ROI is increased as they are only buying the traffic that is profitable for them. Giving our advertisers more power and flexibility is always our goal and ExoClick is playing a key role in achieving this."
To celebrate this new exclusive partnership, ExoClick is now extending its Black Month 50% cash back promotion to include Medcash's Direct Link ad formats, the Push Notifications are already included in ExoClick's existing Black Month promotion.  
Evangelos Zirdelis Sales and Ad Operations Director added, "MedCash traffic is ideal for dating offers and as the majority of traffic is on mobile, it is great for localised dating products. The traffic is high quality and end users have already been qualified  through MedCash's dating sign up flow, therefore the users are already engaged and actively trying out new dating products. With 95% of the traffic coming from the US this is a tier 1 GEO and the target consumers have a higher disposable income."
You can view ExoClick's Black Month promotion rules here.
Rules specifically related to MedCash's Direct Link 50% cash back promotion are:
The 50% cash back is capped at a maximum payment of 1,000US$/Euros per ad format.

All advertisers are entitled to this promotion for campaigns that are buying MedCash Direct Links, no other Direct Links are included in the cash back promotion and/or MedCash Push Notifications.

The cash back will be transferred directly to each advertiser's account no later than Monday 9th December 2019.

The credit can only be spent on ExoClick's traffic to buy any ad format.

The advertiser must follow

ExoClick's compliance guidelines

, any breach of these guidelines will disqualify the advertiser from further participation in this promotion.

All advertisers are entitled to this promotion for new and existing campaigns using the three promoted ad formats.

The promotion begins from 12am (EST) 1st November 2019 through to 12pm (EST) 30th November.
For more information contact you account manager or an ExoClick Client Care Specialist here.