ExoClick launches v2.0 update to the company's free admin panel android app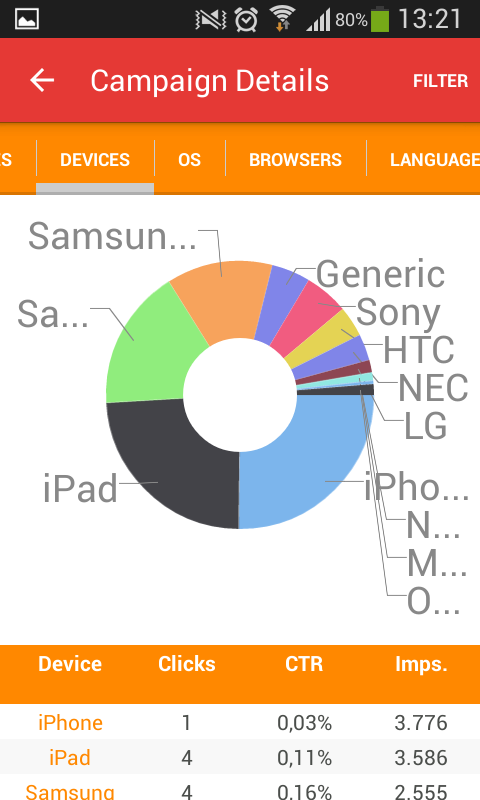 Barcelona, Spain. 22 January 2015: ExoClick, the innovative ad network, today announced that it has carried out a substantial software update for it's free admin panel android app. Version 2.0 includes several new enhancements to improve workflow for clients accessing the ExoClick admin panel from their mobile devices.
The UI has a new look and feel, it can be viewed in vertical or horizontal modes and there is a new menu layout making it easier to navigate on a smaller device screen.
Data filters have been improved and users can now slide their screens to the left to scroll through the various filter options. As users scroll, the filters automatically change colour for easier recognition and faster workflow and the screen can also be finger pinched to zoom in on graphs and charts to enable deeper analysis.
The app now allows for multiple account management so clients can switch through each of their accounts to monitor progress without having to log in each time and mobile PayPal payments have been fully integrated so that advertisers can fund their accounts directly from their android devices.
Advertisers will now receive push notifications so that they can stay on top of their campaigns, messages include when their advertising balance is low or at zero and when their campaign or a global account has reached it's daily limit. New publishers will be notified when their accounts, sites and apps have been approved so that they can immediately begin monetising their publishing platforms.
Benjamin Fonzé, CEO & founder of ExoClick, who was recently honoured by Xbiz with the Tech Leadership Award for 2015 commented, "Now we can say that the ExoClick platform is truly mobile. This software update has been designed to give our clients the same user experience to working inside their admin panel from their desktops. We are continually investing in technology in order to provide our clients with the best tools so that they can maximise their revenues with our ad network platform."
To download the ExoClick Admin Panel Android app click here or go to:
https://play.google.com/store/apps/details?id=com.exoclick.admin
ENDS
FOR FURTHER PRESS INFORMATION:
Giles Hirst
press@exoclick.com
+34 931810272
ABOUT EXOCLICK
Launched in 2006 and based in Barcelona, Spain, ExoClick is an innovative global ad network serving 125+ billion geo-targeted ads a month to web and mobile advertiser/publisher platforms via its proprietary software.
Founded by current CEO Benjamin Fonzé, ExoClick is ranked as the 5th largest ad network in the world by W3Techs and the #1 ad network for the entertainment market. The Company has been ranked three times in the Deloitte Fast 500 and has also received several industry awards for its business excellence including winning Traffic Services Company of the Year 2013 & 2015 by XBIZ and the company is ranked at number 11 in the Top 20 Best Workplaces in Spain in the category of companies with between 20-49 employees (PYMES). CEO Fonzé was honoured by Xbiz with the Tech Leadership Award for 2015.