ExoClick launches new innovative ad campaign for 2015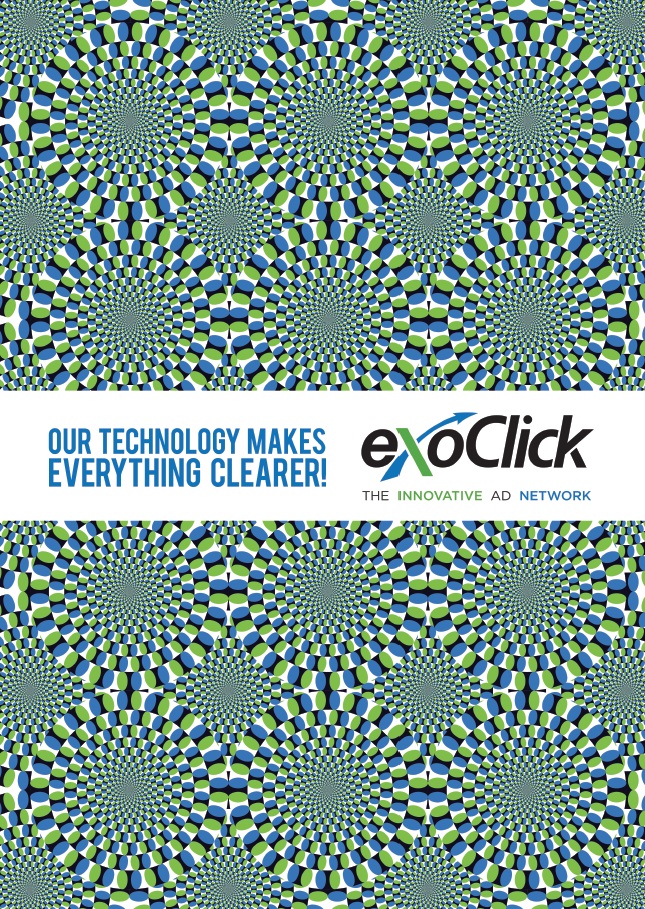 Barcelona, Spain. January 9, 2015: ExoClick, the innovative ad network for the entertainment market, today announced that it has launched a brand new ad campaign for 2015. The advertisements feature optical illusion images to promote key features of ExoClick's ad platform in an eye catching way.
The first creative 'Our technology makes everything clearer' is set against a background of rotating spirals in the company's corporate colours of green and blue and demonstrates the transparency of the platform's statistical reporting for client advertising campaigns and publisher platforms. 
A second creative 'Watch your revenues grow' to launch in February, features an optical illusion background where flowers appear to be continually growing to demonstrate the earnings potential for clients that use the ExoClick platform.
Giles Hirst, ExoClick's marketing & communications manager commented, "We wanted to make a statement with these ad campaign creatives and create a 'wow' factor by using the idea of optical illusions and also creating talkablity around ExoClick's platform."
ENDS
FOR FURTHER PRESS INFORMATION:
Giles Hirst
press@exoclick.com
https://www.exoclick.com
+34 931810272
ABOUT EXOCLICK
Launched in 2006 and based in Barcelona, Spain, ExoClick is an innovative global ad network serving 125+ billion geo-targeted ads a month to web and mobile advertiser/publisher platforms via its proprietary software.
Founded by current CEO Benjamin Fonzé, ExoClick is ranked as the 5th largest ad network in the world by W3Techs and the #1 ad network for the entertainment market. The Company has been ranked three times in the Deloitte Fast 500 and has also received several industry awards for its business excellence including winning Traffic Services Company of the Year 2013 by XBIZ and the company is ranked at number 11 in the Top 20 Best Workplaces in Spain in the category of companies with between 20-49 employees (PYMES).