ExoClick launches iOS version of its popular Admin Panel App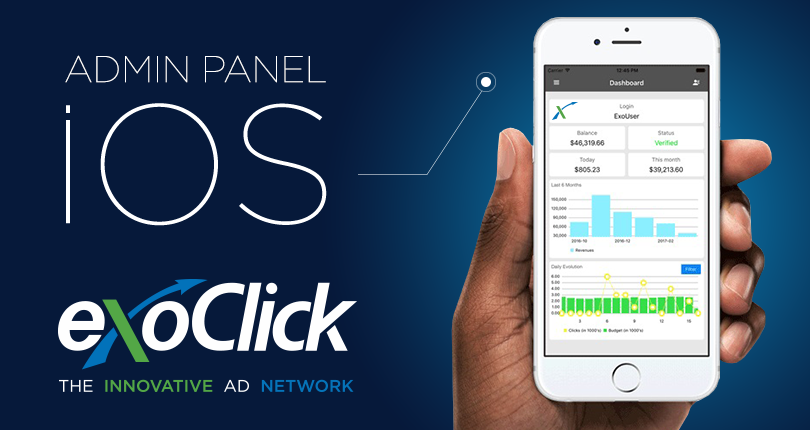 Barcelona, Spain April 18, 2017: ExoClick, the innovative ad network today announced that it has launched an iOS version of its popular Admin Panel App. The Android version has been downloaded from Google Play 9,612 times since its release.
The free app allows ExoClick's advertisers and publishers to access their accounts and view a selection of data from their iPhone, iPads or iPod Touch. Once the app is installed, clients log into their account using their username and password and select either Advertiser or Publisher options.
Advertisers can see an overview of their budget spend over a 6 month time line, payment transactions by date, type, transaction amount, running account balance and the daily evolution of their campaigns in bar graph format. Advertisers can also stop and pause campaigns and view campaign statistics as visual pie charts & sortable lists. Data can be analysed by Dates, Countries, Sites, Devices, Variations, OS, Browsers, Categories, Carriers, Hours, Languages, Clicks, CTR, Impressions, CPC, CPM, Cost and Goals.
Publishers can view revenue generation for today, this month, last month, an estimated forecast for the current month and see a 6 month bar graph overview displaying the financial evolution of their earnings for quick evaluation. Detailed account information on the payment page includes each dated transaction, payment type, transaction amount and a running account balance. Publishers can also view statistics which can be filtered by Dates, Countries, Sites, Ad Zones, Devices, OS, Browsers, Categories, Carriers, Hours, Languages and see a pie chart overview as well as lists of impressions, CTR & earnings per ad zone.
Benjamin Fonzé, CEO & founder of ExoClick commented, "Due to the popularity of our Android App, we decided to also make it available to iOS users. The app is an extremely useful free tool for ExoClick clients who want to access their accounts on the go from their mobile devices, so that they can react quickly to incoming data and analyse that data by various segments so that they can make any necessary reactive campaign changes quickly."
The app requires iOS 10.0 or later. For more information visit our Admin Panel App page and to download the iOS version of ExoClick's Admin Panel App click here.
ENDS
FOR FURTHER PRESS INFORMATION:
Giles Hirst
press@exoclick.com
www.exoclick.com
+34 931810272
ABOUT EXOCLICK
Launched in 2006 and based in Barcelona, Spain, ExoClick is an innovative global ad network serving 165+ billion geo-targeted ads a month to web and mobile advertiser/publisher platforms via its proprietary software.
Founded by current CEO Benjamin Fonzé, ExoClick is ranked as the 4th largest ad network in the world by W3Techs and the #1 ad network for the entertainment market. ExoClick has been ranked three times in the Deloitte Fast 500, it is ranked at 523 in the Financial Times 1000 Fastest Growing European Companies 2017 and it has been featured in the Inc. 5000 Europe list for 2015 and 2016. Other industry awards include the Ruban d'Honneur Award for The Business of the Year with a Turnover of €26-150m in the 2015/16 European Business Awards and the Company was ranked at number 11 in the Top 20 Best Workplaces in Spain in the category of companies with between 20-49 employees (PYMES).