ExoClick announces supersized sponsorship of The European Summit, Prague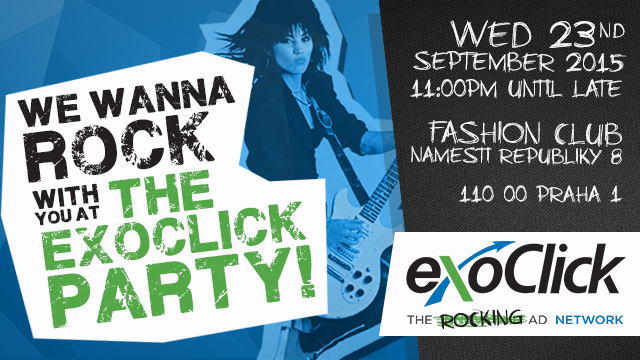 Barcelona, Spain. 18 August 2014: ExoClick, the innovative ad network, is pleased to announce that the company is a supersized sponsor of The European Summit to be held in Prague, 22-25 September 2015.
The European Summit is one of the main autumn shows for the online entertainment industry, connecting over a thousand digital entertainment professionals to this 3 day networking event.
As part of the sponsorship package ExoClick will be hosting the event's main party 'Rock With You' to be held on Wednesday 23rd September at the Fashion Club, Náměstí Republiky 8, 110 00 Praha 1. The party kicks off at 11pm until late and features a 2 hour 80's rock dance special DJ session.
ExoClick's Publisher Team Leader Ada Llorca and Advertising Account Manager Urte Mitschunas will be speaking on the 'Google's Mobilegeddon' and 'Mobile Traffic' panels respectively, both panels are on Thursday 24th September.
ExoClick's CEO and founder, Benjamin Fonzé, commented, "Once again we are very proud to be a supersized sponsor of The European Summit. It is one of the industry's premier networking events and we are looking forward to demonstrate our recent platform updates, talk traffic, share ROI tips and to 'Rock With You' at the ExoClick party!"
ExoClick will be in the business lounge D1. To arrange a meeting at the event contact advertising@exoclick.com
ENDS
Giles Hirst
press@exoclick.com
https://www.exoclick.com
+34 931810272
ABOUT EXOCLICK
Launched in 2006 and based in Barcelona, Spain, ExoClick is an innovative global ad network serving 125+ billion geo-targeted ads a month to web and mobile advertiser/publisher platforms via its proprietary software.
Founded by current CEO Benjamin Fonzé, ExoClick is ranked as the 4th largest ad network in the world by W3Techs and the #1 ad network for the entertainment market. The Company has been ranked three times in the Deloitte Fast 500 and has also received several industry awards for its business excellence including winning Traffic Services Company of the Year 2013 & 2015 by XBIZ and the company is ranked at number 11 in the Top 20 Best Workplaces in Spain in the category of companies with between 20-49 employees (PYMES). CEO Fonzé was honoured by Xbiz with the Tech Leadership Award for 2015.