ExoClick goes fully programmatic with RTB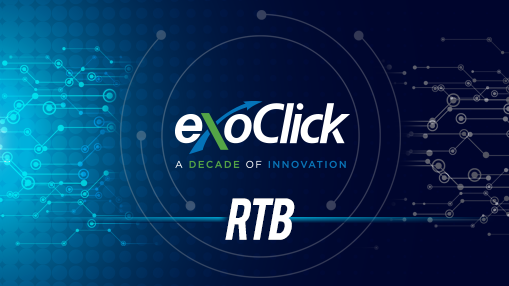 Barcelona, Spain. January 12, 2017: ExoClick, the innovative ad network, today announced that it has gone fully programmatic by offering RTB (Real-Time Bidding). This new feature gives ExoClick's advertisers three different ways in which to maximise their revenues on the fourth largest ad network's platform: Self-service, Automated hybrid with the company's API and Programmatic RTB.
Programmatic RTB is a means by which advertising inventory is bought and sold on a per-impression basis, via automated instantaneous auction, similar to the model used by financial markets. With RTB, advertisers bid on an impression and, if the bid is won, the buyer's ad is instantly displayed on the publisher's site. These auctions are held in the milliseconds it takes for a web page to load.
The big advantage for advertisers is that they can now automize their bidding and integrate their own optimisation software and algorithms in order to improve their ROI.
Benjamin Fonzé, ExoClick's founder and CEO commented, "ExoClick offers the most advanced ad-serving technology in the industry as we continue to introduce new, ground breaking innovations. Our proprietary RTB technology is capable of managing hundreds of thousands of RTB requests per second, selecting the highest bid in real-time. The RTB feature has been successfully tested with a broad range of beta partners during the last 6 months and we are now opening up the feature to a wider audience of premium advertisers."
Built respecting the IAB's (Interactive Advertising Bureau) industry standard Open RTB protocol, ExoClick's RTB technology is now available for affiliate platforms, advertising networks, demand-side platforms (DSPs) and marketers who are willing to plug their advertising inventory into ExoClick, tapping into the company's global marketplace of direct publishers.
Fonzé continued, "Our RTB Demand-side integration provides direct real-time access to one of the largest inventories in the world with over 5.5 billion daily impressions. By offering clients three options in order to convert their offers on our platform, we are continuing with our strategy to make ExoClick THE platform of choice for publishers and advertisers."
For further information please click here or contact us at rtb@exoclick.com
ExoClick will be exhibiting at InternextExpo in Las Vegas 14-17 January, visit our booth #203 to find out how RTB can work for you.
ENDS
FOR FURTHER PRESS INFORMATION:
Giles Hirst
press@exoclick.com
http://www.exoclick.com
+34 931810272
ABOUT EXOCLICK
Launched in 2006 and based in Barcelona, Spain, ExoClick is an innovative global ad network serving 155+ billion geo-targeted ads a month to web and mobile advertiser/publisher platforms via its proprietary software.
Founded by current CEO Benjamin Fonzé, ExoClick is ranked as the 4th largest ad network in the world by W3Techs and the #1 ad network for the entertainment market. The Company has been ranked three times in the Deloitte Fast 500. ExoClick won the Ruban d'Honneur Award for The Business of the Year with a Turnover of €26-150m in the 2015/16 European Business Awards and the Company is certified as a Best Workplace in Spain.