7 ideas for Black Friday promotions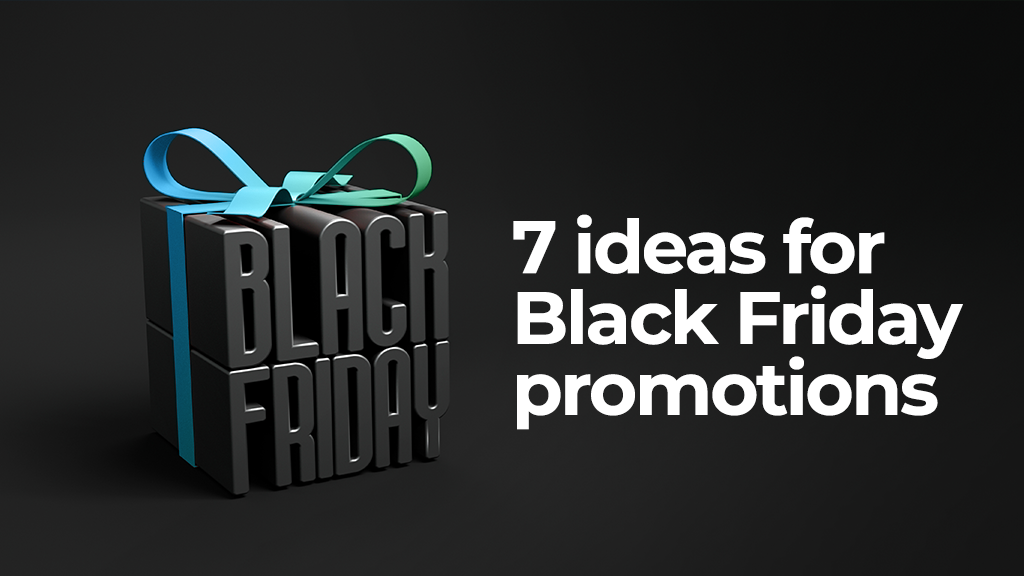 This year's Black Friday 26 November and Cyber Monday 29 November are just around the corner and they are the busiest online shopping days of the year, because product owners and affiliates give great discounts for their offers. Many consumers wait especially for this time period to make a purchase, so it is a great opportunity to build up big volume sales. 
Did you know?
From 2018 to 2020, Cyber Monday online sales spiked up from $7.9 Billion to $10.8 Billion. (FinancesOnline)
Last year In 2020, Amazon saw the biggest holiday shopping season in its history. (Amazon)
Black Friday and Cyber Monday sales are expected to surpass $10 billion in e-commerce sales. (eMarketer)
And it's not just sales for physical products with eCommerce, but consumers also want to get discounts for digital products too, for example VoD and PaySites! So we got our Business Intelligence team to pull our Network stats from last year's Black Friday week 27 November- 3 December 2020 and compared them to a week's stats the month before 23 to 29 October 2020, to see the global CTRs for our ad formats for eCommerce and VoD/Paysites: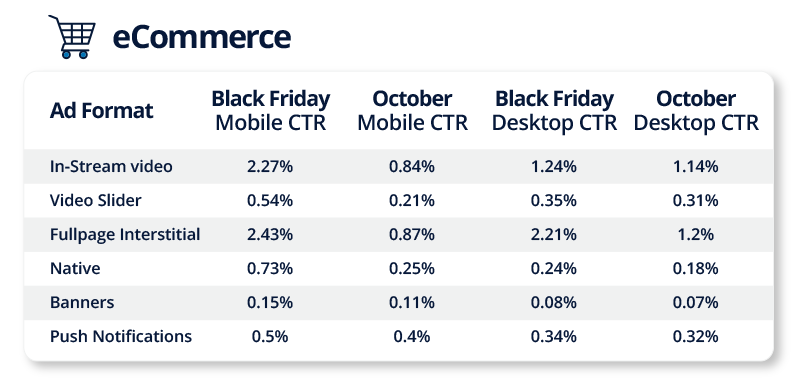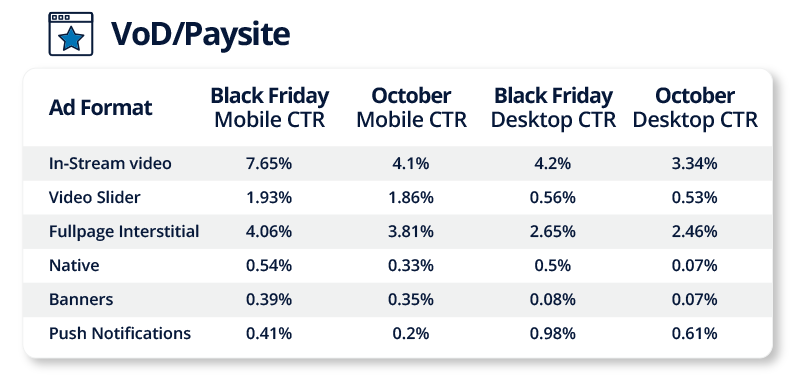 It is very important that you launch campaings for mobile and desktop. Shoppers use their mobiles to browse for offers during commute times to and from work, while some consumers are happy to make purchases from their mobiles, others prefer to double check an offer at home on their desktop device before making a purchase.
Please note: No data is available for Oustream video, because ExoClick launched this format in February 2021, however, we recommend that you test Oustream video with your Black Friday offers, the ad format currently gets the following global CTRs:

Although Outstream CTRs are lower than In-stream video, bidding prices tend to be less expensive, so Outstream is a great way to target consumers with video ads.
7 ideas for Black Friday promotions
Here are some great marketing tips to give you inspiration for this huge global online consumer event:
#1 Create special Black Friday landing pages: Here you can upsell a range of products that you promote and list each one under the header The Best Black Friday/Cyber Monday deals and discounts! That way you can upsell other products that you have to a consumer who has clicked on an ad for one of your products.
#2 Create product packs: If you have a range of different products to push you can create special Black Friday packs. For example if you have a VoD product and a Paysite product offer a Black Friday promo with a special discount if they sign up for both products.
#3 Offer free gifts: Offering an additional free gift as a deal for consumers. For example if a consumer signs up for your dating offer, offer them a discount on another product you are pushing, for example, 1 weeks free subscription to a VoD site. 
#4 Offer time sensitive discounts: This is a no brainer to push potential customers to buy, you can either do a 24 hour discount for Black Friday or maybe you want to run it for 96 hours to run the promo to include Cyber Monday also.
#5 Run promos before Black Friday: You can offer discounts by calling it Pre-Black Friday discounts and run them for the week before Black Friday and tap into the global hype around this special bargain offer season. Then retarget users that showed interest in your pre-Black Friday offers during the Black Friday/Cyber Monday weekend.
#6 Review last years performance: Check your stats for what worked and what didn't work last year, then optimise this year's campaigns and offers to only promote offers that worked. This will also help you match the right traffic to your offers that worked well last year.
#7 Extend your promotions: Launch new campaigns straight after Black Friday and Cyber Monday to extend your discounts for another week, using texts like, "Did you miss out on Black Friday? Well we have extended our discounts for another 48 hours!"