6 ways to maximise Christmas online sales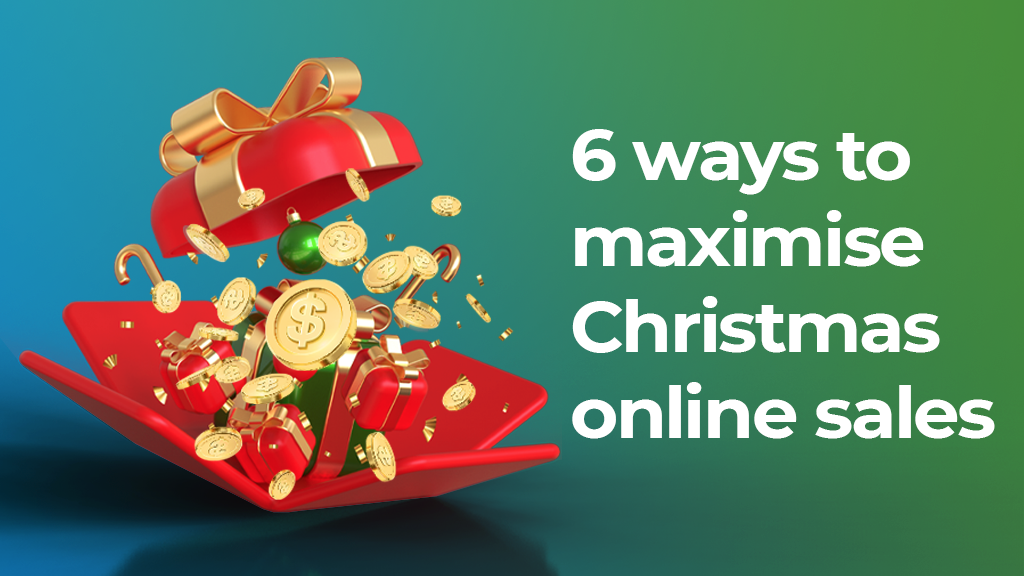 Christmas is the biggest shopping event of the year, coming straight after BlackFriday/Cyber Monday. In this blog post we bring you 6 ways to maximise Christmas online sales, with Christmas strategy tips and network CTRs to help you generate better conversions on ExoClick's platform this holiday season.
#1 Digital products will be huge this Christmas
This year physical goods are being hit by supply chain issues, in fact American online shoppers saw two billion out-of-stock notices in October this year which is one of the reasons why Christmas shoppers started spending earlier than usual this year, spending $72.4 billion in October, an increase of 8% compared to 2020, according to Adobe's Digital Economy Index report. The report is based on data from 'over one trillion visits to US retail sites and over 100 million SKUs in 18 product categories' collected by Adobe's Analytics platform.
Digital products such as Games, VoD, Casino, etc, should be part of your Christmas strategy because they have no supply chain issues. If you are selling eCommerce products make sure that the items you are promoting are in stock to maximise revenue opportunities.
#2 Key December shopping days
There are 4 key shopping days in December:
Green Monday

is the second Monday of December, that's when shoppers realize they only have around 10 shipping days left before Christmas. This year it falls on the 13th, so is the peak shopping day for eCommerce products.

Free Shipping Day is a mega-online event for eCommerce also. It's a one-day event held in mid-December, this year the 14th, and it guarantees free shipping with guaranteed delivery by Christmas Eve. With over 1000 retailers in the US involved, consumers expect special delivery deals if they make purchases on this day.
Last Pay Day before Christmas, many people get paid earlier in December, usually the week in the run up to Christmas between the 20th-24th December, so they have money to spend.
Boxing Day, 26th of December is when the first sales start. Generally this day is a public holiday in most parts of the world, so this is a huge day for online shopping.
As part of your Christmas strategy make sure that your campaign budgets are not capped on these 4 key days, because in order to drive sales volumes you want to make sure you are winning all the available traffic on those days. It's a good idea to plan for spikes in your December budgets. Also, revisit the daily caps across your advertising accounts, either before or on the day, to check they are not restrictive. Otherwise your competitors will be there to snap up the traffic.
#3 Your ideal Christmas sales strategy
Christmas can basically be broken down into two time periods:
Pre-Christmas 1 – 24 December, where everyone is focussed on their Christmas shopping .
Post-Christmas 25 – 31 December, where the Christmas sales kick in and people are looking for online entertainment during the holidays.
The ideal strategy is to drive sales throughout the Christmas shopping period and then double down on potential customers who are looking for bargains in the Christmas sales period.
#4 Video formats get the highest CTRs
Ensure video ads are part of your Christmas strategy. We looked at network global CTRs from last year's Christmas season, comparing Pre-Christmas 1-24 December to Post-Christmas sale time 25-31 December for popular Christmas verticals eCommerce, Games, VoD and Casino.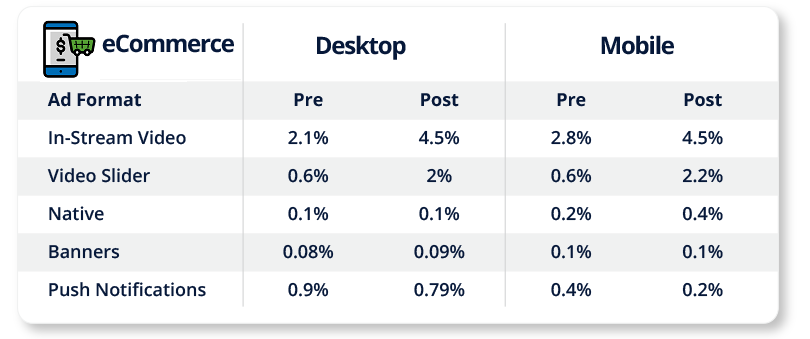 For eCommerce products Video formats In-Stream & Slider showed the biggest CTRs as well as the biggest increases in the last week of the year. This is because Video is a great way to showcase products compared to static display ads. For eCommerce products, advertisers can show a detailed product demonstration. This is key because the majority of people will always check out product reviews on Youtube before making their purchase, video ad formats allow you to do the same to help drive sales.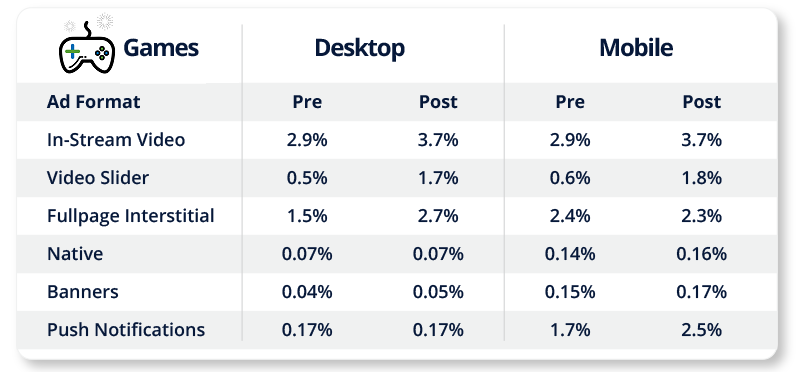 Games also have a high CTR for Video formats and Fullpage Interstitial because all these formats can show MP4 videos of a game to entice end users to play. Consumers are looking for entertainment between Christmas and New Year, so we see increases in CTRs in this period.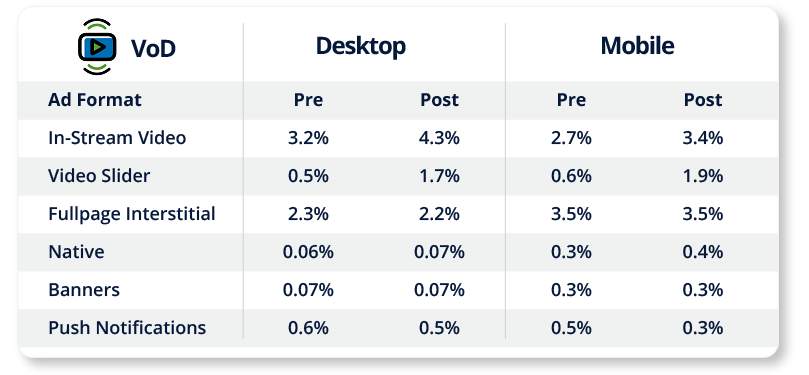 VoD is the perfect fit with Video Formats because VoD is a video product. The higher CTRs are reflected Post-Christmas as end users look for video entertainment during the Christmas break.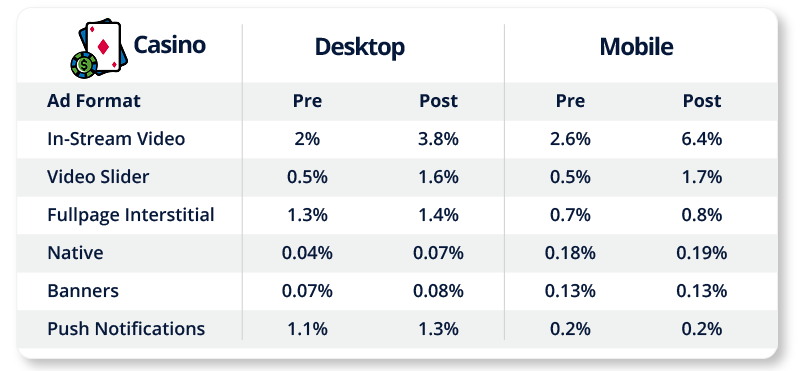 Casino is another vertical that shows CTR increases in the last week of the year as an entertainment source, with Video formats offering the highest CTRs.
Please note: Outstream video was launched in February 2021 therefore there are no CTR stats for last year's Christmas period, but please ensure you test this format also, check out our blog post 6 Reasons you should be using Outstream video
#5 Optimise your landing page and product website for mobile
Make sure your landing page/website looks good on both desktop and mobile. Shoppers do a lot of research on mobile before they buy, especially while they are killing time on their daily commute.  Your Christmas strategy should ensure a great mobile shopping experience.
#6 Make your marketing materials Christmas themed 
An obvious tip for your Christmas strategy perhaps, but well designed Christmas touches on your landing page and ad creatives can amplify the festive spirit, pushing end users to purchase.  For example, you can create special Christmas banners featuring snow, Santa, reindeers, Christmas trees, etc. You could change the colors of your logo to red and green. For video ads, you can quickly add a short Christmas themed intro and outro to an existing video ad. Add Christmas themed 'how-to-videos' or product walkthroughs on your landing pages. A/B test Christmas landing pages and creatives against non-Christmas themes using ExoClick's automated Landing Page and Variations optimisation tools.